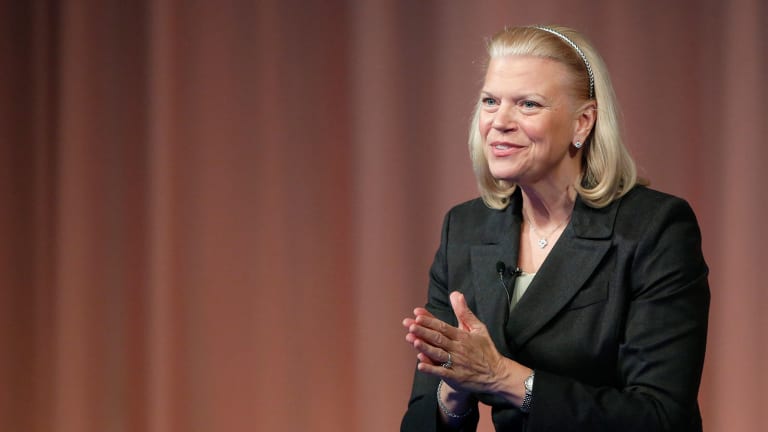 IBM Beats Estimates, but Devil Is in the Details
Big Blue's earnings are stabilizing, but margins and cash flow remain pressured amid a shift toward the cloud.
This article originally appeared on Real Money on Jan. 19, 2017.
As is the case for so many prior IBM (IBM) - Get International Business Machines Corporation Reportearnings reports, the devil is very much in the details for the company's fourth-quarter report. Though a handful of surprising and/or one-time factors helped Big Blue beat estimates, earnings quality is still deteriorating.
IBM reported Q4 revenue of $21.8 billion (down 1% annually) and adjusted EPS of $5.01, topping consensus analyst estimates of $21.6 billion and $4.88. The company also guided for 2017 adjusted EPS of "at least" $13.80, better than 2016's $13.60--though still below 2015's $14.92 and 2014's $16.53--and above a $13.74 consensus.
Although EPS is forecast to grow, IBM is only guiding for free cash flow "in excess" of 90% of its expected GAAP net income. And IBM's GAAP EPS guidance (at least $11.95) is well below its adjusted EPS guidance (at least $13.80).
Based on a Q4 diluted share count of 952.7 million, the outlook suggests IBM is only guiding for 2017 FCF in excess of $10.2 billion, and perhaps even less if one assumes share count continues to drop thanks to ongoing buybacks. That compares with FCF of $11.6 billion in 2016, $13.1 billion in 2015 and $18.2 billion in 2012.
On its earnings call, IBM insisted it is guiding for FCF to be roughly flat in 2017, not down. However, the company also qualified its remarks by stating its guidance leaves some room to increase capital spending--possibly needed for IBM's cloud expansion efforts--and that it expects a "tax headwind" next year that it aims to overcome.
Thanks partly to a positive Japanese tax ruling whose impact was felt earlier this year, IBM had a 2016 effective tax rate of just 3.6%. It forecasts a 2017 operating tax rate of 15%, plus or minus 3%.
Also: IBM's reported 2016 FCF of $11.6 billion compares with prior guidance for FCF to be "at the high end" of an $11 billion to $12 billion range. In Q4, FCF was down by $1.4 billion annually, to $4.7 billion.
With cash flow concerns apparently weighing, IBM fell 2.3% after hours to $162.90 following its report, in spite of the Q4 beat and solid EPS guidance. Shares had gone into earnings just $3.14 below a 52-week high of $169.95. on Friday morning, shares were up slightly to $167.
In addition to the cash flow issues, the fact that IBM's software and services reporting segments didn't perform quite as well as expected in Q4 could be giving pause. IBM's Cognitive Solutions segment, which covers a number of software products and is Big Blue's most profitable unit, saw revenue grow just 1.4%, to $5.3 billion, after having grown 4.5% in Q3.
Technology Services & Cloud Platforms, which covers cloud services, IT services and integration software, grew 1.7%, to $9.3 billion, after growing 2.4% in Q3. And Global Business Services, which covers consulting, application management and other services, saw revenue drop 4.1%, to $4.1 billion, a steeper decline than Q3's 0.4%.
These slowdowns are also reflected in the growth rates seen for some of IBM's "strategic imperatives." Cloud, analytics, mobile and security revenue respectively rose 33%, 9%, 16% and 7% in Q4, down from 44%, 15%, 19% and 11% in Q3. The growth rates would likely be a little lower if not for the many acquisitions IBM has made since the fall of 2015.
Moreover, all three software/services reporting segments saw their gross margin decline. That led IBM's total gross margin to drop 170 basis points to 50%. A mix shift towards cloud services and subscriptions relative to up-front software sales has been a margin headwind.
So how did IBM manage to beat estimates? Better-than-expected Systems (hardware) division sales played a big role. Though the unit's sales fell 12.5%, to $2.5 billion, that's a notable improvement from Q3's 21% decline, and gross margin improved by 110 basis points. An uptick in System Z (mainframe) sales provided a boost. Storage and Power server sales continued falling.
Low taxes also helped IBM again: The company had a Q4 effective tax rate of just 9.6%, down from an already-low 12.5% a year ago. And the company got a lift from the $521 million in Intellectual Property and Custom Development income it recorded; that's up sharply from $193 million a year ago, thanks to several software IP licensing deals.
Bulls can still take heart from the fact that IBM's cloud-as-a-service revenue, lifted by both organic growth and acquisitions, is on an $8.6 billion revenue run rate, up from $5.3 billion a year earlier. There has been real progress in growing IBM's cloud exposure, as well as in increasing exposure to growing analytics and security software markets.
But with older IBM hardware, software and services businesses continuing to be pressured by the adoption of third-party cloud apps and services, and the acquired and home-grown cloud revenue streams that are taking their place showing softer margin profiles, IBM's gross profit dollars haven't yet stabilized.
And whether it will be flat this year, free cash flow is set to remain soundly below adjusted earnings, as well as the levels recorded a few years ago.