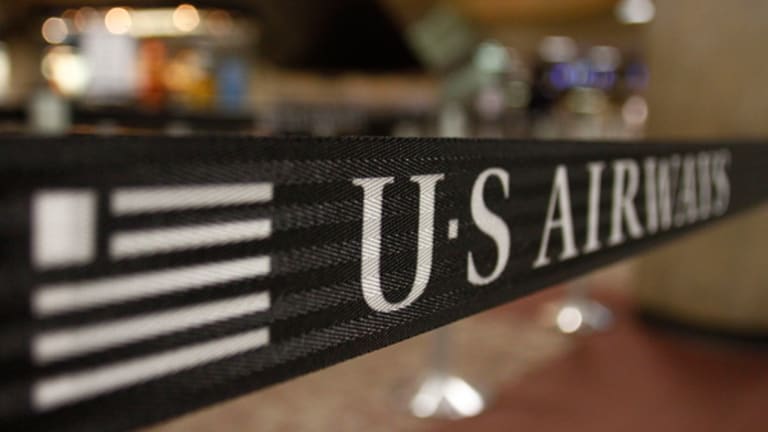 IAM Wants Release in US Airways Contract Talks
US Airways is so focused on a merger that it now wants joint negotiations for its mechanic contract, the International Association of Machinists says.
Story has been updated with company response.
CHARLOTTE (
) -- The International Association of Machinists said mechanic contract talks at
US Airways
(LCC)
have stalled after 21 months and it wants to be released from mediation.
"CEO Doug Parker has been too busy negotiating with employees from another airline to bother with his own employees," said IAM District 142 President Tom Higginbotham, in a prepared statement. "He has infuriated IAM members by preferring to negotiate terms with people who have never sacrificed a single cent to keep US Airways flying."
The request begins a lengthy process that could conceivably lead to a strike. If the National Mediation Board releases the parties from mediation, it would offer binding arbitration. If either party rejects binding arbitration, the next step would be a 30-day cooling off period, during which more negotiations would likely occur. After the cooling off period, IAM members would be free to strike.
The problem is that US Airways now insists that its mechanics enter four-way negotiations that also involve merger partner
American Airlines
(LCC)
and the Transport Workers Union, which represents American mechanics, said IAM President Tom Buffenbarger in a letter to the chairman of the National Mediation Board.
US Airways "is already looking down the road to what might happen once the merger is implemented" (and) has "has made it clear that if we refuse to engage in these multi-party negotiations with entities that have no lawful right to engage in bargaining for these crafts or classes, that it will not move from its economic offer," Buffenbarger wrote. "That offer is thoroughly unacceptable to the IAM."
The two sides have been negotiating in mediated talks since July 2011 and initially made progress, but the airline has made no movement on economic issues in its last four proposals, Buffenbarger said.
US Airways spokesman John McDonald said the talks are not at impasse. "The NMB mediator has already set future dates for talks with the IAM," McDonald said. "We look forward to continuing to make progress."
The IAM is the largest union at US Airway,s representing about 3,200 mechanics as well as about 6,000 fleet service workers, who are set to resume their separate talks with the airline next week. The TWU represents about 11,000 mechanics at American.
-- Written by Ted Reed in Charlotte, N.C.
>To contact the writer of this article, click here:
Ted Reed