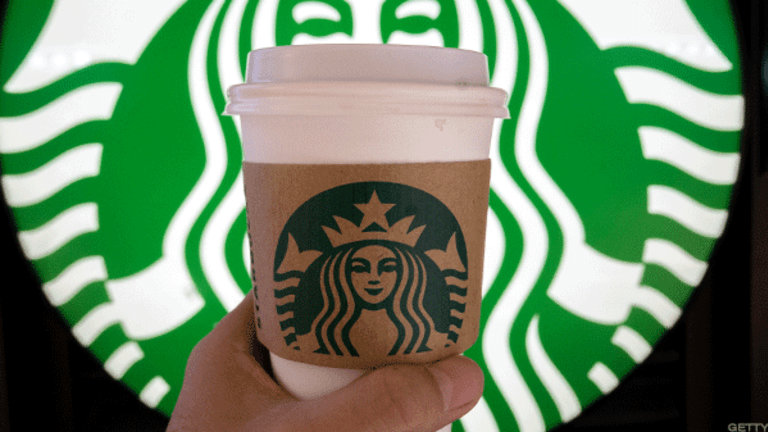 Starbucks Is Giving Away Free Drinks Friday and a Peak Into How It Will Solve a Big Problem
No, it was not the unicorn frap.
Heading to work on Wall Street this week, I stopped at Starbucks Corp. (SBUX) - Get Starbucks Corporation Report to get my usual - an iced green tea latte with coconut milk.
I know, it sounds pretentious but I am a millennial after all.
The usual morning rush appeared to be moving into the Starbucks store in giant waves as always, but something was different. First, I noticed that the line up front to place my order was moving considerably faster than it normally does.
Despite being a millennial, I do not use Starbucks' mobile order and pay service. Call me old fashioned.
Then I noticed that in addition to the regular employees I recognized from my daily morning trip, there were at least three more workers behind the counter.
As I got to the end of the counter to pick up my order, which I waited all of maybe three minutes for, I realized the true reason why customers were moving seamlessly in and out of the coffee shop. There was one designated barista with the sole job of handling mobile orders. And she was using the "dom."
On a recent earnings call in April, Starbucks new CEO Kevin Johnson said the company began hiring more baristas for its high-traffic stores and launched a tablet-based device coined "dom" that allows workers to track mobile orders better and sends customers an alert on their phones when their order is ready.
I observed as one customer, who just received his alert, came into the store, went directly to the visibly-marked "mobile order" station and received his coffee, being held for him in an area easily accessible for the barista tending to the mobile orders.
There was no long line at the mobile order station or at the pickup counter. To be sure, I was visiting a high-traffic store during a peak morning hour so it was far from empty, but I actually felt like for the first time in awhile, I could breath, even pace around, in a Starbucks again.
Long lines and congestion in its coffee shops due to an influx of mobile orders and complicated in-store orders have been Starbucks' biggest woe since it launched mobile order and pay at its stores nationwide in 2015.
Mobile orders may be clogging up the lines, but Starbucks has certainly come a long way. 
Former Starbucks CEO Howard Schultz, now executive chairman, promised to find a solution to the store congestion issue in February, saying, "We are now laser-focused on fixing this problem. But the nature of it, too much demand, is an operational challenge we have solved before, and I can assure you we will solve again."
When Johnson took over as CEO in April, he took on this burden. Since then, Starbucks has launched several tests to try to alleviate store traffic, including opening its first store concept at its Seattle headquarters in April that is strictly designated for mobile order and pay customers.
On another note, Starbucks is giving away free drinks on Friday. Customers can get a tall, 12-ounce new Teavana shaken tea infusion between 1 p.m. and 2 p.m. 
Starbuck's shares rose 0.7% to $58.77 by Friday's close.
More of What's Trending on TheStreet:
10 Private Islands Starting at $5 Million You Could Call Home Today
Apple's $1,200 iPhone 8 Could Be Vastly Overhyped
Hyundai's Popular Sonata Gets a Facelift, Improving Its Chops in Soft U.S. Sedan Market
10 Great Jobs That Will Make You Happy
Jim Cramer and the AAP team hold a position in Starbucks for their Action Alerts PLUS Charitable Trust Portfolio. Learn more now.