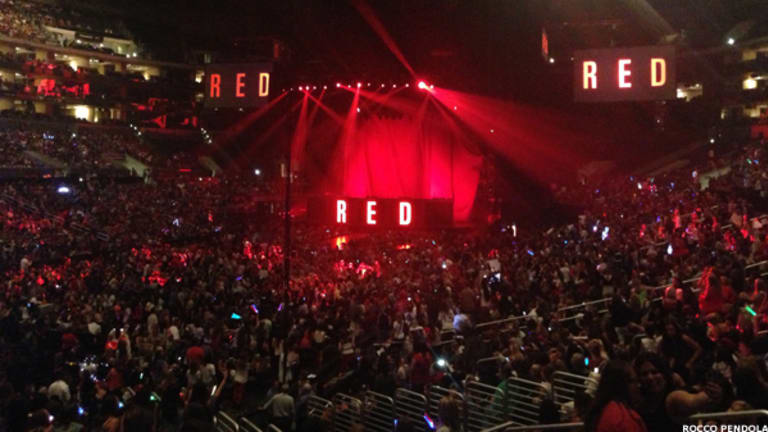 [video] I Have Seen the Next Springsteen and Her Name Is Taylor Swift
Don't shortchange Taylor Swift's potential to become one of the most meaningful artists of all-time.
NEW YORK (TheStreet) -- After chatting with TheStreet's Carlton Wilkinson about the idea of this article, I thought long and hard about how to proceed.
Carlton knows a thing or two about music.
He has a Ph.D. in it
. But, before he has even stated his case and subsequently had the chance to defend himself, I charge Carlton with doing something many music lovers -- casual and serious -- do:
Misunderstanding, shortchanging and discounting the power, the glory, the magic and the ministry of Taylor Swift
.
On Tuesday night at Staples Center in Los Angeles, Swift put on the 16th or 17th or maybe 20th best rock-n-roll show I have ever seen.
Yes, rock-n-roll and, yes, the 16th, 17th or 20th best I've ever seen.
That's because I'm having difficulty determining how many Bruce Springsteen and The E Street Band shows I have been to. It's between 15 and 20. And, without question, every single one of them did more for me than a Taylor Swift concert ever could. But, that's
me
, a 38-year old guy from a provincial small city in Western New York who, as a teenager, used to drink beer under a viaduct on Hyde Park Boulevard in mid-December while pumping my fist to Springsteen's "No Surrender."
It's all about context.
If you suspend personal circumstances, I'm not sure how you can watch Swift perform and not walk away claiming you have seen the modern-day iteration of Springsteen, the performer, the show(wo)man, the songwriter.
Consider this clip of Swift introducing and belting out her classic hit, "Mean," from Monday's set at Staples:
That has Springsteen, particularly a younger, more wordy Springsteen, written all over it. And I mean this as the highest form of compliment to both Springsteen and Swift.
Swift isn't trying to be anything, but herself. That's where she's most like Bruce. In her ability to be authentic and original and, through what is clearly a very personal and mentally arduous process, connect with an audience of her peers. You cannot simply mimic a great who came before you and strut the fine balance of stage presence, sincerity and spectacle Swift brings night after night after night.
There's a reason why music critics and serious popular culture doesn't mention Swift's name alongside Springsteen's (and will likely chide me for doing so). Actually several reasons.
First, a reason or two I can get with.
I didn't realize Swift was so "commercial." She's selling everything from Diet Coke to Keds to perfume at her shows. Legend has it that Bruce turned down millions from Chevy for the rights to "Born in the USA." At the same time, the spectacle of Swift's show (the costumes, the dancing, the pomp and circumstance) undermines her musical talents.
If she stripped everything down to bare bones -- using the nondescript black and drab set The E Street Band uses -- Swift would instantly trigger comparisons to Bruce's hard-driving, no-nonsense, four-hour rock shows.
She could and, I believe, eventually will dedicate herself to the sweaty marathon sessions The Boss has become known for. She'll drop much of the pizazz and bring the power.
The same elements that make Bruce's show tick provide what will be the lasting foundation for a Taylor Swift performance -- "part circus, dance party, political rally (maybe not so much) and big tent revival." That's how Springsteen described his show to
"60 Minutes"
several years ago.
Swift, along with her audience, simply needs to evolve.
And that's not a cheap shot at Swift. Quite the contrary.
Going back to context and personal circumstance. If you're in your 30s, 40s, 50s or thereabouts, Springsteen delivered and continues to deliver what you need. It's become lore to call Bruce's music the soundtrack of your life or to state that it got you through good times and bad. That's absolutely the case for me. No other person, let alone artist, speaks to me the way Springsteen does. He's as relevant to me today as he was when I was drinking sixteen-ounce bottles of Old Milwaukee daydreaming ways to exit Niagara Falls, New York.
Bruce connects with many of us because he's able to tap into our greatest fears and deepest emotions, relaying what we're feeling and have felt at various stages of our lives with equal parts anger, bitterness, revival and redemption. That's exactly what Swift does, particularly as part of her show. But she's not doing it for the people a young Springsteen did it for or an "old" Springsteen does it for today. She's doing it for a largely female audience comprised of teenagers and twentysomethings.
When she talks about being a freshman in high school, falling in love, breaking up or the notion that no matter who you are or what you accomplish there's always somebody "bullying" you, her words resonate with her audience as much any of Springsteen's have with his. That's only sacrilege to Springsteen fans unable or unwilling to step away from themselves and consider how another set relates to the experience of music. In fact, as a Springsteen fan, I'm happy to have let my territorial guard down and discovered ways that Swift's lyrics bare meaning to my life and life experiences.
Swift's music is, for all intents and purposes, void of sociopolitical commentary. But she's not writing for an audience with memories of the Vietnam War or one that really cares -- on any meaningful level -- about economic crises or presidential elections. If she attempted, at this stage of her career, to climb such lofty mountains, she would soapbox herself right into irrelevancy.
There's no question I'm outlining a debate -- this Swift to Springsteen comparison -- that doesn't exist, at least not publicly. But there's plenty of snark directed Swift's way and not enough credit given for how truly unique, groundbreaking and in this for the long haul she is.
However, a mutual admiration society, undoubtedly, exists between Swift and Springsteen.
When you're up there performing, you just pretend that Bruce Springsteen isn't in the front row, but he is
.
That's fantastic stuff.
There's something on my bucket list. When I turn into the big star Taylor Swift used to dream of being (insert smiley emoticon here), I want to have Swift and Springsteen on my show together. They'll sing a rocking duet, then we'll sit down for a half an hour and talk about how their two musical worlds collide, thrive off of one another and ultimately come full circle.
--
Written by Rocco Pendola in Santa Monica, Calif.
Rocco Pendola is a columnist and
TheStreet's
Director of Social Media. Pendola makes frequent appearances on national television networks such as
CNN
and
CNBC
as well as
TheStreet TV
. Whenever possible, Pendola uses hockey, Springsteen or Southern California references in his work. He lives in Santa Monica.