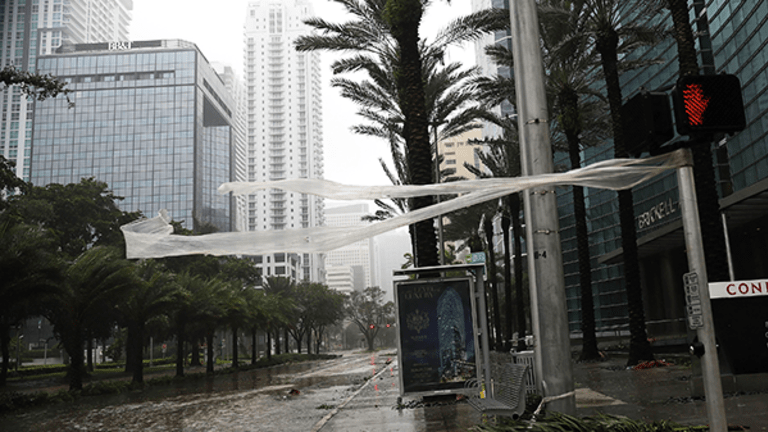 Hurricane Irma Makes Landfall in Florida
Here's what you need to know about Hurricane Irma and how it will affect your safety, supplies and insurance and what help in government funding may be coming.
Updated 10:05 p.m., Sept. 10, 2017
Hurricane Irma descended on the Florida mainland Sunday afternoon packing deadly winds of 130 mph and torrential downpours. 
Irma made landfall at Marco Island in Florida at 3:35 p.m. according to the National Weather Service. The storm was downgraded to a category 2, but more than 5 million  homes and businesses had lost power and the storm is projected to be on a path that will take its eye directly over Tampa on Sunday evening. 
If you're a Floridian, and likely versed in the matter of hurricanes, you know that being prepared can help ease later problems. With that in mind, TheStreet will update you on the storm's path, how to protect yourself, sources of supplies, what the government and the private sources are doing to help and which industries will need to reboot.
Florida Governor Rick Scott announced Sunday afternoon that President Trump, at the governor's request, "approved a major disaster declaration...[which] authorizes federal funding to flow directly to Floridians impacted by Hurricane Irma and reimburses local communities and the state government to aid in response and recovery from Hurricane Irma." Scott added that he's spoken "multiple times this week" to the president, who's "offered every resource of the federal government."
The National Weather Service advised residents to evacuate if told to do so, warning of a "life-threatening storm surge" and "large and destructive waves" causing inland flooding. 
CLICK HERE FOR ALL OF THESTREET'S COVERAGE OF HURRICANE IRMA
Read on:
Storm's Toll
Hurricane Irma: Life-Threatening Weather Watches Issued for Parts of Florida The National Hurricane Center issued an update on Hurricane Irma at 11 A.M. EDT on Thursday, Sept. 7, issuing some of Florida's first official weather watches before the storm hits. By Friday morning, those watches were upgraded to warnings. That means hurricane weather is more certainly expected.
Hurricane Irma Has Killed Several People in the Caribbean Hurricane Irma has killed an unknown number of people in the Caribbean, including several in France's territories and three in Puerto Rico. French Prime Minister Edouard Philippe told AFP that four people had been confirmed dead on the country's Caribbean territory of St. Martin. French Interior Minister Gerard Collomb previously told a French radio station that eight deaths were reported in both French territories of St. Martin and St. Barts. By Friday morning, estimates rose to as many as 18 deaths, but no official figures have been released.
Business
Hurricane Irma Already Impacting the Economy Before Landfall It's hard to predict the path that Irma will take when it comes to Florida. It isn't whether the Sunshine State will get hit, but rather, how hard it will get hit. That's got Florida residents flocking to gas stations like it's the 1973 oil crisis. Meanwhile, home improvement retailers like Home Depot Inc. (HD) - Get Free Report and Lowe's (LOW) - Get Free Report , bulk goods stores like Costco Wholesale (COST) - Get Free Report and generator companies like Generac Holdings Inc. (GNRC) - Get Free Report all have climbing stock prices.
Energy
Hurricane Irma Set to Shut Down Major Florida, Caribbean Petroleum Hubs U.S. energy companies that stand to take at least minor hits if current storm projections prove true include Chevron Corp. (CVX) - Get Free Report , Exxon Mobil Corp. (XOM) - Get Free Report , Marathon Petroleum Corp.  (MPC) - Get Free Report and Targa Resources Corp.  (TRGP) - Get Free Report .
All of these companies operate terminals or pipelines in Port Everglades in Fort Lauderdale, Fla. According to the Port Everglades website, a fifth of Florida's energy requirements come from petroleum that is stored and distributed by companies located at Port Everglades.
More than 12.5 million gallons of petroleum products are delivered on tank ship and barges to Port Everglades per day, according to the website. Port Everglades provides petroleum, including jet fuel, to 12 counties in Florida.
Buckeye Partners, Chevron, Exxon, Marathon, and Targa are among 12 companies with facilities in Port Everglades, which is among the largest petroleum-storage hubs in Florida. Other major Florida storage hubs include Tampa and Jacksonville, both of which may be affected by the storm.
For Buckeye Partners, a hit from Hurricane Irma would add to its recent headaches. The company's shares have fallen nearly 8% in the past month since it whiffed on second-quarter earnings estimates a month ago.
Insurance 
Hurricane Irma Unleashes Fury on Insurance Stocks. Universal Insurance (UVE) - Get Free Report tumbled 11.5%, Federated National (FNHC) - Get Free Report fell 15.7% and Heritage Insurance  (HRTG) - Get Free Report dropped 5.4% at Thursday's close in anticipation of Irma. Others, like HCI Group Inc. (HCI) - Get Free Report and United Insurance  (UIHC) - Get Free Report also fell 8.5% and 6.8%, respectively.
These bore the brunt of the decline as they have heavy exposure to Florida, but Travelers (TRV) - Get Free Report , Allstate Corp. (ALL) - Get Free Report , Chubb Ltd.  (CB) - Get Free Report and others fell hard, too, with these three stocks dropping 1.6%, 1.2% and 2.1%, respectively. 
The Waffle Index
Ever hear of the Waffle House Index? You're not alone. But, it's an important and unexpected tool for FEMA and government agencies. The premise is simple: The number of Waffle Houses that remain open during a natural disaster lets government agencies know how well a community is fairing. Watch this video for more: Watching the Waffle Index Ahead of Hurricane Irma
Tourism
Hurricane Irma May Cost Florida's Enormous Tourist Industry Millions of Dollars. Tourism is Florida's top resource, so closures at central Florida theme parks including Walt Disney Co.-owned  (DIS) - Get Free Report Walt Disney World, Comcast Corp.'s (CMCSA) - Get Free Report Universal Orlando Resort and SeaWorld Entertainment Inc.'s  (SEAS) - Get Free Report SeaWorld Orlando could dampen a usually busy pre-Halloween season. Further south, cruises leaving Florida ports and venturing into the Caribbean have been cancelled, rerouted and cut short.
Disney World doesn't close often, but it shut its gates last year when Hurricane Matthew hit. Matthew sucker-punched the Orlando area in early October. If Disney has to shut down operations for any period of time, it's expected to announce plans before the weekend. 
Government
FEMA, EPA Brace for Hurricane Irma as House Passes Harvey Aid The House of Representatives on Wednesday voted in favor of the $7.85 billion in Hurricane Harvey relief funds requested by the Trump administration, the bulk of which would replenish the depleted coffers of the Federal Emergency Management Agency (FEMA). President Donald Trump later in the day said he had accepted congressional Democratic leaders' proposal to tie relief funds to a three-month extension of the debt ceiling. Republicans will have to agree to the deal, and the Senate will have to pass an amended bill before the money can be released.
Are You Ready?
Buy a generator. Having a portable generator available or a permanent one installed in your home means keeping the lights on, at least for a few hours at a time. But always keep a running generator outside, at least 20 feet from windows and doors and protected from moisture. Never plug a generator powering a whole house into a wall outlet.
Have plenty of food. Although they're not always the first choice for supper, stock up on canned, nonperishable items with enough to feed the family for three days. If the power goes out, you don't want to open the refrigerator or freezer unless absolutely necessary. If it means eating tuna, beans, beef jerky and peanut butter for a few days, so be it. If you buy canned foods, make sure you have at least one manual can opener. (Two would be better.)
Don't forget the water. Be sure to have plenty of purified water either stored in reusable bottles or in large packs of plastic bottles. A good rule of thumb is one gallon per person per day. If you can stay in your home safely, it helps to fill up the bathtub with clean water from the faucet before the power goes out; that will give you water with which to clean up if the shower shuts off.
Wondering what else you need to have on hand?  Check out Kinsey Grant's story How to Be Ready for Massive Hurricane Irma: 10 Top Things to Keep in Your Home