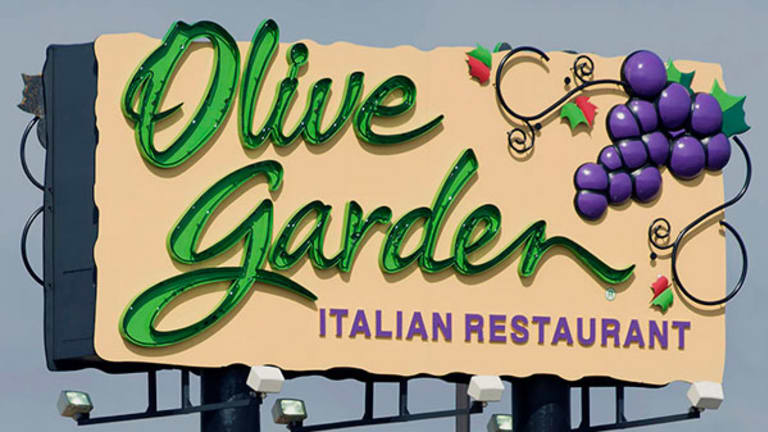 Hurricane Irma Is Causing Destruction to Restaurant Stocks
Hurricane Irma could hit Florida this weekend, causing detrimental impacts on the state's casual dining businesses.
Casual dining restaurant stocks are taking a beating on Wednesday, Sept. 6, as one of the strongest hurricanes that's ever emerged from the Atlantic Ocean, Irma, barrels towards Florida.
"What restaurants that have significant operations in southern Florida should do is follow the advice of their local and state leaders. If a state of emergency is called, you really need to close down," Glenn Grindlinger, partner at Fox Rothschild LLP, told TheStreet on Wednesday.
Hurricane Irma Set to Take Aim at South Florida
Unfortunately, for already-troubled casual dining chains, shutting down for even a short period of time could prove detrimental. And, it will likely take months for restaurants, in any area hit by a hurricane including those affected by Harvey, to rebuild.
A state of emergency was declared by governors in the U.S. Virgin Islands, Puerto Rico and Florida. As of 3 p.m., Hurricane Irma was passing over the Virgin Islands as a category 5 storm and will likely hit bankrupt Puerto Rico next. If it follows its current path, Irma is estimated to hit the Sunshine State this weekend, according to The Weather Channel.
This afternoon, shares of Orlando-based Darden Restaurants Inc. (DRI) - Get Darden Restaurants, Inc. Report , which runs casual dining restaurants under banners including Olive Garden, LongHorn Steakhouse and Seasons 52, fell 3.73%. Winter Park, Fla.-based Ruth's Hospitality Group Inc. (RUTH) - Get Ruth's Hospitality Group, Inc. Report , the operator of Ruth's Chris Steak House, dropped 1.3%. Tampa-based Bloomin' Brands Inc. (BLMN) - Get Bloomin' Brands, Inc. Report , the owner of Outback Steakhouse and Bonefish Grill, slipped 2.22%. Dallas-based Fiesta Restaurant Group Inc. (FRGI) - Get Fiesta Restaurant Group, Inc. Report , operating Pollo Tropical and Taco Cabana, dipped 2.31%. All have numerous locations in Florida.
Grindlinger said that whether a restaurant company operates 2,000 locations or 60, what will allow it to survive after a hurricane depends on strong financials and a loyal customer base.
The casual dining space is growing increasingly more competitive as chains struggle to attract the millennial consumer. In June, the NPD Group reported that while the restaurant industry as a whole "held steady" in the first quarter, driven by growth in delivery and drive-thru, casual dining remained a point of distress. Visits to casual dining restaurants in the quarter fell 4%.
"Many of the weak areas of the industry have been declining since the recession, which is the case with casual dining and midscale/family dining traffic," NPD wrote.
As part of a turnaround effort that began in February, sparked by declining sales, Fiesta, for example, appointed a new CEO, initiated mass layoffs and closed 30 locations.
Grindlinger, who typically provides counsel to corporate management teams on labor and employment issues in New York, said after Hurricane Sandy, it took "a number of months" for restaurants to receive federal aid to begin restoration, if their applications were even approved. Hurricane Sandy, also called Superstorm Sandy, hit the Northeast coast in October 2012, resulting in nearly 150 deaths and more than $50 billion in damages.
"I saw applications rejected for a whole host of reasons, from not signing paperwork to obviously fraud. Also, if the impacted restaurant is out of the designated storm area, they can't get money," Grindlinger said.
CLICK HERE FOR ALL OF THESTREET'S COVERAGE OF HURRICANE IRMA
On Wednesday, U.S. President Donald Trump and Congress approved a $7.85 billion aid package for victims of Hurricane Harvey. Late on Friday, Aug. 25, Harvey touched down near Corpus Christi, Texas, as a category 4 hurricane and then wreaked havoc in and around Houston as a tropical storm, causing massive flooding. Weather analytics company AccuWeather has estimated that Harvey damages could cost almost $160 billion.
Judging by the damages he's seen so far from Harvey, Grindlinger suspected that there are restaurants "completely wiped out" by the storm.
One of the worst mistakes Grindlinger said he saw restaurant owners do after Sandy was opening too soon. That and not backing up their computer systems before shuttering their doors, which resulted in lost documents and programs and an extra headache to owners.
"Many businesses didn't fully realize the impact of the storm," Grindlinger said. "They didn't have the clientele they expected. Their reputations were tarnished."
Darden, Ruth's, Bloomin' Brands and Fiesta did not return requests for comment.
Read More of What's Trending on TheStreet: