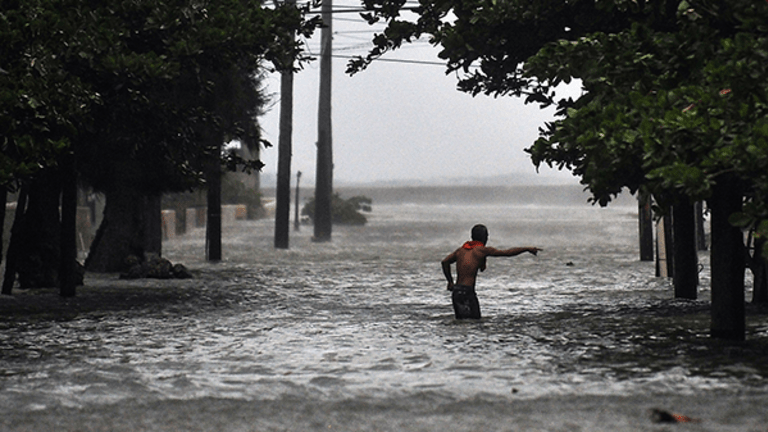 Hurricanes Irma and Harvey Might Cost $100 Billion, Dealing Big Blow to Insurers
Hurricane Irma could saddle insurance and reinsurance companies with $60 billion in losses, according to Barclays analyst Jay Gelb.
Thankfully Hurricane Irma was downgraded from a category 4 to a tropical storm over the weekend as it hit Florida. Irma will still cause plenty of damage, though.
Irma has already knocked out power to millions of Floridians and will likely continue wreaking havoc as it moves north. Although the strength of the storm has fallen, the damage is expected to be massive. Particularly when it's paired with the aftermath of Hurricane Harvey, which claimed the lives of about 70 people and flooded Houston and other parts of Southeast Texas before rolling to other states in the Gulf.
According to Barclays analyst Jay Gelb, Irma could inflict up to $60 billion in insured losses. While that's a big blow to insurance companies, it could have been far worse, especially if Miami took a direct hit, Gelb said. Still, when combined with Hurricane Harvey, insured losses could eclipse the $100 billion mark.
So who loses big? TheStreettook a look last week at some insurance companies that could be on the hook for big losses, but Gelb also has a list of reinsurers that could suffer. He's looking at Everest RE Group (RE) , XL Group Ltd. (XL) , RenaissanceRe  (RNR) , Validus (VR) and Aspen Insurance Holdings Limited (AHL) as some of the biggest losers. In fact, if these stocks lose more than 20% of their book value, it could force them to raise capital in the form of equity sales, he added. Near-term uncertainty could weigh on the stock prices.
Travelers (TRV) and Chubb (CB) don't have as much exposure to the regions compared to companies like Berkshire Hathaway (BRK.A) (BRK.B) and American International Group (AIG) .
Also as a result of the two hurricanes, Goldman Sachs analysts lowered their third-quarter GDP estimates to 2% from 2.8% and said the September jobs report could suffer by up to 100,000 jobs.
More of What's Trending on TheStreet:
Hurricane Irma Disaster Sends Looters Descending on a Florida Foot Locker: Watch
Hurricane Irma Spurs Price Gouging Accusations at Happiest Place on Earth Disney
This article is commentary by an independent contributor. At the time of publication, the author had no positions in the stocks mentioned.