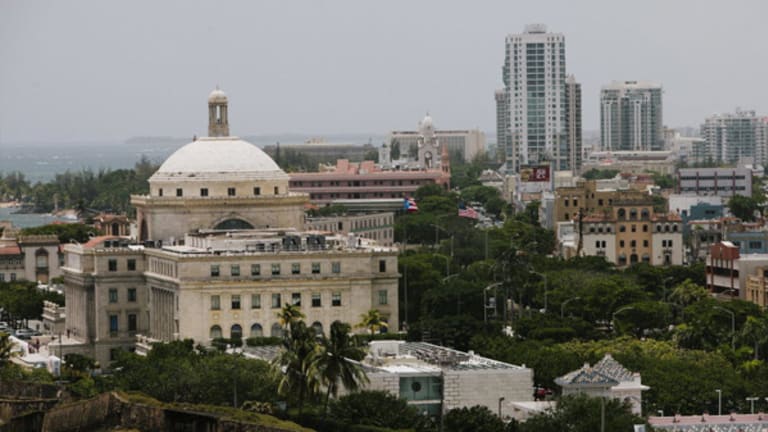 Hurricane Damage in Puerto Rico Puts Caribbean Cruise Itineraries in Jeopardy
Puerto Rico is still suffering after Hurricanes Irma and Maria tore through the island.
As the Caribbean works to rebuild following Hurricane Irma and Hurricane Maria, Royal Caribbean Cruise Ltd. (RCL) announced that it won't sail out of San Juan, Puerto Rico, as it had previously hoped.
The company issued a statement late Sunday, Sept. 24, canceling a sailing from San Juan scheduled to leave on Wednesday, Sept. 27. The three-day voyage on the Adventure of the Seas was initially scheduled to leave San Juan on Sunday, but was later pushed back to Wednesday with a shortened trip before being canceled. Travelers will be refunded 100%, the company said, and will receive a 25% future cruise credit based on this trip's fare for any cruise scheduled in the next 30 days.
In addition to the cancellation out of San Juan, Royal Caribbean said it's continuously monitoring future sailings from the city. The company will make a decision early this week regarding a Sept. 30 voyage on the Adventure of the Seas set to leave from San Juan.
Puerto Rico was devastated by Hurricane Maria, which turned the island into a disaster zone and knocked out power nearly everywhere.
"If you do not feel comfortable traveling at this time, and need to cancel your cruise, we will provide you with a 100% future cruise credit, for a cruise booked within the next year," Royal Caribbean said for Sept. 30 travelers set to leave from San Juan.
Carnival Corp. (CCL) also canceled trips out of San Juan after releasing a statement saying its terminal on the island was extensively damaged. Carnival has canceled trips departing from San Juan Oct. 1 and Oct. 8. Carnival also plans to fully refund travelers.
Royal Caribbean stock slipped 1.45% to $113.62 in midday trading Monday. Carnival shares were down 0.75% to $63.85.
More of What's Trending on TheStreet: