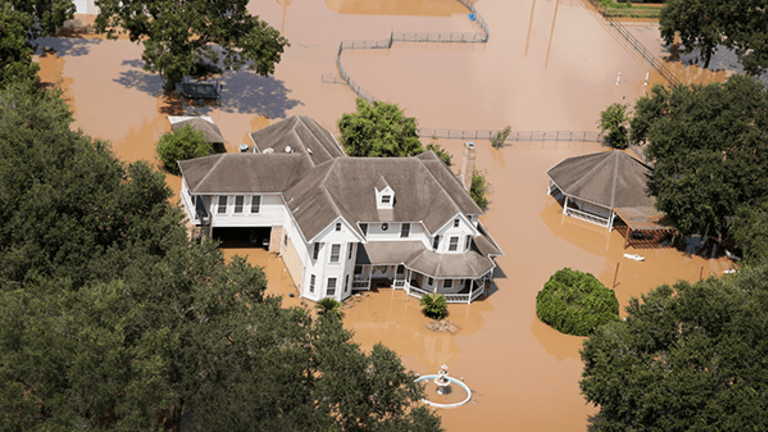 Hurricane Cleanup Could Make These Stocks Stealthy Winners, Analysts Say
Storm impact will likely delay industrial work, but not cancel it altogether.
As Hurricane Harvey cleanup and Hurricane Irma preparations continue, Canaccord Genuity analyst Bobby Burleson said there will likely be a slowdown in near-term infrastructure, but some stocks are set to rise as recovery work takes off.
BMO analysts agreed, saying that "most companies tend to recoup [losses] and usually more during the cleanup phase," in a note on Friday, Sept. 8. 
The "most meaningful" negative impact will be on civil construction firm Orion Group Holdings Inc. (ORN) - Get Free Report , though most companies in Burleson's infrastructure coverage will experience "modest temporary slowness," the analyst said in a note.
Engineering companies Aecom (ACM) - Get Free Report and Tetra Tech Inc. (TTEK) - Get Free Report will see a near-term influx of activity due to "earlier cycle recovery work in the form of damage assessments, planning and other studies," Burleson said.
Heavy civil activity will drive Primoris Services Corp. (PRIM) - Get Free Report and Sterling Construction Co.  (STRL) - Get Free Report upward, especially given their "significant exposure" to the Texas Department of Transportation. Highway repair work in Houston will be several times larger than repairs made following Hurricane Ike in 2008, Burleson added.
Event business and clean-up work are predicted to offset any downside from near-term disruptions to industrial production and waste streams for Clean Harbors Inc. (CLH) - Get Free Report and US Ecology Inc. (ECOL) - Get Free Report , Burleson said. BMO added staffing company TrueBlue Inc. (TBI) - Get Free Report to the list. 
"In prior cleanups, companies such as these have been net beneficiaries, typically generating incremental revenues in the months following such disasters. Given the size and impact areas of Harvey and Irma, cleanup efforts may dwarf those of prior catastrophes," BMO analysts added. 
Republic Services Inc. (RSG) - Get Free Report and Waste Management Inc. (WM) - Get Free Report will experience similar gains, but likely not until the fourth quarter of 2017 and beyond, BMO analysts said.
Burleson said that although most companies in his coverage experienced some slowdown with Harvey, the overall storm impacts from Harvey and Irma will signify a delay of industrial work rather than any sweeping cancellations.
More of What's Trending on TheStreet: