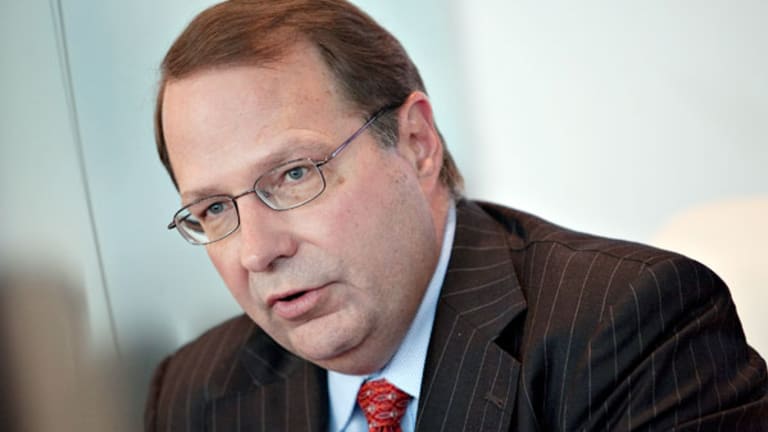 Huntington Holds Steady, CEO Touts 'Wallet Share' (Update 1)
The bank reports 'relatively unchanged' second-quarter results, but CEO Stephen Steinour is upbeat about economic growth prospects.
Updated from 7:48 a.m. ET with late morning market action and comment from Jefferies analyst Ken Usdin.NEW YORK (TheStreet) -- Huntington Bancshares (HBAN) - Get Report CEO Stephen Steinour says Federal Reserve Chairman Ben Bernanke's recent comments indicate the second quarter was "a benchmark quarter, reflecting significant confidence we are on a sustained recovery, which will be very good for us and the industry."
The Columbus, Ohio, lender reported second-quarter earnings of $150.7 million, or 17 cents a share, down slightly from $151.8 million, or 17 cents a share, in the first quarter, and $152.7 million, or 17 cents a share, during the second quarter of 2012. Analysts polled by
Thomson Reuters
had estimated second-quarter earnings would come in at 16 cents a share.
Huntington CEO Stephen Steinour
Huntington's second-quarter net interest income was $431.5 million, increasing from $430.1 million the previous quarter, but declining from $435.6 million a year earlier. The net interest margin narrowed to 3.38% from 3.42%, but in the first quarter and in the second quarter of 2012.
Average loans grew slightly, to $41.3 billion in the second quarter from $40.9 billion the previous quarter and $41.2 billion a year earlier. Average second-quarter commercial and industrial loans remained flat sequentially at $17 billion, but were up 6% from $16.1 billion a year earlier. C&I loan growth over the past year has been offset by a planned decline in commercial real estate loans, to an average of $5 billion during the second quarter from $6.1 billion a year earlier.
The company's average auto loans during the second quarter grew to $5.3 billion from $4.8 billion in the second quarter and $5 billion a year earlier. While Huntington has made solid profits from auto loan securitizations, the bank has not done any securitizations during 2013, and has no plans to do so, because "automobile loan yields are relatively more attractive than similar duration securities and the recent decline in estimated securitization gains."
Huntington has been able to offset most of its decline in interest income over the past year by shifting its liability mix away from interest-bearing deposits and borrowings toward non-interest bearing deposits. Average Wholesale borrowings during the second quarter were $2.8 billion, down from $4.3 billion a year earlier. Total interest-bearing liabilities averaged $36.1 billion during the second quarter, declining from $37.1 billion in the second quarter of 2012.
Coveted noninterest-bearing demand deposits totaled $12.9 billion, growing 6% from the first quarter, and 7% year-over-year. Average Money market deposit balances were $15.1 billion in the second quarter, growing only slightly from the first quarter but up 14% from a year earlier.
Huntington's second-quarter noninterest income totaled $248.7 million, declining from $252.2 million the previous quarter and $253.8 million during the second quarter of 2012.
Huntington's second-quarter mortgage banking income declined to $33.7 billion from $45.2 billion the previous quarter and $38.3 billion a year earlier. With rising long-term interest rates, gain-on-sale margins have been declining for mortgage loans. The bank also said "the benefit of net mortgage servicing rights (MSR) decreased by $2.5 million," from a year earlier.
Long-term Strategy
Steinour says Huntington's "theme is customer growth, with annualized growth in consumer deposits of 11.8% in the first quarter. We continue to take market share. In this low-rate environment it has not translated to significant revenue yet, but it will."
The bank has been emphasizing "share of wallet" for deposit customers for some time.
"Our customer acquisition continues to improve. We have just under 47% of our consumer checking households having six products or services. The more products and services we have, the more likely it is for those customers to stick with us over the long term," Steinour says.
Steinour characterizes Huntington's second-quarter numbers as "solid."
"There was a lot of change going on during the first half of the year," Steinour says. He is particularly focused on comments from Federal Reserve chairman Bernanke indicating the central bank may pull back on its monetary stimulus this year.
"Bernanke's comments about tapering are a benchmark for the U.S. economy and growth. This poses a challenge to the industry for mortgage banking income but will be very positive for the opportunities economic expansion affords us."
Basel III
Huntington reported a June 30 Basel 1 Tier 1 common equity ratio of 10.71%, increasing from 10.08% a year earlier, and said the Federal Reserve's capital rules finalized on July 2 would lower the Tier 1 common equity ratio by about 60 basis points.
"We had estimated a year ago that the final rules would cost us 150 basis points, so we were relatively pleased with how it came out," Steinour says. "The biggest impact is on risk-weighted assets, so over time, it will have an effect on the banking industry to adjust to lower risk-weighted assets to minimize the impact of Basel III."
When discussing the types of loans that may be affected by the Fed's capital rules, and what this might mean for business borrowers, Steinour says "there is a change in risk weightings around multiyear lines of credit for commercial borrowers. That may translate to some additional borrowing costs to have those lines available. The banks have to carry capital against those lines."
"Generally the Basel III stuff has been good for the regional banks, and it separated the regionals from the very large global SIFIs
systemically important financial institutions," he says.
Huntington's shares were up 2% in late morning trading, to $8.38.
In a note to clients following the earnings release, Jefferies analyst Ken Usdin wrote "Expenses were well-controlled and Basel III Tier 1 common is now 90bp higher (we estimate 10.1% in 2Q13) under new rules, but sluggish C&I growth (-0.9% Q-Q) and the softer core fee guide (now stable-to-down vs. flat previously) will likely leave investors somewhat disappointed."
Huntington's provision for loan losses declined to $24.7 million in the second quarter from $29.6 million the previous quarter and $36.5 million a year earlier, directly boosting pre-tax earnings.
Usdin estimated Huntington's Basel III Tier 1 common equity ratio was a solid 10.1% as of June 30.
The analyst rates Huntington Bancshares a "buy," with a price target of $9.00.
Huntington's shares closed at $8.24 Wednesday, returning 31% this year, following a 19% return during 2012. The shares trade for 1.4 times their reported June 30 tangible book value of $5.88, and for 12 times the consensus 2014 EPS estimate of 69 cents. The consensus 2013 EPS estimate is 67 cents.
Based on a quarterly payout of five cents, the shares have a dividend yield of 2.43%. Huntington's board of directors has authorized share buybacks of up to $227 million. The company bought back 10 million shares during the second quarter, at an average price of $7.50.
data by
Interested in more on Huntington Bancshares? See TheStreet Ratings' report card for this stock.
-- Written by Philip van Doorn in Jupiter, Fla.
>Contact by
.
Philip W. van Doorn is a member of TheStreet's banking and finance team, commenting on industry and regulatory trends. He previously served as the senior analyst for TheStreet.com Ratings, responsible for assigning financial strength ratings to banks and savings and loan institutions. Mr. van Doorn previously served as a loan operations officer at Riverside National Bank in Fort Pierce, Fla., and as a credit analyst at the Federal Home Loan Bank of New York, where he monitored banks in New York, New Jersey and Puerto Rico. Mr. van Doorn has additional experience in the mutual fund and computer software industries. He holds a bachelor of science in business administration from Long Island University.