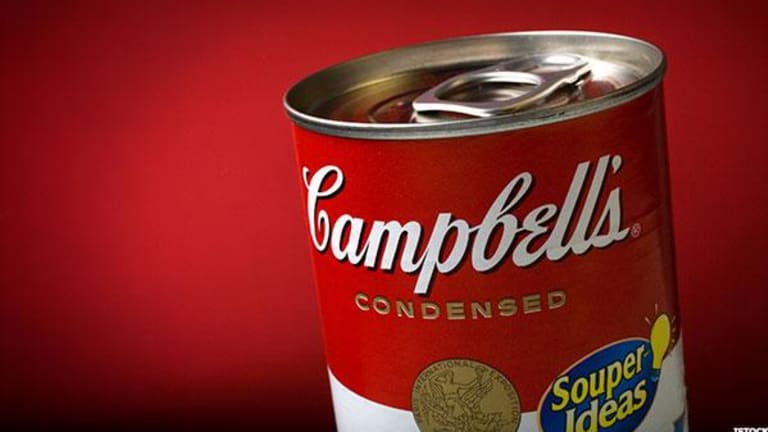 Hungry for Hot Yield and Value? Buy Campbell Soup Now
Campbell has been a standout sector performer with an impressive dividend yield.
Campbell Soup (CPB) will report fiscal 2016 fourth-quarter earnings before the opening bell Thursday. Known for Pepperidge Farm snacks and V8 products as well as its namesake soups, Campbell is making investors money. 
The stock, at around $61, has risen more than 15% year to date and 27% over the past 12 months, besting both the S&P 500undefined and the 5.22% rise in thesector-tracking exchange-traded fund, the PowerShares Dynamic Food & Beverage ETF (PBJ) .
Campbell has been a standout performer in a packaged food industry that continues to be pressured by lower profit margins and weak sales volumes, thanks to the negative impact of the strong U.S. dollar. The company's 31.25-cent quarterly dividend, yielding 2.10% annually, adds to its appeal. The company's various cost-cutting initiatives will create long-term value for shareholders.
Beyond reorganizing its product portfolio, Campbell's market share has grown at a time when some of its competitors have faltered. The company should see some positive effects Thursday, despite the fact that management recently lowered its sales outlook for fiscal 2016. Management did, however, reiterated its EBIT and earnings per share outlook, which both are expected to grow between 11% to 13%.
For the quarter that ended July, earnings are expected to be 50 cents per share on revenue of $1.69 billion. This compares to the year-ago quarter when Campbell earned 49 cents on $1.69 billion. Essentially, despite projected flat revenue due to recent product recalls, the company -- which has raised its prices -- is still finding ways to increase profits.
The stock doesn't scream bargain today at a forward price to earnings multiple of 20, which is three points higher than the S&P 500 index. But the company's solid value and its 2.10% annual dividend yield is a winning recipe.
This article is commentary by an independent contributor. At the time of publication, the author held no positions in the stocks mentioned.