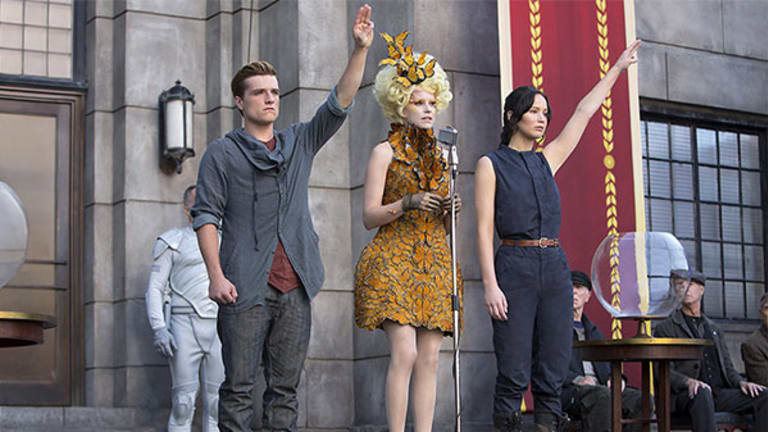 NEW YORK (TheStreet) -- Lions Gate Entertainment's (LGF) Hunger Games is poised to break the all-time opening weekend record for a 2-D movie when it opens Friday at theaters across North America.
Shareholders of Lions Gate, that rare standalone publicly-traded movie-studio, are no doubt rejoicing, while investors in entertainment electronics conglomerate Sony (SNE) - Get SONY GROUP CORPORATION SPONSORED ADR Report watch in envy, desperately hoping that Thursday announcements to restructure Sony Pictures Entertainment will generate similar profits.
Shares of Lions Gate were adding 1.4% to $33, extending the stock's 2013 advance to 100% year to date. Sony, meanwhile, was slipping 0.6% to $18.54, erasing yesterday's gain that followed the company's announcement that it will emphasize television programming over movie making.
Hunger Games success and Sony's plans to make fewer films while banking on its "Spider Man" franchise, underscores the major movie studios quickening shift to focusing on the blockbuster while all but ceding dramatic features to cable-television and by extension to online media.
"The major studios are hesitant to bankroll just about anything that isn't a Super Hero movie," Phil Contrino, chief analyst at BoxOffice.com, said in a phone interview from Washington. "They've clearly narrowed their scope."
BoxOffice.com is projecting Hunger Games to generate $166 million in sales for its opening weekend which begins to today. That would set a new 2-D record, without adjusting for inflation, currently held by The Dark Night Rises, part of the Batman franchise held by Time Warner's (TWX)  Warner Brothers studio.
Hollywood's increasing focus on the blockbuster sci-fi thriller or Super Hero character is rationalized by the notion that it's the one genre that can't be duplicated byAMC Networks (AMCX) - Get AMC Networks Inc. Class A Report or Time Warner's HBO. It's similar to the view held by CBS CBS that only a major network can produce a series such as CSI.
Long gone are the days when Hollywood produced a string of great dramatic features. It's not just the Big Six studios (of course, Lions Gate now makes that the Big Seven). Independent financiers are equally skittish about financing films that don't fit the formula of "sci-fi" thrillers and superheroes, Contrino said.
"It's harder to get money than it used to be because independents also want to make sure that a film is commercially viable," said the BoxOffice.com analyst. "So there are sometimes less risks being taken."
Sony Entertainment Chief Executive Michael Lynton told investors Thursday he pledged to cut $250 million in costs over the next two years from the company's entertainment divisions. The changes, Lynton said, center on "a significant shift in emphasis from motion pictures to higher margin television."
The upshot is that Sony plans to make fewer films. Sony made 24 films in 2005 compared to 15 movies in 2013, according to data compiled by BoxOffice.com.
Sony Pictures expects revenue for the film studio next year to be similar to total sales for 2013, he said. The studio reported a $180 million operating loss for its fiscal second-quarter ended Sept. 30. Columbia Pictures is gearing up to produce a second Amazing Spider-Man in 2014, a third Spider-Man film for 2016 and yet another sequel due 2018.
Movie making, for better or worse, has come down to the search for the next blockbuster.
--By Leon Lazaroff in New York