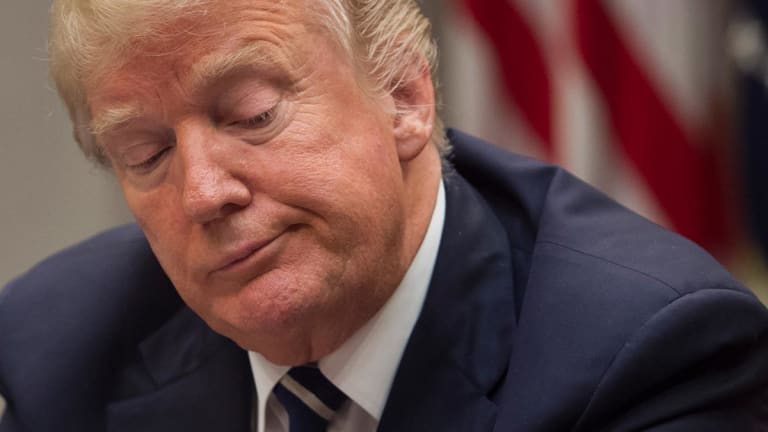 Humid, Disagreeable Outlook for Stocks as U.S. Bullies Friends and Allies
The president is undeterred, and appears to delight in the misfortunes of other nations who feel the lash of his tariffs and temper tantrums.
The outlook is humid and disagreeable.
The Dow Jones Industrial Average I:DJI concluded its worst day and week in more than a month on Friday after the U.S. President took advantage of a currency crisis in Turkey by doubling the tariffs on imported Turkish aluminum and steel. Though the president's action may have something to do with an American pastor being held in a Turkish jail, the effects included a free-fall in the Turkish lira, which lost as much as 20% and reached a record low.
The euro sank as much as 1.2% to the weakest in more than a year after the Financial Times reported that the European Central Bank has raised concern about the region's banks' exposure to Turkey.
The European currency reaction aroused unhappy memories of the recent crisis in Greece, and investors obliged their fears by bidding down emerging market indexes from Brazil and Argentina to Russia and China. And no doubt, there will be more shocks like this as the president indulges his disagreements with allies and competitors around the world. Picking fights for little discernable reason is very much the president's M.O.
Consider the original explanation for imposing steel and aluminum tariffs on imports of metal from Canada: to protect U.S. national security interests.
While it's possible that the president regards Canada as a threat to national security, that view becomes more worrisome when it comes to regarding Turkey that way. As his generals and diplomats know very well, Turkey is a NATO ally that not only sits in the middle of the Middle East, bordering Syria, Iraq and Iran as well as former Soviet republics including Armenia and Georgia, but it's also home to a major U.S. air base where dozens of nuclear bombs are said to be stored.
Under President Trump, the U.S. has engaged in hostile rhetoric against its Nafta partners and its European Union and NATO allies, as well as against traditional competitors such as China and Russia. It's not encouraging for investors who would prefer to see a more predictable character in the Oval Office. But the president is undeterred, and even appears to take delight in the misfortunes of other nations who feel the lash of his tariffs and temper tantrums.
Turkey's lira is sliding "rapidly downward against our very strong Dollar!" Trump tweeted on Friday as he hit Turkey with the higher tariffs. That remark followed one last week when he said that declines in Chinese markets showed that the tariffs he has imposed there are "working far better than anyone ever anticipated," while adding that the U.S. "market is stronger than ever."
Again, it's not clear whose interests are being advanced, just like it's not clear on the playground when a seven-year-old knocks down a four-year-old, seemingly just because he can. If Trump is determined to leave the U.S. without allies or trade partners, there's little to stop him. When it comes to China, in fact, he and some of his advisers act like they're still on the playground, trash-talking the Chinese.
"Their economy's weak, their currency is weak, people are leaving the country," Secretary of the Treasury Steve Mnuchin said recently. "Don't underestimate President Trump's determination to follow through."
No one's doubting that the President will follow through, but it makes for a cloudy outlook for U.S. equities, even with markets still at near-record highs and the U.S. economy firing about as well as it has during one of its largest expansions in history.
Because in the meantime, some of the countries Trump seeks to bully may grow up a little bit and hit back in unexpected ways.