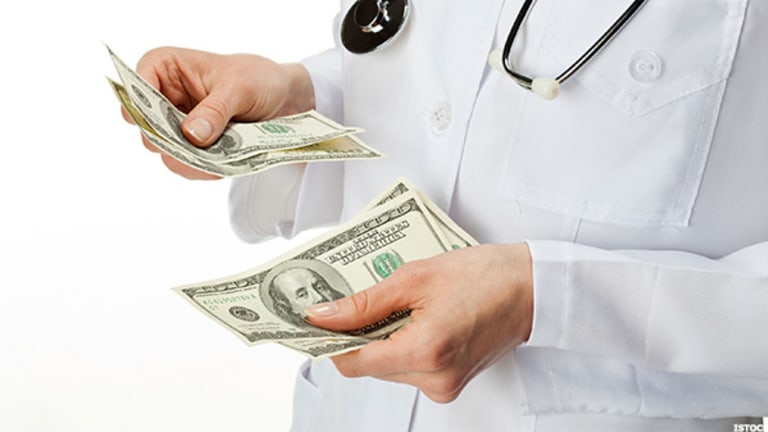 Humana, Pharma Stocks Sink as Healthcare is Worst Performing Sector Wednesday
Shares of Omeros fell almost 10% after analysts' downgraded the biotech.
U.S. stocks were little affected by Wednesday's Federal Reserve minutes, from which investors had hoped to gain new insights about the next federal interest-rate increase.
While most sectors went up steadily, healthcare was down today. With five stocks within the sector falling more than 5% by the closing bell, pharmaceutical companies were among the biggest losers of the day. Health insurer Humana (HUM)  also plunged, declining 5.1%, to a close of $168.44, after the Centers for Medicare and Medicaid Services reported that the insurer was a member of fewer highly rated Medicare plans.
Shares perked up in after-hours trading, erasing the earlier losses. 
Here's a wrap up of the biotech and pharma companies that took it on the chin Wednesday:
Omeros Corp. (OMER) ,a Seattle-based biopharmaceutical company, dipped almost 10% to $7.80 per share after Zacks Investment Research downgraded its rating on the company's stock to "sell" in a report released Wednesday. The company's stock price has officially hit a new 52-week low.
Other movers in the space included Sangamo Biosciences (SGMO) , a clinical-stage biopharmaceutical company, which fell almost 10% by the close to $4.13 per share after several equities research analysts issued different comments from "outperform" to "hold" last week. Jefferies Group restated a "buy" rating while Zacks Investment Research downgraded the stock from a"hold" rating to a "sell" rating.
Keryx Biopharmaceuticals (KERX)  is a small company focused on pushing its sole product, Auryxia, to patients with chronic kidney disease. Shares of Keryx fell 8.49% to $4.96 per share. The company suffered a shortage of its core product due to production-related issues back in August. 
Meanwhile, shares of Zogenix, Inc. (ZGNX) , another pharmaceutical company in the mix, traded down 7.06%, hitting $9.34 per share at the market close. Investors including JPMorgan Chase (JPM) and AllianceBernstein have recently increased their holdings of Zogenix's stock.
IRIDEX Corp. (IRIX) , which just reported preliminary revenues of approximately $9.6 to $9.7 million for the third quarter yesterday, saw its shares falling almost 7% to $12.97 per share at the market's close. Analysts expected revenues of $11.2 million, while the company previously indicated guidance of $11 million to $11.3 million.