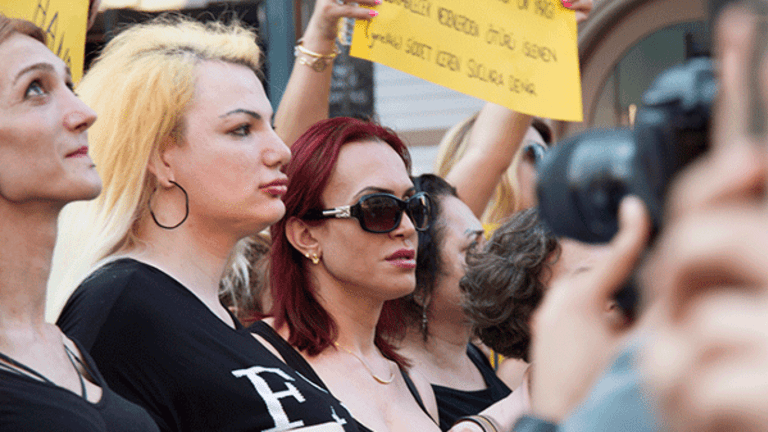 Huge Companies Like Amazon Are Being Very Quiet on Profit Hit From International Women's Day Strikes
International Women's Day on Wednesday could hurt many consumer companies.
International Women's Day on Wednesday could hurt many consumer companies.
On Wednesday, the A Day Without A Woman strike kicks into high gear. For those unfamiliar, the strike is an action set on International Women's Day that calls for refraining from shopping at large companies, sitting out a day of work and wearing red in solidarity.
However, nearly 20 companies contacted by TheStreet have declined to respond to a request for comment about the strike and its potential impact on their bottom line and reputations.
"Companies have to walk a fine line, particularly consumer-facing ones," Douglas Chia, executive director of the Conference Board's governance center, told TheStreet. "They are basically in a no-win situation. They are going to have a portion of the population who is going to like them or hate them, no matter what they do."
Chia, who specializes in corporate governance, added that because most companies are conservative and risk-adverse, it's not surprising that they are publicly silent. Some, he said, may be formulating how they are going to handle a strike or quietly allowing those who want to participate to take the day off, similar to a day needed for a religious observance. Or, for events like the Take Our Daughters and Sons to Work, it may mean an employee's workload is purposely lightened.
More recently, the A Day Without Immigrants protest caused smaller businesses shut down altogether. 
Additionally, Chia said companies in the age of President Donald Trump know that the president could mock them in a tweet or a press conference, and that could cause their stock price to drop.
Jim Cramer sat down Wednesday with four market experts to talk about how to play the Trump tax plan. Clickhere to check out their recommendations.
However, Tia Gordon, vice president of communications at Catalyst, an organization that advocates for women's career advancement and pay parity, sees it differently.
"There is power and strength in numbers and how women spend dollars and use their voice," Gordon told TheStreet. "Women have a tremendous amount of impact and influence when it comes to the economy of this world."
American women are the global leader in controlling household and consumer spending -- by a stunning 73% -- noted Catalyst. In 2013, women worldwide oversaw 64% of household spending and $29 trillion of consumer spending, a number expected to jump to $40 trillion by next year, according to Catalyst.
"They [companies] might want to give it [the strike] some attention," Gordon said. "Success of the strike could come as a surprise."
In the U.S., women make up some 47% of the workforce, a fact not lost on Catalyst's Gordon: "Women are half the talent in the workplace, they are half the brains."
Wednesday's strike aims to capitalize on the enthusiasm of the Jan. 21 Women's March on Washington. That event was initially planned only for the nation's capital in the wake of Trump's presidential election, but quickly grew to be a passionate outpouring worldwide, in which marchers wore hand-knitted pink "pussyhats" directed at Trump and his degrading comments about women.
According to the strike's website, participants are urged to take the day off from both paid and unpaid labor and skip shopping for the day (with the exceptions of small, women- and minority-owned businesses), both of which could affect business.
Not a fan of investing in retail? Try these Trump tech stocks.
In concert with the A Day Without A Woman action is a strike organized on the same day by a separate coalition, called the International Women's Strike US. That group formed following the Feb. 6 publication of an op-ed in The Guardian calling for a women's strike. Its platform includes economic and social issues.
Here are the companies contacted by TheStreet that did not respond to a request for comment: Amazon (AMZN) - Get Report , Burlington (BURL) - Get Report , Chipotle (CMG) - Get Report , Costco (COST) - Get Report , Gap (GPS) - Get Report , Home Depot (HD) - Get Report , Lululemon (LULU) - Get Report ,  Lowe's (LOW) - Get Report , McDonald's (MDM) ,   Papa John's (PZZA) - Get Report ,  Ralph Lauren (RL) - Get Report , Shake Shack (SHAK) - Get Report ,  TJX Companies (TJX) - Get Report ,  Walgreens Boots Alliance (WBA) - Get Report , Walmart (WMT) - Get Report   and YUM! Brands (YUM) - Get Report .
A representative for Domino's (DPZ) - Get Reportresponded by saying the company does not make "public political statements." A spokeswoman for Nordstrom (JWN) - Get Report was a bit more forthcoming. 
"We can't predict what kind of impact this will have on our business, but we look forward to serving any customers who choose to shop with us that day. We'll work to accommodate employees who request time off -- they'll be fully paid if they submit a request for paid time away. We just ask that they try to let us know in advance so we can ensure we're prepared to take care of our customers," Nordstrom's spokeswoman explained. 
TJX Companies and Walgreens Boots Alliance are holdings in Jim Cramer's Action Alerts PLUS Charitable Trust Portfolio. Want to be alerted before Cramer buys or sells TJX or WBA? Learn more now.