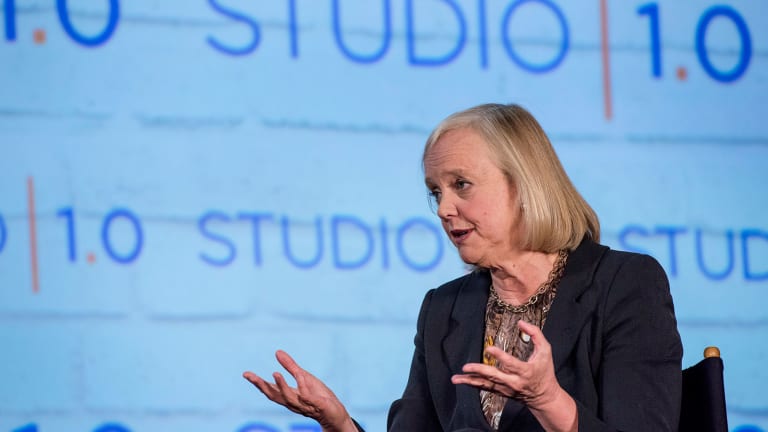 HPE Shares Tank on Earnings and Meg Whitman Departure News: 7 Key Takeaways
HPE's disappointing guidance and hardware sales figures are weighing on shares. So is news that Meg Whitman will soon step down.
Some big changes are afoot at enterprise IT giant Hewlett-Packard Enterprise Co. (HPE) - Get Free Report , and the market is not happy about it. 
HPE announced Tuesday that it had beat October quarter EPS estimates and reiterated its fiscal 2018 EPS guidance. But revenue was roughly in-line and the company guided for January quarter EPS of $0.21 to $0.24, below a $0.27 consensus.
HPE also announced Meg Whitman will be stepping down as CEO at the end of January. Antonio Neri, HPE's President and a senior company exec since 2011, will succeed Whitman.
As of the time of this article, shares are down 6.4% after hours to $13.22, leaving them close to a 52-week low of $12.97. Here are some initial takeaways from the news:
1. Whitman's planned departure isn't too shocking.
She's been HP or HPE's CEO since 2011, had her work cut out for her keeping HPE's organic sales growth positive (more on that shortly) and had interviewed for Uber's top job this summer. There was also a September Wall Street Journal report in which the paper reported "people familiar with [Whitman's] thinking" say that Whitman has "begun to make plans to leave HPE."
2. Neri is well-respected, but that doesn't mean big investors will support the status quo.
Given the added uncertainty that Whitman's departure and HPE's latest report bring to a story that already had its shares of questions, it's fair to wonder if some of the activist investors who have piled into HPE over the last few quarters will push for a strategy change and/or a sale effort. If HPE was to put itself on the block, Oracle Corp. (ORCL) - Get Free Report and P-E firms could be among the suitors.
3. Though revenue was in-line, that was only because HPE posted Financial Services revenue of $1.01 billion (up 24% and above an $872 million consensus).
The Enterprise Group (EG), which contains all of the product lines HPE hasn't sold or spun off -- mostly hardware, but with some complementary software and services -- had revenue of $6.85 billion, flat annually and below a $6.97 billion consensus.
4. Both server and storage sales are under pressure amid rapid cloud adoption.
Enterprise Group server revenue fell 5%, a worse decline than the July quarter's 1%. Storage growth slowed to 5% from 11%, and would be worse if not for HPE's $1 billion April purchase of flash/hybrid array vendor Nimble Storage. Networking was the sold hardware bright spot, with growth improving to 21% from 16%; this points to more Ethernet switching and Wi-Fi share gains against Cisco Systems Inc. (CSCO) - Get Free Report . Tech services revenue grew a modest 2%.
Though HPE has been quick to blame its server woes on plunging sales to an unnamed tier-1 cloud provider (believed to be Microsoft Corp. (MSFT) - Get Free Report), weak enterprise server demand isn't helping. And that tepid demand has a lot to do with how cloud infrastructures that rely heavily on home-grown and open-source server/storage designs are gradually hosting a larger and larger portion of enterprise workloads. This is a problem that isn't going away, and it raises questions about HPE's ability to hit its admittedly modest long-term organic revenue growth target (issued at its October analyst day) of 0% to 1%. Networking growth can only do so much.
5. IT spending priorities further call into question HPE's strategic choices.
Software is often a larger corporate IT spending priority than hardware right now, as spending forecasts from research firms such as Gartner and IDC makes clear. HPE chose to spin off its Software and Enterprise Services units, and double down on hardware via M&A. Both the Software and Enterprise Services units were struggling, and there's certainly value in being focused on excelling in one tech field rather than trying to be a jack of all trades. Nonetheless, making IT hardware the area of focus certainly brought with it some pitfalls.
6. Buybacks and R&D cuts boosted EPS.
HPE said 620 million was spent on "repurchases of common stock." Also, GAAP R&D spend at continuing businesses fell 9% to $364 million. SG&A spend grew 3% to $1.29 billion. But with HPE promising additional cost cuts at its analyst day, SG&A spend could soon head lower as well.
7. High memory prices are weighing on margins.
Weighing on EPS in the quarter was the fact that high DRAM and flash memory prices led adjusted gross margins to drop to 29.7% from 31.8% a year ago. While this is good news for Micron Technology Inc. (MU) - Get Free Report, Samsung (SSNLF) and other memory makers, it's not so great for any hardware maker that has to buy their chips in large quantities.