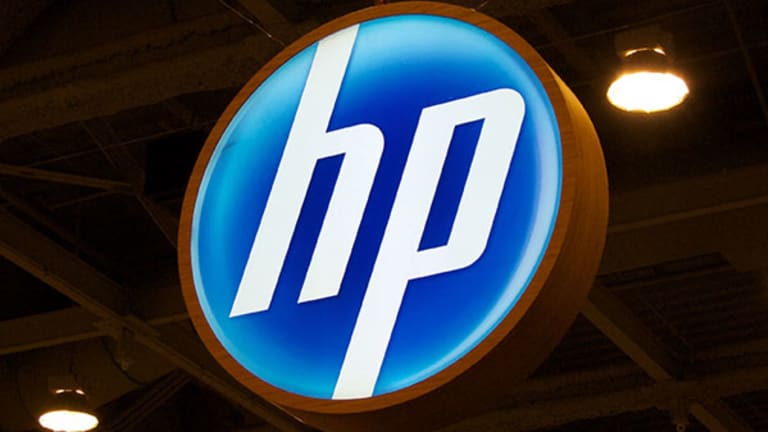 HP Should See a Boost from its PC and Printing Divisions, But It May Not Last Long
Better-than-expected PC demand could help HP's fiscal third-quarter numbers as the tech behemoth continues its post-spinoff transition.
HP (HPQ) is expected to see its PC and printing businesses lift its latest quarterly results, but the tech behemoth will continue facing long-term headwinds.
When HP reports its fiscal third-quarter earnings on Wednesday after the markets close, it will likely see modestly positive results thanks to improved demand for PCs and printing.
Wall Street is expecting revenue of $11.4 billion and earnings per share of 44 cents. Shares were essentially flat at $14.57 Wednesday late morning ahead of the earnings.
"On the PC side, we note y/y trends in unit shipments improved from CQ1 to C2Q and HPQ saw share gains in this segment," wrote RBC Capital Markets analyst Amit Daryanani in a Monday note. "For printing, while data points from Canon confirm a mostly negative narrative, we think HPQ's intra-quarter Business Update call adequately reset expectations."
Daryanani further noted that recent PC data has suggested an improved worldwide PC environment, pointing to Gartner's report that global PC shipments reached 64.3 million units for the latest quarter.
Meanwhile, Canon's printing business has seen a decline of about 25% year-over-year, underlining the challenging print environment for HP, Daryanani said. Still, HP has essentially de-risked the unit with its plan to invest gains from the divestiture of its marketing optimization businesses that were previously under the printing division to OpenText (OTEX) .
While HP's third quarter may be see a boost for the time being, the Palo Alto, Calif., has long-term headwinds including a potential global economic slowdown and tough competition in its major markets.
Meanwhile, HP is in the midst of grappling with the aftermath of a major corporate reshuffling.
Last November, the company that was then called Hewlett Packard divided itself into two parts: a legacy PC and printing business and an enterprise business. The former is now called HP while the latter is named Hewlett Packard Enterprise (HPE) . Meg Whitman currently serves as CEO of Hewlett Packard Enterprise and chairwoman of HP.
Since the spinoff, both have been active in M&A as they look to refocus their respective businesses.
Hewlett Packard Enterprise agreed to acquireSilicon Graphics International (SGI) earlier this month in a move to bolster its data analytics offerings. The purchase came just three months after HPE announced its plans to merge its enterprise services unit with Computer Sciences (CSC) in a tax-free deal that valued at $8.5 billion for HPE shareholders.
On the other hand, HP has agreed to divest itself of a number of businesses and sell them to OpenText. In June, OpenText agreed to buy HP's customer communications management business for around $315 million, just two months after acquiring its marketing optimization software and service assets for about $170 million.
Since last November's split, HPE shares are up about 51% while HP stock is up just 6%.