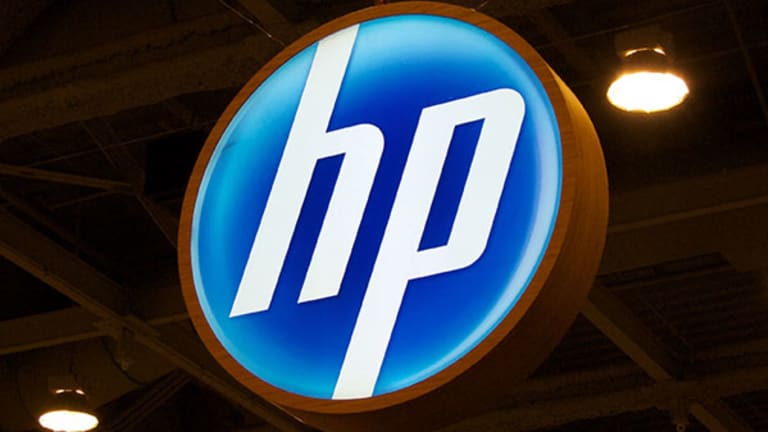 HP Enterprise's Latest Earnings Show Why a Software Sale Was Needed
HPE's software unit has been in freefall. Offloading a large chunk of it leaves the company in better position to battle Dell and EMC in hardware.
While HP Enterprise (HPE) - Get Hewlett Packard Enterprise Co. (HPE) Report isn't fully unloading its software business, as some recent reports suggested the company might do, the company's deal to spin off its "non-core" software assets and merge them with British software firm Micro Focus does make HPE a very hardware-centric business. The company's July quarter results do much to explain its motivation.
HPE will be handing off software assets said to include its "Application Delivery Management, Big Data, Enterprise Security, Information Management & Governance and IT Operations Management businesses." In return, the company will get $2.5 billion in cash and a 50.1% stake in the post-merger entity. The stake is valued at $6.3 billion based on Micro Focus' Monday close in London and will be distributed to HPE shareholders via American Depository Shares (ADSs), when the deal closes in the second half of fiscal 2017 (ends in October 2017).
Certain HPE software assets, such as the company's Helion cloud management software line, its OneView infrastructure management software and the Wi-Fi management software provided by the company's Aruba Networks unit, will be retained. But it does look as if the lion's share of HPE's software business will be handed off.
It's probably no coincidence that the deal was announced in tandem with a July quarter earnings report, in which HPE reported software revenue of $738 million, down 18% annually after adjusting for divestitures and currency swings. License revenue, which is closely watched due to its impact on future services revenue, fell an adjusted 17%. The business has arguably never recovered from the ill-fated $11 billion acquisition of enterprise search firm Autonomy in 2011, and has been beset by execution and competitive issues.
The Micro Focus deal has much in common with HPE's deal (announced in May) to spin off its Enterprise Services unit and merge it with Computer Sciences (CSC) . In each case, the company is betting a slumping business will fare better with greater scale and a management team that can give the business close attention. And the deals collectively leave HPE with a stronger balance sheet and a chance to focus on a relatively healthy enterprise hardware business.
Between them, the Micro Focus and CSC deals will add $4 billion in cash to HPE's coffers and remove $2.5 billion in debt and other liabilities. That leaves the company, which had about $5.5 billion in net debt at the end of July, in better shape to go acquisition-hunting at a time when the enterprise hardware and security markets have been seeing tons of M&A activity.
And Dell and EMC's merger, which closed today, gives HPE plenty of motivation to strengthen its hardware lineup. It might not be long before the company goes from being a seller of assets to a buyer