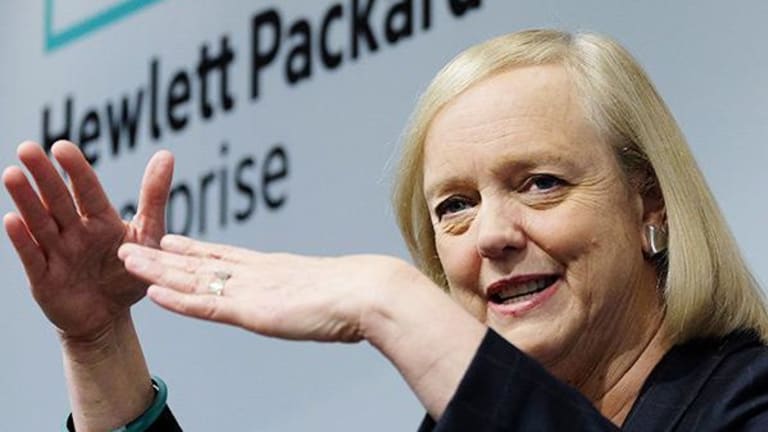 HP Enterprise's Earnings Were Encouraging, but It Still Has Much to Prove
The IT giant's strategy of focusing on hardware sales paid off well last quarter. But keeping the momentum going won't be easy.
This column has been updated to note HPE shares are trading lower on the morning of September 7th, after having initially moved higher post-earnings, and to mention a Wall Street Journal report suggesting Meg Whitman might leave HPE.
The first two earnings reports Hewlett Packard Enterprise Co. (HPE) - Get Hewlett Packard Enterprise Co. (HPE) Report  released this year provided plenty of reasons to question a business strategy that has involved doubling down on the company's IT hardware business while spinning off a large chunk of its software and services assets.
HPE's latest report by no means puts an end to long-term concerns about the health of its hardware business. But it does suggest the company's contrarian strategy is starting to pay off some. And considering the valuation that Meg Whitman's company sports, it only needs to pay off so much.
HPE reported July quarter (fiscal third quarter) revenue of $8.21 billion and adjusted EPS of $0.30. Excluding revenue from the Software unit that HPE just finished spinning off and merging with British software firm Micro Focus International Plc (MFGP) - Get Micro Focus International plc Sponsored ADR Report , revenue totaled $7.5 billion, roughly in-line with consensus analyst estimates and up 6% excluding forex and divestitures. EPS, lifted by a 5% drop in adjusted operating expenses to $2.02 billion and $625 million in stock buybacks, beat a $0.26 consensus.
HPE also guided for October quarter adjusted EPS of $0.26 to $0.30. That's officially below a $0.40 consensus, but looks better when one accounts for the $0.13 impact the software spinoff is expected to have on EPS, after factoring lost revenue and "stranded costs" related to the business. The spinoff follows one in April for HPE's Enterprise Services unit, which was merged with Computer Sciences to form a new company called DXC Technology Co. (CSC) .
After gaining over 4% in after-hours trading following the report, HPE shares have reversed course and are down about 1% in Wednesday morning trade. Possibly worrying investors: A Wall Street Journal report stating that people close to Whitman, who was previously linked to Uber's CEO search, believe she has "begun to make plans to leave [HPE] as soon as this fall." In addition, some analysts have expressed disappointment about HPE's near-term earnings power in the wake of its spinoffs.
Going over well: HPE's Enterprise Group -- it covers IT hardware and related software/services, and accounts for nearly all of HPE's post-spinoff offerings -- posted revenue of $6.79 billion, up 3% annually and above a $6.37 billion consensus. Server revenue, which fell 14% in the April quarter amid a big drop in sales to a "tier-1" cloud client (widely believed to be Microsoft Corp. (MSFT) - Get Microsoft Corporation (MSFT) Report ), only fell 1% this time.
More of What's Trending on TheStreet:
Tech analyst Patrick Moorhead notes server revenue grew 12% excluding tier-1 cloud sales. Softer year-ago figures helped, as did HPE's $275 million acquisition of high-performance computing (HPC) server vendor SGI and $650 million acquisition of hyperconverged infrastructure provider SimpliVity. But it also looks as if HPE took share in a pressured enterprise server market.
HPC server sales grew 10% organically, and 40% after factoring SGI. Hyperconverged sales grew over 100%, though Whitman cautions this was off a small base. HPE also reports it now has over 600 clients for its innovative Synergy systems (first unveiled in late 2015), which turn server, storage and networking resources into modular building blocks and can quickly dedicate additional resources for an app when it needs them. Synergy demand is also said to have boosted sales of the blade servers used by the systems.
On the networking front, it looks as if HPE is still taking share from Cisco Systems Inc. (CSCO) - Get Cisco Systems, Inc. Report Wi-Fi product revenue rose over 30% thanks to strong growth for HPE's Aruba Networks unit, and -- thanks partly to deals featuring Aruba sales -- wired switching revenue grew mid-single digits. Due to both share loss and product transitions, Cisco's switching revenue fell 9% in its July quarter to $3.44 billion; its wireless revenue grew 5% to $799 million.
Storage revenue grew 11% with the help of a 30% increase in all-flash storage array sales. But that has much to do with HPE's $1 billion purchase of hybrid and all-flash array vendor Nimble Storage -- the company still says it's seeing "challenging" storage demand in the U.S. and elsewhere. On the bright side, HPE asserts Nimble's sales and profits were better than expected, and notes it's bringing Nimble's InfoSight analytics software for predicting potential hardware issues to its entire storage lineup.
HPE's Financial Services revenue grew 10% to $897 million, something the company attributes to growing conversions of leases into hardware sales and a greater mix of operating leases relative to capital leases. However, financing volumes fell by 8%.
Looking at HPE's bottom line, high DRAM and flash memory weighed on the company's gross margin, which fell 80 basis points sequentially and 340 points annually to 33%. HPE is only partly passing on higher memory costs to customers in the name of taking share, and considering how high prices remain, this may be a larger headwind still in the October quarter.
Nonetheless, the Enterprise Group's operating margin did improve by 80 points sequentially to 9.6% thanks to cost cuts -- it was still below a year-ago level of 12.6% -- and CFO Tim Stonesifer forecast it would be "closer to 11%" by the end of this quarter. Whitman insisted margins can return to their higher historical levels in 2018, but added HPE will be "a quarter or so delayed" by commodity costs and other issues such as the aforementioned stranded costs.
Though HPE has made some smart moves to flesh out its product lineup and grow its exposure to stronger IT hardware segments, growing sales long-term will still be a challenge, given that cloud giants gobbling up a larger and larger share of IT spending dollars are only sparsely buying hardware from traditional IT giants. In Q2, Intel Corp.'s (INTC) - Get Intel Corporation (INTC) Report Data Center Group saw its sales to enterprise and government clients drop 11% annually, and its sales to cloud providers grow 35%.
But one can't find too much fault with HPE's product execution as it deals with this issue. Nor its ability to successfully digest big hardware acquisitions, as Aruba and Nimble's recent performance shows. And it looks as if the company isn't done using its checkbook to improve its positioning: Shortly before its latest earnings report, HPE announced it's buying Cloud Technology Partners, a consulting firm that helps major enterprises implement cloud projects.
HPE expects about $1 in EPS from continuing operations in fiscal 2017, and "significant uplift" for that number in fiscal 2018 with the help of a better cost structure, buybacks and attempts to offset commodity price hikes. With the stock still trading below $15, such a valuation gives the company some margin of error as it pushes ahead with its unique turnaround strategy.
And HPE's latest results, though certainly not guaranteeing it will all be smooth sailing ahead, does indicate that a management team no longer distracted by the company's Software and Enterprise Services units has its eye on the ball.