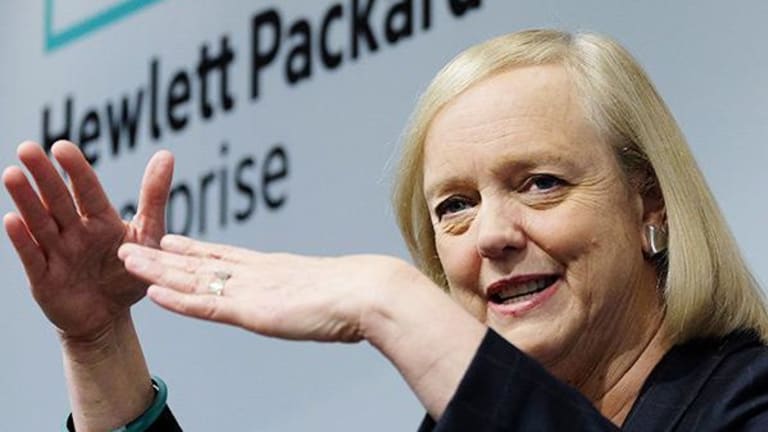 HP Enterprise's $1.2 Billion Deal to Buy Nimble Storage Shows It Sees the Writing on the Wall
As cloud adoption pressures HPE's hardware sales, the company is opening up its checkbook to go after growth markets.
If recent industry sales estimates didn't make it clear that HP Enterprise (HPE) - Get Hewlett Packard Enterprise Co. (HPE) Reportneeded to make additional moves to strengthen its hardware business in the face of growing cloud infrastructure adoption, the IT giant's soft January quarter sales and full-year EPS guidance cut certainly drove the message home (that's particularly true when a major drop in orders from one cloud client -- from all signs, Microsoft (MSFT) - Get Microsoft Corporation (MSFT) Report -- had much to do with the shortfall).
It's also clear, however, that HPE doesn't have its head in the sand. Via spinoffs, layoffs and a string of acquisitions, the company wants to transform itself into a focused, share-gaining provider of IT hardware and infrastructure software tools. Its deal to buy storage hardware/software vendor Nimble Storage (NMBL) is one more piece to the puzzle.
On Tuesday, HPE announced it's buying Nimble for $1 billion in net cash plus the assumption/payout of $200 million in unvested equity awards. The $12.50 per share acquisition price represents a 45% premium to Nimble's Monday close, but is over 75% below the company's early-2014, post-IPO highs. TheStreet's sister site, The Deal, had suggested in November that HPE chairwoman Meg Whitman could make a bid for Nimble or other rival storage companies.
HPE is paying just 2.4 times Nimble's fiscal 2018 (ends January 2018) consensus sales estimate of $491 million (implies 22% sales growth). The deal stands to add to a net debt balance of $5.9 billion, but HPE's cash flow profile, together with the cash it will be receiving from pending deals to spin off its Enterprise Services unit and a large chunk of its software business, make it easily digestible.
WATCH MORE:Randy Zuckerberg, sister of Facebook CEO, says we need more tech skills in America
Enterprise flash storage array vendor Pure Storage (PSTG) - Get Pure Storage, Inc. Class A Report, which competes to an extent with Nimble, is up 11.1% following the news, as investors bet the company will also see a suitor. Nutanix (NTNX) - Get Nutanix, Inc. Class A Report, a provider of hyperconverged server/storage systems, is up 1.3%. Pure and (especially) Nutanix sold off last week after releasing earnings reports that featured disappointing guidance.
Nimble cut its teeth as a provider of hybrid storage arrays -- they contain both flash memory and hard drives, with mission-critical data typically stored on the former -- for small and mid-sized businesses (SMBs). But over the last couple of years, it has also become a notable player in the SMB all-flash array (AFA) market. Nimble has made some attempts to compete in the enterprise storage market, where Dell EMC, HPE, NetApp (NTAP) - Get NetApp, Inc. (NTAP) Report and IBM (IBM) - Get International Business Machines (IBM) Report remain the top players, but with limited success.
Jim Cramer and the AAP team hold positions in HP Enterprise for their Action Alerts PLUS Charitable Trust Portfolio. Want to be alerted before Cramer buys or sells HPE? Learn more now.
In a blog post, HPE exec Antonio Neri asserts Nimble will strengthen its position in the mid-range flash storage market, where Dell EMC and NetApp have large presences. He adds HPE will continue pitching its fairly successful 3PAR flash arrays to enterprises, and that the company will also continue supporting its StoreVirtual (storage virtualization hardware/software) and MSA (entry-level storage) solutions. It will be interesting to see just how much support MSA is given in the future, given the overlap with Nimble's offerings.
Neri also suggests Nimble's software was a major factor behind the deal. The software used to manage Nimble's arrays has won praise for its ease-of-use, and the company's hybrid arrays are able to automatically adjust (based on performance needs) what data is placed on flash versus disks.
Nimble also provides software (InfoSight) that analyzes sensor data to detect potential problems with storage arrays -- HPE plans to support the software across its storage lineup. And it recently joined peers in launching a software offering for jointly managing data split between its arrays and cloud storage platforms such as Amazon Web Services (AWS) and Microsoft Azure.
This is HPE's third notable acquisition so far in 2017. The Nimble deal follows a $650 million agreement to buy SimpliVity, a hyperconverged hardware/software provider, and a deal (size unknown) to buy Niara, a provider of security software that analyzes network data to detect abnormal activity.
Last year, HPE spent $275 million to buy high-performance computing (HPC) server/storage vendor SGI. And in 2015, before the old Hewlett-Packard broke up, it spent $3 billion to buy Aruba Networks, the #2 player in the enterprise Wi-Fi hardware/software market behind Cisco Systems (CSCO) - Get Cisco Systems, Inc. Report.
A common thread behind all those deals: They address markets that have been growing even as on-premise IT spending continues dropping due to cloud adoption. When announcing the SimpliVity deal, HPE noted the hyperconverged market is expected to see a 25% compound annual growth rate (CAGR) from 2016 to 2020, reaching a size of nearly $6 billion. Research firm IDC estimates the AFA market grew 61% annually in the fourth quarter to almost $1.7 billion, and that the broader flash storage market will see a near-17% CAGR from 2016 to 2020, growing to about $20 billion.
HPE is coming off a January quarter in which its Enterprise Group (IT hardware + related services) saw revenue drop 12% to $6.3 billion, with server and storage revenue respectively dropping 12% and 13%. Aruba, whose sales rose 20%, was a notable strong point for the division.
Many of HPE's peers aren't doing much better: IDC estimates global server revenue fell 4.6% in Q4 to $14.6 billion, and external storage system revenue 7.8% to $6.5 billion. HPE, along with its H3C Chinese JV, was estimated to have a 23.6% server share and a 10.2% storage share.
Buying the likes of Nimble, SimpliVity, SGI and Aruba certainly isn't a cure-all for HPE's hardware woes. Cloud giants such as Microsoft, Google, Amazon and Facebook continue relying heavily on servers, storage and switches based on internal and open-sourced designs, and as these companies claim a larger and larger chunk of global IT spending, HPE and its traditional rivals have to fight over a smaller pie. That's at least unless they can somehow convince the cloud giants to change their buying habits.
But the deals, along with HPE's restructuring and spinoffs, do arguably position the company well to make the best out of a tough situation. By acquiring companies with compelling offerings for still-growing IT markets, integrating them with its existing product line and offering the integrated solutions through its large salesforce and channel partner base, HPE at least has a shot at offsetting cloud-related pressures with share gains at the expense of smaller and/or less focused rivals.
Considering the challenge at hand, another deal or two looks possible. HPE sees the writing on the wall, and its response is fairly aggressive.