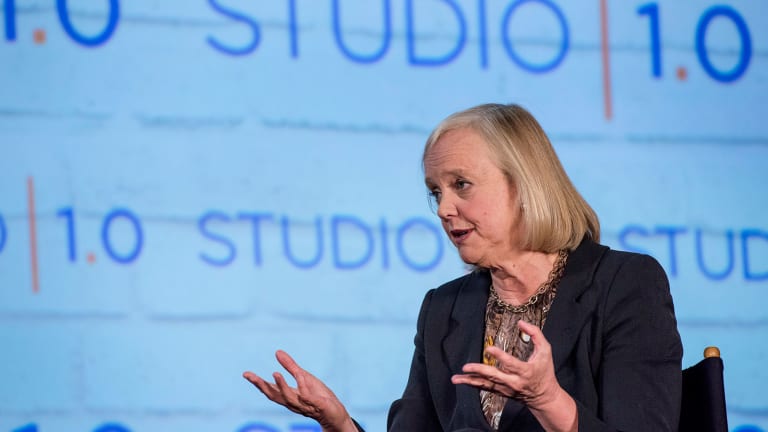 HP Enterprise Could Use an Expected Software Windfall to Make Hardware Acquisitions
The company is intent on growing its hardware business and ridding itself of other units. Companies such as Nutanix and F5 Networks could be targeted.
As EMC (EMC) and Dell get set to tie the knot and create an enterprise hardware giant, HP Enterprise (HPE)  is carrying out a radical transformation of its business, morphing from a soup-to-nuts enterprise IT firm in the mold of IBM (IBM) to a company focused on hardware and a small amount of related software and services. There's a good chance additional acquisitions will be part of the effort.
Reuters reported on Thursday that HPE is in talks with private equity firm Thoma Bravo about selling its large Software unit, and hopes it can get $8 billion to $10 billion. The news service added that HPE has, to date, received offers of up to $7.5 billion for the unit, via talks with Thoma Bravo and several other firms.
Reuters and Bloomberg both previously reported HPE's software business is on the block. The company's July quarter earnings report, due after the close on Wednesday, would be a good time to announce a deal.
The reports come after HPE announced it's spinning off its Enterprise Services unit and merging with Computer Sciences. Since last October, the company has also shuttered its Helion public cloud infrastructure (IaaS) business and sold its TippingPoint security appliance unit to Japan's Trend Micro. Both businesses were small players in their core markets.
Meanwhile, ahead of the old Hewlett-Packard's breakup last fall into HPE and a PC/printing unit known as HP Inc., HPE bolstered its hardware business by acquiring Aruba Networks, the No. 2 player in the enterprise Wi-Fi market behind Cisco, for $3 billion. And last month, the company struck a $275 million deal to buy high-performance computing server/storage vendor SGI.
Both a software sale and a services spinoff allow HPE to jettison declining businesses pressured by execution issues--the Software unit hasn't been right since the debacle that was the Autonomy acquisition--as well as industry trends such as cloud services adoption. Software revenue fell 13% annually in the April quarter to $774 million, with license revenue dropping 12% and cloud/SaaS revenue 11%. Enterprise Services revenue fell 2%, to $4.7 billion, after posting larger declines in prior quarters.
By contrast, HPE's Enterprise Group, which provides IT hardware and related services, saw revenue rise 7%, to $7 billion, a big improvement from the January quarter's 1% growth. The Aruba acquisition provided a sales boost, but so did better-than-expected server and storage revenue. IBM's Systems (hardware and operating system software) division revenue fell 23% in the second quarter to $2 billion, and EMC's revenue fell 3% after backing out virtualization software leader VMware's sales.
HPE's hardware operations are clearly performing better since the breakup -- management shakeups appear to be helping -- and for now are bucking conventional wisdom that its hardware sales are set for a long-term decline as IT spend continues shifting toward cloud infrastructures relying on equipment from Asian contract manufacturers.
Of course, it doesn't hurt that HPE has made serious efforts to win the business of cloud providers. The company has struck a hardware supply deal with Dropbox as the cloud storage giant migrates away from Amazon's infrastructure, and has also partnered with Taiwanese contract manufacturers Foxconn and Accton to provide low-cost servers and switches for cloud data centers.
Given HPE's hardware ambitions and the huge windfall it will get from a software sale, odds are high that fresh hardware acquisitions will be made to flesh out the company's product line. Plenty of possibilities exist.
Nutanix, which filed for an IPO last December but hasn't gone public yet, is one that arguably makes a lot of sense. The company is a top provider of "hyperconverged" server/storage systems that can scale to thousands of nodes--its product let enterprises build the kinds of infrastructures cloud giants have created using their own hardware--and has developed management and virtualization software for its hardware that has made it a thorn in VMware's side.
With Nutanix valued at over $2 billion in a 2014 funding round, an acquisition might cost north of $3 billion. One potential roadblock: HPE has been trying to compete with Nutanix by launching its own hyperconverged systems.
Buying F5 Networks (FFIV) , meanwhile, would do much to strengthen HPE's networking push. F5 is the top provider of application delivery controllers (ADCs) that direct web traffic to and offload various functions from servers, and also has a growing security hardware presence. The company has reportedly been working with Goldman to field buyout offers. Given a current market cap of $8.2 billion, it would be relatively costly.
Barracuda Networks (CUDA) , whose product line covers security hardware, storage appliances and ADCs, is another possibility. And if HPE wants to make a strong push into security, it could take a look at FireEye (FEYE) , which has several interesting cybersecurity hardware, software and service assets. Both Barracuda and FireEye were reported earlier this year to have explored sales.
There's no guarantee additional deals will be made. HPE could conceivably use all its software proceeds to pay down debt and buy back stock. But don't bet on it. The company clearly isn't scared of making big moves right now, and the arguments for using M&A to strengthen its hardware lineup remain pretty strong.