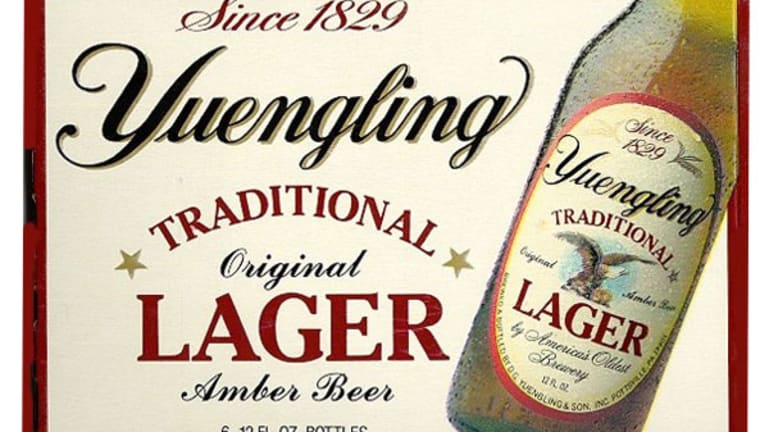 How Yuengling and Schell's Became Craft Beer
The Brewers Association craft beer industry group recently had a change of heart about its definition of a craft brewer. Soul searching helped, but so did political and beer industry reality.
PORTLAND, Ore. (TheStreet) -- If your brewery brewed beer with maize when it opened because it was the best option available, somehow managed to survive Prohibition and avoided being bought out by the bigger breweries afterward, should it be considered craft?
For years, the Brewers Association craft beer industry group has said no. It didn't like the use of maize, corn or rice as adjuncts, it didn't feel that manner of brewing was "traditional" and it felt that the brewers who ran the Great American Brewing Festival and the American Homebrewers Association were well within their rights to keep brewers out of their club regardless of how long they'd been brewing.
That left many of the oldest breweries in the country out of the loop and, embarrassingly, left brewers with "craft" in their name on the outside looking in. It also left beer drinkers scratching their heads over which beers qualified as craft beer and which didn't.
That's over now, thanks to a whole lot of soul searching and a big change of heart by the Brewers Association. After taking a look at its hard-and-fast rules defining craft brewers -- which already flexed in 2010 to raise the production limit for small brewers from 2 million barrels to 6 million to accommodate Samuel Adams producer Boston Beer -- the Brewer Association's Board of Directors decided that perhaps its was being a bit tough on the older brewers. Back in February, the board decided to soften its stance against the use of rice and corn as adjuncts and whittled down the "traditional" pillar of its craft brewer definition.
Also see: Nitro Battle Bursts Craft Beer's Bubble>>
As a result, brewers including Pottsville, Pa.-based D.G. Yuengling & Son (the oldest in the U.S., founded in 1829); St. Marys, Pa.-based Straub Brewing (1872); New Ulm, Minn.-based August Schell Brewing (1860); Monroe, Wis.-based Minhas Craft Brewery (1845 as Blumer Brewing) and others will be considered "craft beer" from this point on.
"My understanding with those companies is that they have their own licenses and produce their own beer and are under 6 million barrels and are independently owned, so they would fit based on my understanding," says Paul Gatza, director of the Brewers Association.

While the new definition technically won't go into effect until the Brewers Association compiles its stats for 2014 in February, the mere fact that it's changing is a huge deal for the group and the craft beer community in general. The Brewers Association's Board of Directors includes some of the most influential names in craft beer, including Sierra Nevada founder Ken Grossman, New Belgium Chief Executive Kim Jordan, Dogfish Head creator Sam Calagione, Deschutes Brewing leader Gary Fish and Allagash head Rob Tod. Those are some of the longest-tenured individuals in this corner of the industry, and their craft brewer definition's impact on small legacy brewers likely wasn't lost on them.
Of course, the fact that many of those brewers were on the Brewers Association membership rolls probably didn't escape anyone's notice either. The biggest motivation, however, likely came from those pre-Prohibition brewers themselves. They were hurt not only by the "Craft vs. Crafty" op-ed that the Brewers Association had penned for the St. Louis Post-Dispatch in 2011, but by the accompanying graphic that called out those breweries by name. Jace Marti, a sixth-generation brewer from August Schell, would have none of it and took the Brewers Association to the woodshed in a written response. Marti reminded BA that August Schell and other, older breweries like it were using maize to compensate for subpar, four-row U.S. barley and that such improvisation and dedication to quality were what craft beer was supposed to be about.
That caught somebody's attention. The board started asking its member brewers what they thought and revisiting not only the craft brewer definition, but the association's mission, purpose, core values and beliefs. As it turned out, the use of adjuncts not only wasn't a huge deal, but was something that some craft brewers had been dabbling in anyway. The consensus was that craft beer wasn't supposed to be Germany and that beer recipes shouldn't be limited by laws that once held that country's beer ingredient list to water, hops and barley.
"One of the arguments that I think was pretty convincing was that the idea that adjuncts don't fit into craft brewing is largely sort of a loose reinheitsgebot kind of concept like the 16th and 17th Century Bavarian and brewing tradition, yet our core values and beliefs talk about how we are stewards of 10,000 years of brewing history," Gatza says. "They didn't really jibe."
Also see: Beer Mailbag: SweetWater and New Belgium Ring In Spring>>
In short, craft beer was supposed to stand in opposition to homogenous large-scale brewing such as that conducted by Anheuser-Busch InBev, MolsonCoors and SABMiller. It wasn't supposed to ban rice or corn or wage war against lager and pilsner.
"As craft brewers have innovated and explored new recipes, the idea that we should take rice and corn out of that toolbox didn't fit with our spirit of innovation either," Gatza says. "I think there are a few high-profile craft brands out there that probably are using rice and corn or some other simpler sugar."
One of the bigger issues, however, was that the Brewers Association's stance was causing some fracturing among small brewers at a time craft beer could least afford it. The Brewers Association had been sponsoring the Small BREW Act in Congress and pushing for tax breaks for brewers that produce 6 million barrels or less. Meanwhile, the Washington-based Beer Institute industry lobbying group had been supporting the competing BEER Act that would give tax breaks to all brewers, but in various increments based on production. The Brewers Association's proposal draws a firm line between "craft" and importers/big brewers, but it looked shaky when BA was actively deriding small brewers as "crafty." The board of directors knew it needed those small brewers' support but, according to BA's statement, "to change horses in the middle of the Congressional session could have burned the association's ability to get Congressional co-sponsors for any legislation, perhaps for a couple of decades."
The political implications of this tweak shouldn't be overlooked. The Brewers Association acknowledges that it is trying to take 10% of the beer market by volume in 2014 and changed its mission statement to reflect a new goal of 20% market share by 2020. By bringing Yuengling on board, BA just added a brewer that produced 2.79 million barrels in 2012 -- more than any craft brewer. August Schell, meanwhile, made 132,000 barrels that year. That's more than the total for midrange craft brewers including SweetWater (110,000), Full Sail (110,000), Summit (113,000), Anchor (117,000), Firestone Walker (119,000), Long Trail (120,000) and Great Lakes (120,000).
That said, it doesn't mean that the Brewers Association is willing to bring in any brewery with less than 6 million barrels of U.S. production. The "independent" portion of its craft brewer definition still applies, and still excludes any brewer that sells more than a 25% stake of their operation to a member of the alcohol industry that isn't a craft brewer. That means historic Mendocino Brewing is still out, since it's owned by big Indian brewer United Breweries. That leaves out Fordham and Old Dominion as well, as those Delaware-based brewers are 49% owned by Anheuser-Busch InBev.
Perhaps most significantly, that still excludes the Craft Brew Alliance and its Kona, Omission, Square Mile Cider, Redhook and Widmer Brothers brands. Never mind that Redhook has been brewing beer since 1981 and that Kurt and Rob Widmer are celebrating 30 years of brewing this year: Craft Brew Alliance is 32% owned by Anheuser-Busch InBev. What difference those six percentage points make is unclear to even some who've long observed the craft beer industry, but it's a point that the Brewers Association still refuses to budge on.
The same applies to its import threshold. Burlington, Vt.-based Magic Hat, Seattle-based Pyramid and Portland-based Portland Brewery were all once craft brewers, but had the misfortune of being lumped into the North American Breweries parent company. They're out not because NAB was sold to Cerveceria Costa Rica, a subsidiary of Florida Ice & Farm, for $388 million in 2012, but because the volume of NAB-imported Labatt's -- an Anheuser-Busch InBev product produced in Canada, is greater than the amount of beer that NAB produces in the U.S.
That doesn't mean they can never be craft again, mind you. It just means that Magic Hat, Pyramid and Portland have to hope that demand for Labatt's wanes a bit. For example, Boulevard Brewing in Kansas City and Brewery Ommegang in Cooperstown, N.Y., are owned by Belgian brewer Duvel Mortgaat, but each is still considered craft because Duvel imports relatively little beer into the United States. Portland-based BridgePort and Shiner, Texas-based Shiner, meanwhile, only gained "craft" status in 2006 when parent company Gambrinus lost the right to import Corona.
That still muddies the definition of "craft beer" a bit, but Gatza and the Brewers Association seem confident the term means a lot more today than it did when some of the country's longest-tenured brewers didn't fit under its umbrella a year ago.
"The association is stronger when it includes some of the older brewers in this country who are still small brewers."
-- Written by Jason Notte in Portland, Ore.
>To contact the writer of this article, click here: Jason Notte.
>To follow the writer on Twitter, go to http://twitter.com/notteham.
>To submit a news tip, send an email to: tips@thestreet.com.
RELATED STORIES:
>>5 Best Major League Soccer Craft Beer Partnerships
>>Brew Your Own Beer: Our Beer Writer Does
>>Beer Mailbag: SweetWater and New Belgium Ring In Spring
Jason Notte is a reporter for TheStreet. His writing has appeared in The New York Times, The Huffington Post, Esquire.com, Time Out New York, the Boston Herald, the Boston Phoenix, the Metro newspaper and the Colorado Springs Independent. He previously served as the political and global affairs editor for Metro U.S., layout editor for Boston Now, assistant news editor for the Herald News of West Paterson, N.J., editor of Go Out! Magazine in Hoboken, N.J., and copy editor and lifestyle editor at the Jersey Journal in Jersey City, N.J.