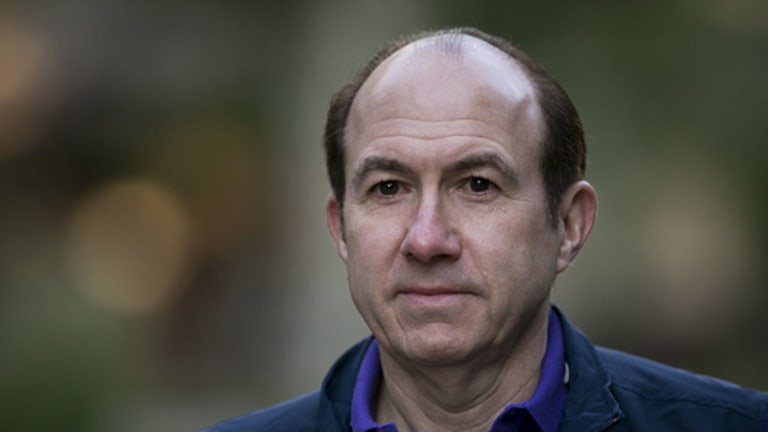 How Viacom Is Attracting Value Investors Intrigued by Turnaround
The media company's CEO, Philippe Dauman, wants to launch new initiatives to generate more viewership.
NEW YORK ( TheStreet) -- Viacom (VIAB) - Get Viacom Inc. Class B Report is trading at its lowest valuation in more than two years, a result of investor concerns about rating declines at MTV and Nickelodeon, the New York-based media company's biggest networks.
Yet despite those declines that have led to drops in domestic advertising revenue, MTV and
 remain two of the best-known brands in television. Following a series of executive changes, CEO Philippe Dauman is seeking new initiatives to turn around his struggling business at a time when the stock is comparatively cheap, trading at 12.5 times earnings, its lowest valuation since December 2013.
Viacom shares have lost 10% in 2015 compared to little change at the S&P 500. 
Much of that decline in stock price is due to weakness on both sides of Viacom's business: advertising, and the licensing fees that pay-TV distributors such as Comcast (CMCSA) - Get Comcast Corporation Class A Report, DirecTV (DTV) and Dish (DISH) - Get DISH Network Corporation Class A Report pay to carry the company's networks.
When licensing agreements expire, network owners habitually ask for price increases. But as Viacom's ratings have declined, Dauman's ability to extract affiliate fee increases has weakened. That has created concerns about the company's growth prospects, said Gabelli analyst Brett Harriss.  
Although Viacom's global ad revenue grew 3% to $42 million in the fourth quarter ended Dec. 31, domestic ad revenue plummeted 6%, the company said in a federal filing. Lower ratings across its channels resulted in a decline in the average price per unit of advertising.
"There are questions around their ability to raise prices," Harriss said.
The demand for Viacom's content reflects the ascendancy of streaming video alternatives led by Netflix (NFLX) - Get Netflix, Inc. (NFLX) Report andGoogle's (GOOG) - Get Alphabet Inc. Class C Report Youtube. Ten years ago, Nickelodeon was one of the few places families could go for high-quality children's entertainment. These days, young viewers can go to several places and choose exactly which shows they want to watch.
Amid Dauman's numerous protestations that Nielsen is failing to document viewership on mobile devices, Viacom is turning to Internet-based streaming to generate new sources of revenue, even as the success of so-called over-the-top services could undermine its ability to raise licensing fees. Earlier this month, Viacom began selling a $5.99 subscription to its mobile-based video offering Noggin aimed at preschoolers.
Viacom also plans to begin airing its Spike entertainment network in the U.K. on April 15. Spike is the company's next global brand, said spokesman Jeremy Zweig, calling the U.K. a very important market for the company. When Viacom bought the U.K.'s Channel 5 last year, Dauman said his company intended to expand the Spike brand globally, starting with the U.K.
The Noggin and Spike moves follow Dauman's decision to replace longtime MTV head Van Toffler with Doug Herzog and consolidate Viacom's music and entertainment networks, which includes MTV, Comedy Central, VH1 and Spike.
But while Dauman attempts to fix Viacom's U.S. operations, international licensing presents incremental growth opportunities. International markets make up only a tiny component of Viacom's earnings, yet the potential is formidable as more markets embrace mobile subscriptions. Noggin, on the other hand, offers near-term gains for Viacom.
"Noggin delivers very good content, the kind of content that people, especially moms, would pay a great deal of money for," Barry Lowenthal, president of New York media planning and buying agency The Media Kitchen, said in a phone interview.
Lowenthal applauds Viacom for experimenting with paid streaming services even though Noggin could end up drawing viewers away from Nickelodeon.
But as audiences and advertisers continue to move more of their time and marketing dollars to mobile devices, Viacom is seeking products that capture those audiences, Scott Singer, managing director of New York-based media consultancy Discover Digital Group, said in a phone interview.
"I think it's brilliant of Viacom," Singer said. "What they can't be afraid to do is innovate, and they can't be afraid to potentially cannibalize their existing audience."
This article is commentary by an independent contributor. At the time of publication, the author held no positions in the stocks mentioned.