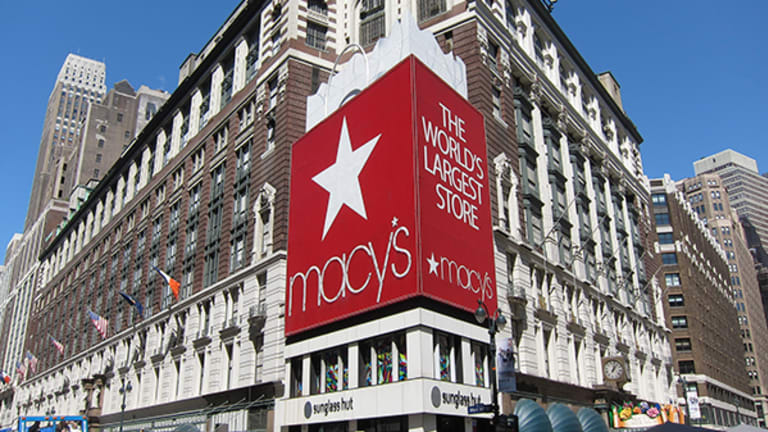 Publish date:
How Ugly Will Earnings Be for Macy's?
The retailer isn't expected to light it up with its second-quarter results on Thursday.
The retailer isn't expected to light it up with its second-quarter results on Thursday.
If fresh commentary from executives at some top clothing and accessory brands on the current state of U.S. department stores is any indication, investors may want to cover one eye readingMacy's (M) - Get Macy's Inc Report second-quarter earnings release Tuesday. 
"As U.S. department stores' business continues to be soft, the wholesale channel proved to be the largest driver of our [sales] decline during the [second] quarter," Fossil (FOSL) - Get Fossil Group, Inc. Report Chairman and CEO Kosta Kartsotis told analysts on a call Tuesday evening. "We also expect the challenging retail environment to persist -- weaker performance in our wholesale channel, particularly in the U.S. where the business is most challenged, is likely to continue."
Kartsotis' comments come in the wake of the watchmaker reporting an 11% plunge in second-quarter sales in its Americas division, fueled in large part by tepid demand for watches within department stores such as Macy's.
Meanwhile, the tone from the handbag makers that dominate sizable portions of Macy's stores hasn't been any better. 
"[We saw] a continued decline in mall traffic trends as well as a decrease in tourism in certain major cities, which negatively impacted our comparable sales performance during the quarter," said Michael Kors (KORS)  Chairman and CEO John Idol on Wednesday. Michael Kors saw sales in its Americas wholesale segment -- which is mostly comprised of business at U.S. department stores -- nosedive 8.7% during the second quarter. 
The department store sector has been so unsettled in recent months that Michael Kors' rival Coach (COH) decided to shutter about 25% of its North American department store locations -- otherwise known as wholesale locations. Most of the locations tend to be low volume, according to the company, and the closings will be spread out in terms of geography. Instead, Coach will focus on the best-performing sites and avoid the stores that put its bags on sale or clearance at huge discounts.
Coach products are sold in over 1,000 wholesale locations in the U.S. and Canada. Its most significant U.S. wholesale customers are Macy's(including Bloomingdale's), Dillard's (DDS) - Get Dillard's, Inc. Class A Report , Nordstrom (JWN) - Get Nordstrom, Inc. (JWN) Report , Lord & Taylor, The Bay, Bon Ton (BONT) , Belk and Von Maur.
"These moves are really meant to reduce the smallest doors that we have, and to ensure in the doors that we do remain that our brand is going to be first and foremost managed effectively and not have our pricing be overly promotional, which impacts not only consumer perception about the brand but also creates confusion across the various channels," Coach CEO Victor Luis told TheStreet in a phone interview.
Luis continued, "Overall, we believe in the department store channel and believe it's a great place for consumers to come in and cross-shop -- but, we believe most in protecting and focusing our investments in the long-term health of the brand."
Although the dreary commentary from stalwart brands found at Macy's doesn't help investor sentiment, Wall Street already expected a weak quarter from the retailer. 
Morgan Stanley analyst Kimberly Greenberger lowered her second-quarter earnings estimate on Macy's to 47 cents a share from 50 cents a share in an Aug. 2 note. She cited the breadth and depth of discounting and clearance activity found during her store checks at Macy's as reasons for the estimate reduction. Macy's may report a same-store sales decline of 5% for the second quarter, said Greenberger. In the first quarter, same-store sales dropped 5.6%. 
Back in May after a worse than expected start to the year, Macy's chopped its full-year earnings guidance to a range of $3.15 to $3.40 a share vs. $3.80 to $3.90 a share previously. Shares of Macy's have declined about 47% over the past year compared to a 4.5% gain for the S&P 500. 
The million-dollar question that now needs to be answered by Macy's? Whether its earnings warning issued in May was the last one for the year. Its brand partners suggest the answer to that question may be "No."