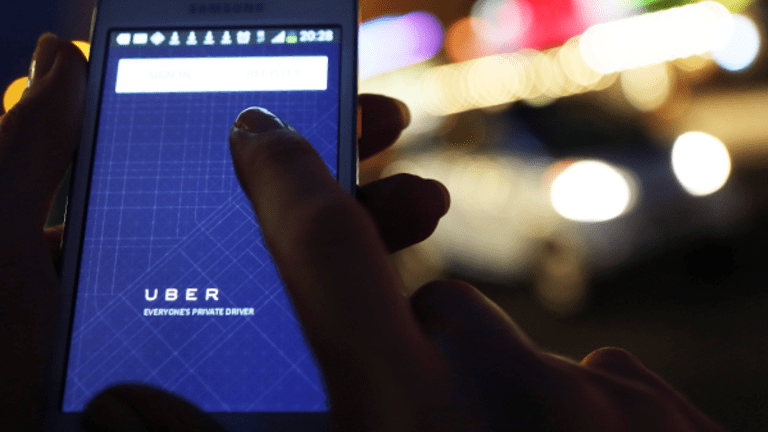 Uber and Lyft Have Run Over the Car Industry
Despite what seems like a never-ending flow of adverse news, Uber said that in the second-quarter of 2017 it narrowed its losses by nearly 9%.
The future of getting around town is here, much to the dismay of some.
Ride sharing companies like Uber Technologies and Lyft have changed the way people worldwide approach transportation. Traditional automakers such as Ford (F) - Get Free Report and General Motors (GM) - Get Free Report and rental car services are now faced with a revolutionary challenge that some argue could cripple their businesses forever.
Avis Budget Group Inc. (CAR) - Get Free Report  and Hertz Global Holdings Inc. (HTZ) - Get Free Report  in particular have been negatively affected by the new car services phenomena.
Amid already reeling stock prices, both rental companies recently reported disappointing second-quarter results. Avis posted a bottom line profit miss, and cut its full-year guidance, while Hertz reported a wider-than-expected quarterly loss. 
"Unsurprisingly, we have seen a rotation from car rentals toward ride sharing applications in 'use cases' marked by short rental periods and low utilization," JP Morgan analyst Samik Chatterjee said.
"While both Hertz and Avis estimate that such substitution is feasible only in the case of less than 10% of their transactions, we believe the use of technology to further lower cost per mile (e.g., pooling services such as Uber Pool or Via) and increase convenience will increasingly cause overlap and competition for the same customer between ride share and car rental businesses."
And it's not just car rental services that are feeling the pain from the ride-hailing companies. The presence of these services are having an impact on car ownership overall.
In August, researchers from the University of Michigan Transportation Research Institute, Texas A&M Transportation Institute, and Columbia University conducted a study analyzing Uber and Lyft's impact on car ownership.
The study found that in "areas where Uber, Lyft, and other on-demand ride services operate, consumers may buy fewer cars and even take fewer trips." The results from this study are among the first to quantify the impact ride-sharing companies are having on consumer behavior.
The study stems from Austin, TX's decision to pull services like Uber and Lyft from the city because of a local ordinance. "The suspension of services in Austin provided for a natural experiment to measure its impact on travel behavior," said Robert Hampshire, a professor at UMTRI and lead author of the study.
The analysis deduced that 41% out of 1,200 people surveyed opted to drive their own car to fill the void by the ride-hailing services, while 9% bought an additional car to fill their absence.
"Our findings show that these ride-sourcing companies do change behaviors," Hampshire said. "While this study isn't generalizable to the entire city of Austin, or to other cities, it provides crucial insights that are relevant to policymakers."
Miami-based attorney Robert A. Zinn, an automotive industry veteran, also contends companies like Uber and Lyft are negatively impacting ownership. 
"Ride-sharing services have already significantly impacted retail new car sales among the millennial generation, where many do not even get driver's licenses, and potential purchasers in large urban areas where the cost of parking, insurance, etc. have made vehicle ownership prohibitive," Zinn said.
"These trends are now a part of the market, very likely to accelerate and experts are already predicting that U.S. new vehicle sales have peaked and will never again reach the 17,000,000 - 18,000,000 levels seen since prior to or after the end of the last recession."
Also predicting the ownership drop is Rohit Kulkarni, an analyst at investment firm SharesPost.
"Our opinion is that ride-sharing apps have significant potential to alter car ownership decisions," Kulkarni said. "Our survey highlights a marginally higher likelihood of ride-sharing usage among people who do not own cars and a marginally lower likelihood of purchasing a car among people who have used ride-sharing apps in the past."
Unquestionably, services like Uber and Lyft have infiltrated the automotive space and are taking their toll. While these services have yet to prove fatal to traditional automakers or rental car companies, these industries are now forced to re-examine their business models to fend off their growing threat.
More of What's Trending on TheStreet: