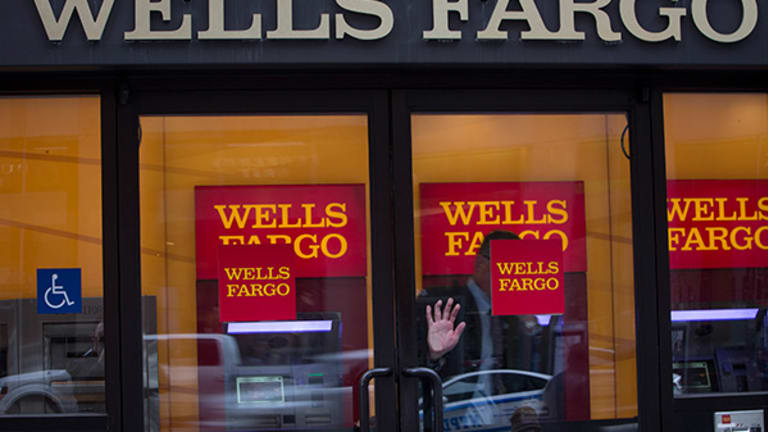 How to Trade Wednesday's Most Active Stocks -- Wells Fargo, Apple and More
Here's a technical look on how to trade some of the most active stocks on the market Wednesday afternoon.
Put down the 10-K filings and the stock screeners. It's time to take a break from the traditional methods of generating investment ideas. Instead, let the crowd do it for you.
From hedge funds to individual investors, scores of market participants are turning to social media to figure out which stocks are worth watching. It's a concept that's known as "crowdsourcing," and it uses the masses to identify emerging trends in the market.
Crowdsourcing has long been a popular tool for the advertising industry, but it also makes a lot of sense as an investment tool. After all, the market is completely driven by the supply and demand, so it can be valuable to see what names are trending among the crowd.
While some fund managers are already trying to leverage social media resources like Twitter to find algorithmic trading opportunities, for most investors, crowdsourcing works best as a starting point for investors who want a starting point in their analysis.
So, today, we'll leverage the power of the crowd to take a look at some of the most active stocks on the market.
Wells Fargo
Nearest Resistance: $57
Nearest Support: $50.50
Catalyst: Living Will Failure
Banking giant Wells Fargo (WFC) isn't getting any buying pressure ahead of today's expected rate hike from the Fed. Instead, the $274 billion bank is down 2.2% on huge volume, following news that regulators had denied the firm's "living will" for a second time this year. The rejected plan means that Wells has until March 31 to fix its plan and avoid having assets in its non-bank units capped.
Technically speaking, Wells Fargo, a holding in Jim Cramer's Action Alerts PLUS portfolio, has been looking bullish since the start of October, and a bit of a correction isn't out of order for the big bank. The uptrend remains intact as long as shares catch a bid somewhere above support at $50.50. Let the correction play out before initiating a new position in Wells Fargo this month.
Callon Petroleum
Nearest Resistance: $23
Nearest Support: $15
Catalyst: Offering Upsizing
Mid-cap oil and gas producer Callon Petroleum  (CPE) is down 4.6% on high volume Wednesday afternoon, after pricing an upsized share offering of 40 million shares for $656 million. The proceeds of the deal are being used to fund the acquisition of acreage from Ameredev in the Southern Delaware basin. While the extra shares on the market are causing today's drop, analysts are bullish on net impact of the deal, particularly as higher oil prices have provided a major tailwind for shares this year.
It's hard to miss the uptrend that's been in play in shares of CPE this year. Shares have been bouncing higher in a well-defined trend channel since January, and the recent retest of trendline support is providing a buying opportunity on the next leg higher. If you decide to buy the dip in Callon, it makes sense to park a stop on the other side of this stock's lows at $14.
Neustar
Nearest Resistance: $33.50
Nearest Support: $33
Catalyst: Acquisition
Small-cap cloud-based cybersecurity stock Neustar (NSR) is up almost 20% on big volume this afternoon, rallying after the firm announced that it was being acquired by a group led by private equity firm Golden Gate Capital for $2.9 billion. That adds up to $33.50 a share in cash for Neustar shareholders. At this point, Neustar trades for a tiny 1.3% discount to its full purchase price, indicating that investors are pricing in near-certainty that the deal gets done. That means that monmey's been made on the NSR deal at this point, and investors should look elsewhere for buying opportunities this week.
Apple 
Nearest Resistance: $117.50
Nearest Support: $110
Catalyst: Technical Setup
Tech giant Apple (AAPL)  , another of Cramer's Action Alerts PLUS holdings,is up slightly this afternoon, buoyed by a bullish technical setup that's triggering in December. Apple has been in a well-defined uptrend since mid-May, and shares have bounced their way to higher levels ever since.
That most recent bounce came at the start of this month, with Apple catching a bid at the $110 level to make a move towards trendline resistance. Look for Apple's upside to continue as long as that trend remains intact.
Johnson & Johnson
Nearest Resistance: $118
Nearest Support: $110
Catalyst: Acquisition Withdrawal
Health care giant Johnson & Johnson (JNJ) is seeing big volume this afternoon, following Tuesday's announcement the company wasn't able to reach an agreement to acquire Swiss drug maker Actelion Pharmaceuticals. Previously, J&J had offered $250 a share for Actelion, a price tag that valued the firm at more than $26 billion.
While the failed acquisition of Actelion doesn't materially change J&J's own valuation, the technical trajectory for shares of this $316 billion healthcare behemoth doesn't look great. Johnson & Johnson has been trending lower since peaking back in mid-July, and while shares have been moving higher in December, the bump looks more like a correction in the context of a downtrend than an outright trend reversal. Avoid buying JNJ until it's able to break free of its downtrend.
Pfizer
Nearest Resistance: $33.50
Nearest Support: $31
Catalyst: Technical Setup
Another health care giant that's seeing big volume this afternoon is $202 billion pharmaceutical stock Pfizer  (PFE) . Pfizer is up slightly as shares attempt to carve out a technical price pattern that would push shares to higher ground.
Since October, Pfizer has been forming an ascending triangle pattern, a price setup that doesn't typically show up as a reversal setup, but would nevertheless signal a buy if shares can catch a bid above $33.50. Keep a close eye on Pfizer as shares flirt with that $33.50 breakout level this week.
Nvidia
Nearest Resistance: $95
Nearest Support: $90
Catalyst: Analyst Upgrade
Chipmaker Nvidia  (NVDA) is up more than 4% on high volume this afternoon, blasting higher thanks to an analyst upgrade. Evercore ISI analyst C. J. Muse raised Nvidia to buy from hold, upping the firm's price target to $120 from $87. So far, Nvidia has rallied 189% in 2016, and that technical trajectory isn't showing any signs of slowing down this December.
That's because, from a technical standpoint, Nvidia is actually showing off a bullish price setup in the short-term, with $95 as a breakout level. Shares are testing that $95 price ceiling this afternoon, potentially kicking NVDA off on a second leg higher from here. If you decide to pull the trigger on the NVDA trade here, it makes sense to park a stop at the 50-day moving average.
At the time of publication, author was long AAPL.