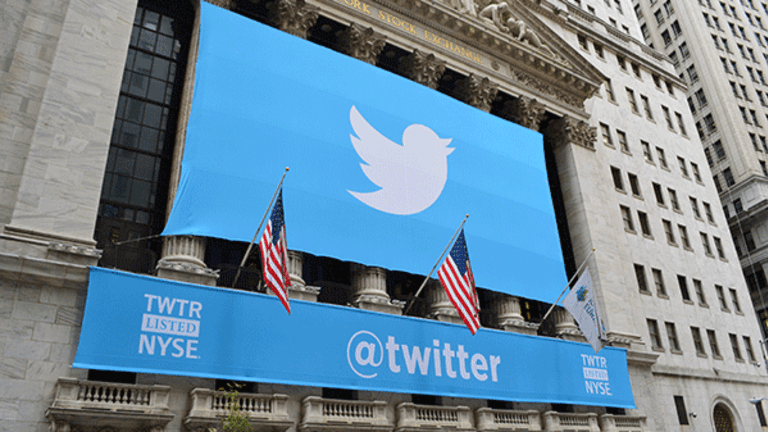 Publish date:
How to Trade Wednesday's Most Active Stocks - InvenSense, Twitter, Finish Line and More
Here's a technical look at how to trade some of the most active stocks on the market.
Here's a technical look at how to trade some of the most active stocks on the market.
Put down the 10-K filings and the stock screeners. It's time to take a break from the traditional methods of generating investment ideas. Instead, let the crowd do it for you.
From hedge funds to individual investors, scores of market participants are turning to social media to figure out which stocks are worth watching. It's a concept that's known as "crowdsourcing," and it uses the masses to identify emerging trends in the market.
Crowdsourcing has long been a popular tool for the advertising industry, but it also makes a lot of sense as an investment tool. After all, the market is completely driven by the supply and demand, so it can be valuable to see what names are trending among the crowd.
While some fund managers are already trying to leverage social media resources like Twitter to find algorithmic trading opportunities, for most investors, crowdsourcing works best as a starting point for investors who want a starting point in their analysis.
So, today, we'll leverage the power of the crowd to take a look at some of the most active stocks on the market...
InvenSense Inc.
Nearest Resistance: $13
Nearest Support: $12.64
Catalyst: Acquisition
Small-cap tech company InvenSense  (INVN) is tipping the scales as one of the most actively-traded stocks on the NYSE this afternoon, boosted by news that the firm is being acquired by TDK Corp. TDK will pay $13 per share for InvenSense, a price tag that works out to a 41% premium from before the first rumors emerged earlier this month. Shares gapped more than 17% higher on big volume at the open this morning, which means that the money's already been made on the InvenSense trade - shares trade at just a 2% discount to the deal price, signaling overwhelming likelihood that the deal gets done.
Advanced Micro Devices
Nearest Resistance: N/A
Nearest Support: $10
Catalyst: Analyst Upgrade
Advanced Micro Devices (AMD) - Get Reporthas been one of the best-performing stocks in the NASDAQ this year - and shares are enjoying another small pop this afternoon thanks to the after-effects of an analyst upgrade. Mizuho Securities upgraded AMD to "buy" from "neutral" this week, hiking its price target on the tech firm to $13. That implies a 12% upside move over the next 12 months.
AMD remains in "breakout mode" this winter, rallying following a breakout through key resistance up at $8. From here, look for AMD to continue its march higher - buyers who haven't pulled the trigger on AMD yet do need to be risk-conscious after the size of the up-move in shares. Consider parking a protective stop on the other side of $9.
Twitter
Nearest Resistance: $18
Nearest Support: $17
Catalyst: Technical Setup
Twitter (TWTR) - Get Reportis continuing its selloff. Shares of the $12 billion social media company are plunging almost 5% this afternoon, dropping on the heels of news that CTO Adam Messinger and VP of product Josh McFarland are both leaving the company, just a month after COO Adam Bain quit. But the brain drain is second to the technicals this afternoon - Twitter's selling is being exacerbated by the violation of its uptrend today. Shares had been holding higher lows since bottoming in May. Now, with that uptrend busted, Twitter could have further to fall before it re-establishes some semblance of support again.
Finish Line Inc.
Nearest Resistance: $26
Nearest Support: $19.25
Catalyst: Q3 Earnings
Athletic apparel retailer Finish Line  (FINL) is shedding 11% of its market value on big volume this afternoon, the results of third quarter earnings and weak guidance for the full year. Finish Line lost 24 cents per share for the third quarter, a worse result than the 18.2-cent loss that analysts were expecting, on average. Worse, the firm expects to earn between 68 cents and 73 cents a share next quarter, well below the 95-cent average best guess from Wall Street.
That's the bad news. The good news for Finish Line is that the technical story is still holding up here. Shares have been in a wide-ranging uptrending channel all year long, and while this stock is testing trendline support this afternoon, it's not violating that price floor. A bounce off of support looks like a decent buying opportunity for Finish Line.
Southwestern Energy Co.
Nearest Resistance: $13
Nearest Support: $10.50
Catalyst: Gas Prices
Shares of independent energy producer Southwestern Energy  (SWN) - Get Reportare catching a bid this afternoon, buoyed by the biggest natural gas futures rally in almost two months. Natgas futures are flying high on speculation that inventories are going to continue to plummet. Higher commodity prices mean good things for Southwestern Energy, which is up 7.6% on above-average volume as I write this afternoon.
Technically speaking, SWN looks solid here. Shares have been able to hold onto their higher lows since March, and they're bouncing off of their uptrend line for the third time over that stretch. Now looks like a good time to be a buyer of SWN in anticipation of a test of prior long-term resistance at $15.
Frontier Communications
Nearest Resistance: $3.60
Nearest Support: $3.40
Catalyst: Technical Setup
Frontier Communications (FTR) - Get Reportis trying to carve out a bottom this December, a price setup that's driving the big volume in shares today. Frontier has been forming a near-term ascending triangle setup since mid-November, bouncing in between an uptrending support line and resistance up at $3.60. Put simply, if Frontier can muster the strength to break out above $3.60, investors have a clear-cut buy signal in this stock. From there, a test of prior resistance at $4 is likely to happen quickly.
United States Natural Gas Fund
Nearest Resistance: $9.50
Nearest Support: $8.50
Catalyst: Spot Gas Rally
Finally, the United States Natural Gas Fund (UNG) - Get Reportis rallying more than 6% this afternoon, boosted by the rally that's happening in spot gas prices on inventory speculation. UNG is a commodity pool that's investors' easiest way to get pure exposure to natgas prices - no surprise, then, that this fund is popping on today's price action in natural gas. Shares are managing to bounce off of a trendline this afternoon, testing a price floor that was last tested back in early October. From here, look for UNG to make its way toward a re-test of prior highs around the $9.50 level.
At the time of publication, author had no positions in the stocks mentioned.