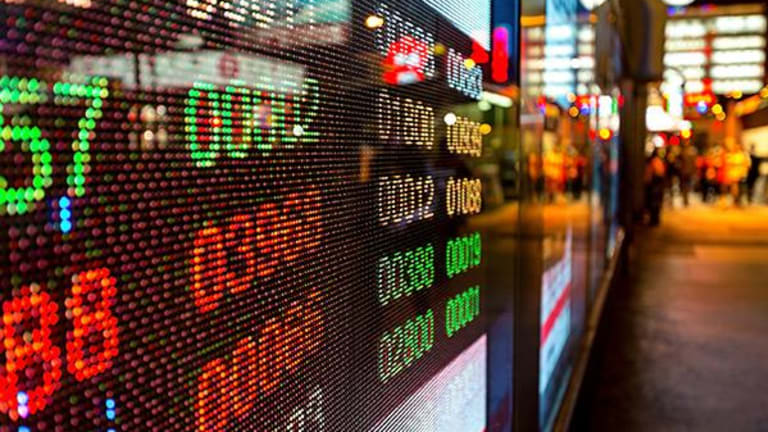 How to Trade These Most Active Stocks -- LifeLock, Tyson Foods and More
Here's a technical look on how to trade some of the most active stocks on the market right now.
Here's a technical look on how to trade some of the most active stocks on the market right now.
Put down the 10-K filings and the stock screeners. It's time to take a break from the traditional methods of generating investment ideas. Instead, let the crowd do it for you.
From hedge funds to individual investors, scores of market participants are turning to social media to figure out which stocks are worth watching. It's a concept that's known as "crowdsourcing," and it uses the masses to identify emerging trends in the market.
Crowdsourcing has long been a popular tool for the advertising industry, but it also makes a lot of sense as an investment tool. After all, the market is completely driven by supply and demand, so it can be valuable to see what names are trending among the crowd.
While some fund managers are already trying to leverage social media resources like Twitter to find algorithmic trading opportunities, for most investors, crowdsourcing works best as a starting point for investors who want a launching point in their analysis.
So, today, we'll leverage the power of the crowd to take a look at some of the most active stocks on the market.
Advanced Micro Devices
Nearest Resistance: N/A
Nearest Support: $7.50
Catalyst: Technical Setup
Shares of Advanced Micro Devices (AMD) - Get Reportare kicking off another week with a big-volume move. AMD is up nearly 3.7% as of this writing, boosted by the combination of yet another industry acquisition and a bullish technical setup. AMD broke out of a textbook example of an ascending triangle setup last week, pushing to new 52-week highs in a move that also clears the way for more upside in the final stretch of 2016. If you decide to buy shares of AMD here, it makes sense to park a protective stop on the other side of newfound support at $7.50.
LifeLock
Nearest Resistance: $24
Nearest Support: $23.78
Catalyst: Acquisition
LifeLock (LOCK) is rallying 15% on big volume this afternoon, buoyed by news that the firm is being bought out by Symantec  (SYMC) - Get Report in a deal that's worth $24 per share in cash for LifeLock shareholders. All told, that means LifeLock has been good for nearly 67% gains in 2016, but at this point the money has already been made on the LOCK trade. That's because shares currently trade for just a 0.36% discount to the deal price, implying that investors see an overwhelmingly high chance that the deal gets done. Investors should look elsewhere for upside opportunities in the months ahead.
Chesapeake Energy Corp.
Nearest Resistance: $10
Nearest Support: $5.50
Catalyst: Energy Prices
Energy prices are fueling a 6% pop in shares of mid-cap oil and gas producer Chesapeake Energy  (CHK) - Get Reportthis afternoon. Chesapeake is leading the sector higher on the overnight climb in natural gas and oil prices, and the prospect that a lower dollar could bring along more of the same. Energy producers are essentially a leveraged bet on commodity prices, and that makes Chesapeake one of the most exciting ways to play the trend in energy.
Technically speaking, today's rally in Chesapeake isn't surprising. Shares have been in an uptrend since March, and Chesapeake managed to bounce off of that trendline support level for a fifth time last week. What we're seeing today is simply a continuation of that trend. If you're looking to buy into CHK here, the 200-day moving average is a logical place to park a stop loss.
Mast Therapeutics
Nearest Resistance: $0.10
Nearest Support: $0.07
Catalyst: Reverse Merger
Sometimes, the smallest stocks can get the biggest attention. That's what's happening in shares of microcap biopharmaceutical firm Mast Therapeutics (MSTX) , a tiny stock that's up 16% this afternoon on volume high enough to make it one of the most actively traded issues on the NYSE. Mast has been in freefall in the last few months, but management's report today that the company is evaluating strategic alternatives, including the possibility of a reverse merger with a privately held company, is re-energizing investors.
From a technical standpoint, it looks like Mast is trying to carve out a rounding bottom here, with resistance up at 10 cents. A breakout above that 10-cent price tag signals a buy in this stock - but because of its tiny size and huge volatility, this is a trade that's best avoided by most investors here.
Tyson Foods Inc.
Nearest Resistance: $65
Nearest Support: $50
Catalyst: Q4 Earnings
One notable large-cap casualty from today's trading session is $21 billion meat company Tyson Foods  (TSN) - Get Report. Tyson is off more than 14% this afternoon, following the firm's fourth quarter earnings results and news that CEO Donnie Smith is stepping down as CEO. Tyson reported a fourth-quarter profit of $1.03 per share, coming in under the $1.16 average estimate from Wall Street analysts. Likewise, investors are anxious about the leadership change, considering the five-fold increase in Tyson's share price under his tenure.
Technically speaking, Tyson is breaking down this afternoon. Shares have been forming a descending triangle pattern since October, and shares' violation of $66 former support is the sell signal. From here, the next meaningful price floor is all the way down at $50. Caveat emptor.
VelocityShares 3x Long Crude Oil ETN
Nearest Resistance: $30
Nearest Support: $17.50
Catalyst: Crude Oil Prices
The VelocityShares 3x Long Crude Oil ETN (UWTI) is seeing big volume this afternoon, participating in the big overnight pop in crude prices. This exchange-traded note is up 11% as I write this afternoon - the volume surge indicates that UWTI is becoming a go-to way to trade the crude trend. And it's a good trend. Since February, UWTI has been in a shallow uptrend, bouncing higher on each successive test of support. This most recent bounce makes a re-test of $30 before year-end look likely at a minimum.
That said, there are other better options than UWTI. The U.S. Oil Fund (USO) - Get Report, for instance, lacks the 3x leverage of UWTI, but its uptrend is steeper and it hasn't had the deep long-term drawdowns that have offset much of the leverage benefit of the ETN. Both oil trades are bouncing higher here.
Headwaters
Nearest Resistance: $24.25
Nearest Support: $23.41
Catalyst: Acquisition
Finally, shares of $1.7 billion building-materials stock Headwaters Inc. (HW) is up 17% on big volume this afternoon, gapping higher this morning on news that it's being acquired by Boral in a transaction that would pay HW shareholders $24.25 per share in cash. The international nature of the deal is tamping down the excitement, but only slightly - the 3% discount to the current offer price means that investors still see an overwhelming likelihood that the deal gets done. Like with the LifeLock acquisition news, the money has already been made on the Headwaters trade at this point.
At the time of publication, the author held no positions in the stocks mentioned.