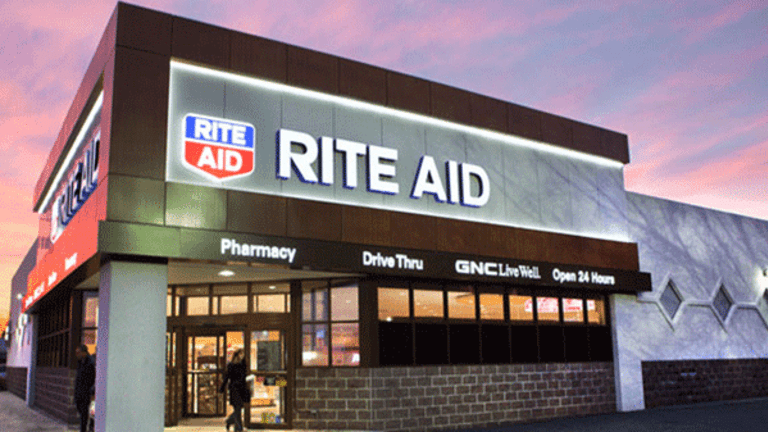 How to Trade the Week's Most Active Stocks--Rite Aid, Amgen, MuleSoft and More
Here's how to trade six of the most active names on the market this past week.
Put down the 10-K filings and the stock screeners. It's time to take a break from the traditional methods of generating investment ideas. Instead, let the crowd do it for you.
From hedge funds to individual investors, scores of market participants are turning to social media and market data to figure out which stocks are worth watching. It's a concept that's known as "crowdsourcing," and it uses the masses to identify emerging trends in the market.
Crowdsourcing has long been a popular tool for the advertising industry, but it also makes a lot of sense as an investment tool. After all, the market is completely driven by the supply and demand, so it can be valuable to see what names are trending among the crowd.
While some fund managers are already trying to leverage social media resources like Twitter to find algorithmic trading opportunities, for most investors, crowdsourcing works best as a starting point for investors who want a starting point in their analysis.
So, today, we'll leverage the power of the crowd to take a look at some of the most active stocks on the market ...
Direxion Daily Junior Gold Miners Index Bull 3x ETF
Nearest Resistance: $10
Nearest Support: $5
Catalyst: Spot Gold Prices
The Direxion Daily Junior Gold Miners Index Bull 3x ETF (JNUG) - Get Direxion Daily Junior Gold Miners Index Bull 3X Shares Reportonce again ended Friday's session as one of the most actively traded issues on the NYSE, continuing this big ETF's streak as investors' favorite way to play gold in March. JNUG is a leveraged bet on junior miners, which makes it a magnified way to play the price moves in the precious metal. But despite lots of activity in this ETF, the overall trend has been hard to miss--JNUG is shedding points as shares close in on $5 support. It makes sense to steer clear of this stock for the near-term.
Rite Aid Corp.
Nearest Resistance: $5.25
Nearest Support: $4.50
Catalyst: Merger Progress
The saga continues in shares of $5.2 billion drugstore chain Rite Aid Corp. (RAD) - Get Rite Aid Corporation Report, a stock that finished Friday correcting 3.8% on the latest update on the firm's pending merger with Walgreens Boots Alliance (WBA) - Get Walgreens Boots Alliance Inc Report. Rite Aid's plunge came after a former division head at the FTC's Bureau of Competition told news service that CTFN that the deal was "at a standstill."
From a technical standpoint, the price action in Rite Aid has been pretty ugly, and it's not showing any signs of changing its trajectory as I write. That said, headline risk remains very high surrounding the pending merger--any positive catalyst could slingshot shares higher. For that reason, all but the most nimble traders would do well to avoid this stock ...
Amgen
Nearest Resistance: $185
Nearest Support: $165
Catalyst: Study Results
$122 billion pharma firm Amgen (AMGN) - Get Amgen Inc. Reportended the week on a sour note, shedding almost 6.4% after the firm's high-dollar cholesterol drug failed to reduce heart complications as much as Wall Street had been expecting. In the trial, Repatha decreased cardiac issues by just 15%. Analysts had been expecting nearly double that result in order to get higher levels of coverage from insurers. But while Amgen was down in Friday's session, don't count this stock out just yet.
That's because Amgen ended Friday at $168.61, a price level just above the trendline support line that's defined this stock's uptrend from its November lows. Put simply, the uptrend is still intact in Amgen--it makes sense to buy the next leg higher in this big drug stock ...
The Medicines Co.
Nearest Resistance: $50
Nearest Support: $44
Catalyst: Repatha Results
Amgen wasn't the only casualty of the Repatha results--another drug stock to backslide was $3 billion biopharma firm The Medicines Co. (MDCO) - Get Medicines Company Report. MDCO dropped about 8% by the time the dust settled Friday, down because of the similarity between Repatha and its own experimental cholesterol drug, inclisiran. The selling was fueled by Wall Street's worry that the revenue outlooks they'd been projecting might not come to fruition.
Technically speaking, MDCO could look worse, although support at $50 got violated with Friday's selling. The glass-half-full outlook for MDCO is that shares "melted up" over the course of Friday's session, and ultimately didn't pierce the prior trend channel that shares had been stuck in last fall. Wait for MDCO to establish some more meaningful support before you pull the trigger on this trade.
Oracle Corp.
Nearest Resistance: $47
Nearest Support: $43.25
Catalyst: Technical Setup
Software giant Oracle Corp. (ORCL) - Get Oracle Corporation Report spent Friday consolidating sideways on big volume, catching its breath following a 6.23% earnings-fueled pop Thursday. Oracle reported an adjusted profit of 69 cents per share for the quarter, besting the 61.8 cent profit that analysts were expecting, on average. Friday's tight range in ORCL wasn't unusual following Thursday's big gap higher. That said, the breakout in ORCL is a buy signal--consider building a position here, with a stop just below the 50-day moving average.
MuleSoft Inc.
Nearest Resistance: $25
Nearest Support: $23.50
Catalyst: IPO
Last, but certainly not least, on our list of the week's most actively traded issues, was MuleSoft Inc. (MULE) . This San Francisco-based cloud software company made its debut as a publicly traded company on Friday, rocketing 46% higher during its inaugural trading session on the NYSE. The IPO values MuleSoft at approximately $3.1 billion in market capitalization.
It's still too early to get a meaningful read on MULE's price action. Shares faded most of Friday, but that intraday weakness probably had a lot to do with just how far over its expected range shares began trading. It's a good idea to wait for this stock to establish some trading history before you think about diving in.
At the time of publication, author had no positions in the stocks mentioned.
Action Alerts PLUS, which Cramer manages as a charitable trust, is long WBA.