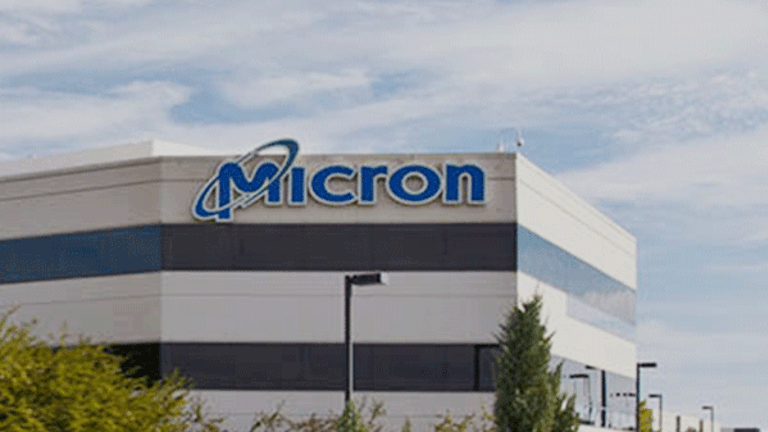 How to Trade the Week's Most Active Stocks -- Micron, Nvidia, Synergy Pharma and More
Here's a technical look on how to trade some of the most active stocks on the market this week.
Put down the 10-K filings and the stock screeners. It's time to take a break from the traditional methods of generating investment ideas. Instead, let the crowd do it for you.
From hedge funds to individual investors, scores of market participants are turning to social media to figure out which stocks are worth watching. It's a concept that's known as "crowdsourcing," and it uses the masses to identify emerging trends in the market.
Crowdsourcing has long been a popular tool for the advertising industry, but it also makes a lot of sense as an investment tool. After all, the market is completely driven by the supply and demand, so it can be valuable to see what names are trending among the crowd.
While some fund managers are already trying to leverage social media resources like Twitter to find algorithmic trading opportunities, for most investors, crowdsourcing works best as a starting point for investors who want a starting point in their analysis.
So, today, we'll leverage the power of the crowd to take a look at some of the most active stocks on the market.
VelocityShares 3x Inverse Natural Gas ETN
Nearest Resistance: $4
Nearest Support: N/A
Catalyst: Gas Prices
The trend isn't your friend right now in the VelocityShares 3x Inverse Natural Gas ETN (DGAZ) . This popular exchange-traded note, which tracks the inverse leveraged price action of natural gas prices, backslid nearly 10% on Friday with enough volume to make it one of the most actively-traded names on the NYSE.
Speculation around gas inventories has fueled an upswing in natgas prices that's proven bad for DGAZ. But long-term, the trend in this ETN is pretty hard to miss -- the DGAZ downtrend has been in force for most of 2016, and it's likely to carry over into the new year. Going long DGAZ is best avoided for all but the most nimble of traders.
Direxion Daily Gold Miners 3x Bull ETF
Nearest Resistance: $8
Nearest Support: $6
Catalyst: Gold Prices
In a pretty unique turn of events, another big leveraged commodity ETF ended the week as one of the NYSE's most actively-traded issues: the Direxion Daily Gold Miners 3x Bull ETF (NUGT) . NUGT tracks 300% the daily investment returns of the NYSE Arca Gold Miners Index, and it ended the week 4.3% higher as gold prices perked up, fueling upside in miners.
Despite the up-move, this is another leveraged ETF that's best avoided. Gold miners have been trending lower since this past summer, and NUGT has just provided a more extreme way to get exposed to that downside. The downtrend is still intact in NUGT this winter.
Synergy Pharmaceuticals
Nearest Resistance: $5.75
Nearest Support: $4.75
Catalyst: Phase 3 Results
Shares of small-cap biopharmaceutical company Synergy Pharmaceuticals undefined ended the week on a high note, rallying 21.73% during the session following news that the firm's second Phase 3 study of plecanatide in IBS-C had met its primary endpoint. The treatment has a Pdufa data of Jan. 29 with the Food and Drug Administration, which means that investors will get nearly instant gratification from here on whether the drug gets approved. Analysts are betting that the FDA approves Synergy's drug next month.
Despite the size of Synergy's move Friday, the upside may not be over yet. Shares ended the session within a couple of cents of $5.75 resistance, a price ceiling that's been in place since September. Put simply, a more material move above $5.75 in the final sessions of 2016 could trigger an even bigger breakout in this stock. That technical setup, plus the January 29 FDA date, make Synergy a very interesting trade right now.
Micron Technology
Nearest Resistance: N/A
Nearest Support: $21
Catalyst: Post-Earnings Follow-through
After breaking higher earlier this week on positive earnings, Micron Technology (MU) finished Friday slightly higher on heavy volume. Micron reported fiscal first-quarter profits of 32 cents per share, besting the 26.9-cent average best guess from analysts. That, plus a guidance hike, fueled a 12.68% pop in shares on Thursday.
Micron has been an attractive performer all year long -- and this week's earnings breakout only adds to that. Believe it or not, it's not necessarily too late to grab onto this massive trend in Micron. With shares clearing prior resistance at $21 for a second session Friday, this stock has opened up more upside potential. Wait for shares to settle and bleed off some overbought momentum before you pull the trigger on this trade.
Vale
Nearest Resistance: $9
Nearest Support: $7
Catalyst: Technical Setup
Brazilian mining company Vale (VALE) is seeing big volume for technical reasons this week. VALE has been a stellar performer in 2016, more than doubling from the start of the year thanks in large part to a commodity rebound from 2015 and fewer internal black clouds.
But it looks like investors should consider taking some of those recent gains off the table in VALE. This stock is looking "toppy," forming a rounding top pattern that triggers a sell if the $7 support level gets violated. For now, VALE's uptrend is still intact, but it's showing some cracks.
Nvidia
Nearest Resistance: N/A
Nearest Support: $95
Catalyst: Technical Setup
It's official -- shares of chip giant Nvidia  (NVDA) are breaking out. Nvidia has been looking bullish from a technical standpoint for the last couple of weeks, and after breaking out above $95 resistance, this tech stock has cleared the way for continued upside in the final stretch of the year.
If you missed the original $95 breakout in NVDA, it makes sense to wait for momentum to cool off a bit before trying to build a position in this stock.
Hecla Mining
Nearest Resistance: $7
Nearest Support: $5
Catalyst: Metals Prices
Last on our list of the week's most active stocks is silver and gold miner Hecla Mining (HL) . Hecla ended Friday's trading session 2.5% higher on high volume, an uptick that was fueled in part by a metals prices rebound. Despite the positive traction Friday, Hecla remains in make-or-break mode from a technical standpoint.
Shares are testing a key price floor at $5, a level that, if violated, could open up a lot more downside risk for Hecla. That's particularly important considering the fact that Hecla has actually been holding up better than the rest of the mining industry since violating its uptrend in July. If $5 gets busted, you don't want this stock in your portfolio come January.
At the time of publication, author had no positions in stocks mentioned.