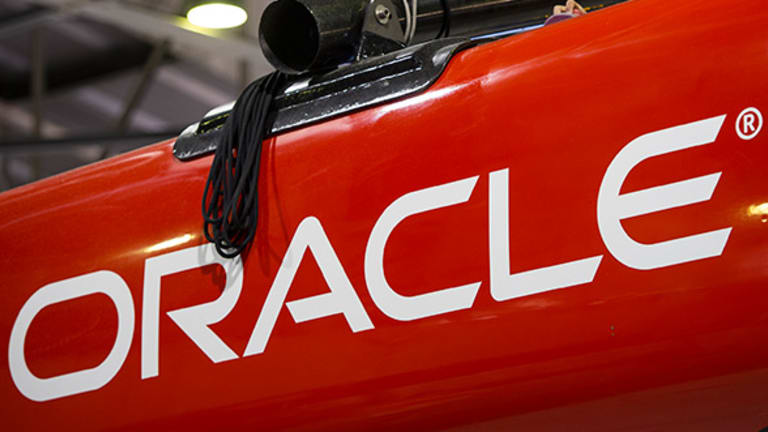 How to Trade the Week's Most Active Stocks -- Freeport, Nordstrom, Oracle and More
Here's a technical look on how to trade some of the most active stocks on the market this week.
Put down the 10-K filings and the stock screeners. It's time to take a break from the traditional methods of generating investment ideas. Instead, let the crowd do it for you.
From hedge funds to individual investors, scores of market participants are turning to social media to figure out which stocks are worth watching. It's a concept that's known as "crowdsourcing," and it uses the masses to identify emerging trends in the market.
Crowdsourcing has long been a popular tool for the advertising industry, but it also makes a lot of sense as an investment tool. After all, the market is completely driven by the supply and demand, so it can be valuable to see what names are trending among the crowd.
While some fund managers are already trying to leverage social media resources like Twitter to find algorithmic trading opportunities, for most investors, crowdsourcing works best as a starting point for investors who want a starting point in their analysis.
So, today, we'll leverage the power of the crowd to take a look at some of the most active stocks on the market.
SPDR S&P 500 ETF
Nearest Resistance: N/A
Nearest Support: $217
Catalyst: Market Consolidation
Investors are placing their bets following this week's historic rate hike -- and they're using the SPDR S&P 500 ETF (SPY) - Get Free Report, the easiest proxy for "the stock market" to do it. SPY tracks the big S&P 500 index, and as a result it, too, is testing new all-time highs this December.
The exchange-traded fund spent most of the week sideways as investors digested all of the macro news hitting the headlines. But with a primary uptrend still well intact here, and a breakout in mid-November alive and well, it makes sense to be optimistic about where SPY ends the month. If you decide to buy SPY here, consider parking a stop at the 50-day moving average.
DryShips
Nearest Resistance: $6.50
Nearest Support: $3.55
Catalyst: Loan Package
Micro-cap drybulk carrier DryShips (DRYS) - Get Free Report got attention last month after a short squeeze propelled shares from below $5 per share to more than $100 per share over the course of a handful of trading sessions. This week, DryShips managed to top the list of the most heavily-traded stocks on the Nasdaq with a 52% rally Thursday and a 9% retreat Friday on news of a new $200 million loan package that should provide substantial liquidity for the volatile shipping stock.
Technically speaking, DryShips is bumping its head on resistance at $6.50 right now, a level that could open up some upside potential in DRYS if exceeded. That said, most investors will want to steer clear of the mountain of headline risk and price volatility that DRYS has exhibited this year.
Freeport-McMoRan
Nearest Resistance: $15
Nearest Support: $13
Catalyst: Technical Setup
$19 billion mining giant Freeport-McMoRan (FCX) - Get Free Report ended the week on a sour note, selling off 5% on huge volume. The move was primarily technical -- Freeport violated a key support level at $15 earlier in the week, triggering a bearish double top that had been forming in shares since late November.
That $15 breakdown opens up considerable downside risk in Freeport, although shares to have some semblance of new support left at the $13 level. FCX buyers should sit on the sidelines until this stock can find a price floor.
Oracle
Nearest Resistance: $41.50
Nearest Support: $38
Catalyst: Q2 Earnings
Oracle (ORCL) - Get Free Reportdropped 4.3% on Friday, backsliding following the firm's second quarter earnings call. Oracle generated adjusted earnings of 61 cents per share for the second quarter, slightly besting the 60-cent average best guess on Wall Street. That said, investors got spooked by a major drop in new software licenses, part of the firm's strategy to transition to a cloud model for its software. That new cloud approach is likely to create some prolonged growing pains in Oracle's income statement.
Technically speaking, though, nothing has changed here. Oracle has been stuck in a sideways trading range between $38 and $41.50 for most of 2016, and shares are still grinding along in that price channel now. Buyers should verify this stock's momentum by waiting for Oracle to catch a bid above $41.50 before buying.
Nordstrom 
Nearest Resistance: $55
Nearest Support: $50
Catalyst: Analyst Downgrade
Department store retailer Nordstrom (JWN) - Get Free Report finished Friday with a big-volume selloff, dropping 8.68% after JPMorgan cut the firm to underweight. Analyst Matthew Boss cut his price target to $48 from $55, implying a 5% drop in shares over the next 12 months. The downgrade, combined with Nordstrom's best-in-breed status in the department store industry spurred selling in nearly all of Nordstrom's peers over the course of the week-ending trading session.
Nordstrom's selloff could continue from here. While shares have been in a well-defined uptrend since this summer, JWN violated that uptrend following the JPMorgan downgrade, opening the door to more potential downside risk. For now, round-number support at $50 looks like the nearest meaningful price floor in JWN, but it makes sense to wait and see how shares start next week if you're considering building a position here.
Gulfport Energy
Nearest Resistance: $23
Nearest Support: $21
Catalyst: Offering
Small-cap oil and gas producer Gulfport Energy (GPOR) - Get Free Report ended Friday with active trading, finishing the session on about 10-times normal volume following a 29 million share offering that priced at $21.50. The offering resulted in net proceeds to Gulfport of $608 million.
Other exploration and productin companies have been using the recent rebound in energy prices to shore up their balance sheets, and Gulfport is simply the latest to take advantage of the trend. That said, the firm took in dramatically less cash than expected after shares tumbled on concerns about the depth of its well locations.
Gulfport's price doesn't look particularly attractive here. Shares have been trending lower between a pair of diverging trendlines, a broadening pattern that typically comes with bearish connotations. It makes sense to avoid being long GPOR until this stock can start establishing some higher lows again.
iShares China Large-Cap ETF
Nearest Resistance: $37
Nearest Support: $35
Catalyst: Technical Setup
Last on our list of the week's most heavily-traded issues is the iShares China Large-Cap ETF (FXI) - Get Free Report, an exchange-traded fund that's one of U.S. investors' favorite ways to get instant exposure to the Chinese equity market -- namely the FTSE China 25 Index.
FXI started off the year in an uptrend, but that reversed course back in late October, when FXI violated the trendline support level that had been acting like a price floor since February's lows. Now, this big ETF is stuck in a downtrend - fight the temptation to buy it until FXI can break above the upper red trendline on the chart.
At the time of publication, the author had no positions in the stocks mentioned
.