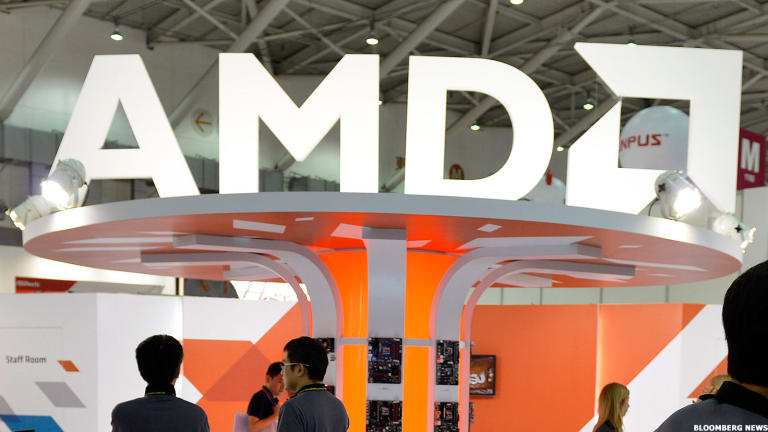 Publish date:
How to Trade the Week's Most Active Stocks--AMD, JNUG, Finisar and More
Here's how to trade six of the most active names on the market.
Here's how to trade six of the most active names on the market.
Put down the 10-K filings and the stock screeners. It's time to take a break from the traditional methods of generating investment ideas. Instead, let the crowd do it for you.
From hedge funds to individual investors, scores of market participants are turning to social media and market data to figure out which stocks are worth watching. It's a concept that's known as "crowdsourcing," and it uses the masses to identify emerging trends in the market.
Crowdsourcing has long been a popular tool for the advertising industry, but it also makes a lot of sense as an investment tool. After all, the market is completely driven by the supply and demand, so it can be valuable to see what names are trending among the crowd.
While some fund managers are already trying to leverage social media resources like Twitter to find algorithmic trading opportunities, for most investors, crowdsourcing works best as a starting point for investors who want a starting point in their analysis.
So, today, we'll leverage the power of the crowd to take a look at some of the most active stocks on the market ...
Advanced Micro Devices Inc.
Nearest Resistance: $15.50
Nearest Support: $12
Catalyst: Technical Setup
Topping the list of the past week's most actively traded stocks is $13 billion chipmaker Advanced Micro Devices Inc. (AMD) - Get Report. AMD has remained near the top of the Nasdaq's list of most-active stocks for a while now, thanks in large part to an uptrend that's propelled shares more than 500% higher in the past year. And that uptrend is still very much intact in March. For AMD bulls, it makes sense to buy Friday's 4.3% bounce higher--that's confirmation that shares are finding buying pressure at trendline support.
Direxion Daily Junior Gold Miners Index Bull 3x ETF
Nearest Resistance: $10
Nearest Support: $5
Catalyst: Spot Gold Prices
The Direxion Daily Junior Gold Miners Index Bull 3x ETF (JNUG) - Get Reportended Friday's session as one of the most actively traded issues on the NYSE, seeing a more than a 15% boost from shares as prices of mining stocks crept higher over the course of Friday's session. As a leveraged bet on junior miners, JNUG acts like a magnified way to play the precious metal--and Friday's double-digit rally served as a good case-in-point. That said, technically speaking, there's cause for concern in shares of JNUG. This stock has been corrective in the past few weeks, after violating the uptrend that connected lows since February. Shares still look likely to test support at $5.
Finisar Corp.
Nearest Resistance: $29
Nearest Support: N/A
Catalyst: Q3 Earnings
Optical communications tech supplier Finisar Corp. (FNSR) - Get Reportended Friday's session in freefall, plunging almost 23% in reaction to third-quarter earnings. Finisar reported an adjusted profit of 59 cents per share, missing Wall Street's consensus expectation of 62 cents. Likewise, guidance missed for the fourth quarter, hit by technical issues and a lowered outlook in China.
While Finisar had been in a well-defined uptrend for the past six months or so, that uptrend is broken at this point. That means that shares have opened up some downside risk from here--stay clear of the long side of this stock until it can start establishing some higher lows again.
Oclaro Inc.
Nearest Resistance: $11.50
Nearest Support: $8.50
Catalyst: Finisar Earnings
$1.4 billion optical component maker Oclaro Inc. (OCLR) - Get Report was another casualty of Finisar's earnings report, tumbling 7.4% Friday on the announcement from its peer. That said, while shares ended the week lower, Oclaro is holding on to its uptrend. OCLR's shares have been trading in a tight range since the middle of August, and Friday's selling ended right above their $8.50 support level. That means the next bounce higher actually looks like a solid buying opportunity in this stock. Keep an eye on how Oclaro trades to start next week.
JetBlue Airways Corp.
Nearest Resistance: $23
Nearest Support: $19
Catalyst: February Traffic
JetBlue Airways Corp. (JBLU) - Get Report ended the week with a 5% pop on Friday, boosted by a rebound in revenue per available seat mile that grew 1.5% in February. JetBlue's RASM numbers had fallen 8.5% in January thanks to winter storms, and sentiment had been soft industry-wide as other airlines reported tepid numbers. A big part of JetBlue's ability to muster a 5% up-move Friday had to do with the technicals. Shares caught a bid at long-term trendline support, signaling that buying pressure remains strong along the bottom of this stock's uptrend. That makes JetBlue a buyable trade as we head into next week ...
United States Oil Fund
Nearest Resistance: $12.50
Nearest Support: $10
Catalyst: Crude Oil Prices
Finally, the United States Oil Fund (USO) - Get Report ended the week on a high-volume correction settling 2.3% Friday as crude oil prices dipped. USO is one of investors' easiest ways to get exposure to crude oil prices, and that makes it a popular fund as volatility has come back in to oil in the last week. Shares of USO are closing in on an important trendline support level in March, possible presenting a buying opportunity into next week. Put simply, if USO can catch a bid at trendline support, it' s a buy. Otherwise, if shares violate that line in the sand, it's a signal that more downside risk is opening up in crude prices.
At the time of publication, author had no positions in the stocks mentioned.