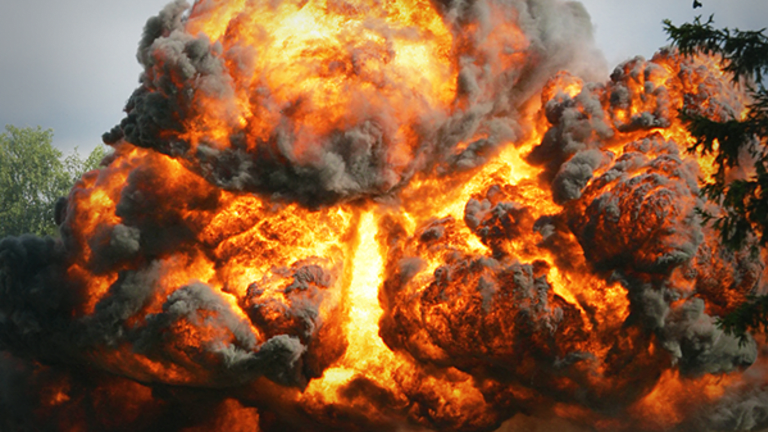 How to Trade Red-Hot Gold While Everyone Obsesses Over Bitcoin
Keep an eye on ABX and GLD. These charts show major up-moves are coming. Here's how to trade them.
Forget about bitcoin and the mountain of new cryptocurrencies launching daily in this market environment. The most obvious market moves might just be happening in the original counter-currency this September. I'm talking about gold, of course.
As global tensions rise heading into autumn, gold prices have been steadily pushing higher. Gold has always been a safe-haven for investors anxious about the global economy, and while bitcoin and ICOs are grabbing the headlines right now, good old gold might be sending the clearest signal to traders.
To track it, we'll turn to the SPDR Gold Trust (GLD) - Get SPDR Gold Shares Report , a popular way for investors to get easy exposure to the daily price moves in the precious metal. Here's the chart:
Gold prices have spent most of this year in a slump, trading sideways in a range between $114 support and resistance up at $123. That market pattern changed in the final days of August, however, as gold prices definitively pushed through the $123 level, and cleared the way toward new 52-week highs just below $130.
Simply put, gold is still in breakout-mode right now, and that's a key buy signal for the metal.
Just as importantly, the bullish price implications for gold are playing out in other gold stocks this September. Take Barrick Gold (ABX) , the world's largest gold miner.
Gold mining stocks are effectively a leveraged bet on gold prices -- as the value of gold moves further away from a miner's cost of production, profitability scales up dramatically. That's the reason behind the occasional divergence between gold prices and gold miners, a divergence you can see in Barrick's chart this year.
More of What's Trending on TheStreet:
While GLD spent the middle months of 2017 sideways, Barrick plunged, shedding more than 20% of its market value between April and July. But like GLD, Barrick is in breakout mode in September.
Shares have been forming a bullish reversal pattern called an inverse head and shoulders since late April, a pattern that was waiting for a push above ABX's $17.30 neckline to trigger a buy. That happened alongside GLD's $123 breakout at the end of August. For Barrick, that price move clears the way for more upside head, with the nearest meaningful resistance level up at $20.30.
That's approximately 11% higher than shares sit now.
And it's not just Barrick -- most gold mining stocks are showing off similar price setups right now as their wares become worth more. Regardless of how you choose to play it, through miners or the metal itself, gold is glittering this September. And as geopolitical risks creep higher, gold prices are likely to do the same.
This article is commentary by an independent contributor. At the time of publication, portfolios managed by the author were long GLD calls.