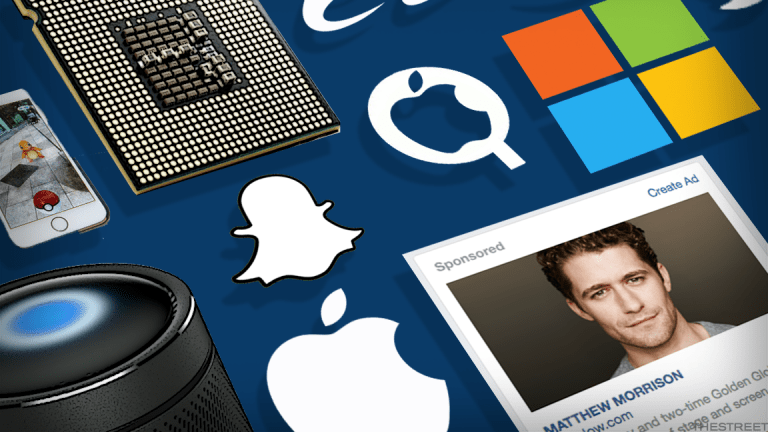 How to Trade the 7 Hottest Stocks in the Tech Sector
Google, Facebook and Activision are among seven tech-sector giants getting lots of attention in 2018. Charts show how to trade them for gains.
There's no two ways about it -- tech is on top.
The technology sector is the hottest segment of the S&P 500, handing investors price returns of almost 38% on average in the last 12 months. Just for a little context, that's double the outperformance of tech's next-closest sector over the rest of the S&P 500.
Put simply, the tech sector is stuffed with leading stocks right now -- and owning the leaders comes with some big statistical advantages in this market.
To find the tech names that look primed to rip higher (and the ones that don't), we're turning to the charts for a technical look at seven of the hottest stocks in the technology sector right now.
Alphabet Inc.
Up first is Google's parent company, Alphabet Inc. (GOOG) - Get Report , (GOOGL) - Get Report . Action Alerts Plus holding Alphabet has been ripping higher in 2018, up 11.7% already since the calendar flipped to January. And more upside is likely in store for Alphabet bulls. That's because this stock is currently bouncing its way higher in a well-defined parabolic uptrend.
Simply put, every test of the bottom of Alphabet's price channel has been met with a bounce to higher ground. The 50-day moving average has been acting like a solid proxy for that uptrending support level since mid-October -- that makes it a logical place to park a protective stop beneath.
Apple Inc.
Action Alerts Plus holding Apple Inc. (AAPL) - Get Report is another tech giant that's been leading the market higher for the last year. Apple has lacked Alphabet's insane momentum in 2018 -- shares are up just 2% since the start of the new year -- but that is actually setting the stage for Apple's next leg higher.
Apple is currently sitting just below multi-month resistance at $177.50, a price level that this stock only briefly managed to peek above earlier this month. A material breakout through that $177.50 resistance level is a brand-new buy signal for shares of Apple. From a risk-management standpoint, the $165 level is the do-not-cross line for Apple here. A violation of that $165 level means that the trend that's been propelling Apple higher from below has been broken.
Meanwhile, look for a push through $177.50 as a buy signal.
Facebook Inc.
Action Alerts Plus holding Facebook's (FB) - Get Report price trajectory is about as simple as it gets. Since the beginning of last year, this gigantic social media stock has been bouncing its way higher in an extremely well-defined uptrending channel. And Facebook is still a "buy the dips stock" this winter.
Facebook's uptrend is formed by a pair of parallel trendlines that have identified the high-probability range for shares to remain stuck within. Simply put, it makes sense to be a buyer on the next successful test of trendline support. The most recent bounce came last week, which means that a little patience may be required to get an optimal entry in Facebook. Still considering we've seen 10 successful tests of support in the last 12 months, the wait won't be long.
Broadcom Ltd.
Meanwhile, things are looking less well for shares of semiconductor stock Broadcom Ltd. (AVGO) - Get Report .
While Action Alerts Plus holding Broadcom started off 2018 in a stellar uptrend, that uptrend is showing some major cracks. Broadcom is violating its trendline support level Thursday afternoon, potentially signaling the end of the trend, provided shares actually finish the trading session materially below support. That means Broadcom is a tech name to steer clear of, at least until sellers shake out of the price action here.
Activision Blizzard Inc.
Shares of video game stock Activision Blizzard Inc. (ATVI) - Get Report are in breakout mode this winter, pointing higher after pushing above a key level earlier this month.
Action Alerts Plus holding Activision spent most of the last six months consolidating sideways in a range between $57.50 and $67.50. That sort of sideways consolidation isn't rare, particularly in situations like Activision's where shares had rallied hard just before becoming range-bound. Now, though, the push through the top of that rectangle at $67.50 signals that ATVI is working on resuming its old trend.
Now looks like as good a time as any to be a buyer in Activision Blizzard.
Microsoft Corp.
The price action in Action Alerts Plus holding Microsoft Corp. (MSFT) - Get Report looks a lot like what we're seeing in its big tech peers like Alphabet. For the last year, Microsoft has been rallying higher in a parabolic uptrend, giving investors a chance to get in on every successive test of support. Year-to-date, MSFT is up more than 8%. And now, as Microsoft hits new highs, shares still look primed for more upside.
Again, risk management is key here. Like with Alphabet, the 50-day moving average is acting like a good proxy for support in MSFT. That makes it a logical place to park a protective stop below -- if MSFT violates its 50-day, you don't want to own it anymore. In the meantime, it's a buy.
Nvidia Corp.
Finally, the story still looks great in shares of Action Alerts Plus holding Nvidia Corp. (NVDA) - Get Report .
This graphics chip stock showed investors a major breakout buy signal at the start of the year by finally pushing through the $217 level, and shares have reacted by adding another 10% to their market value in the intervening weeks. Between that breakout move and a very well-defined uptrending support line to the downside, there's good reason to like NVDA right now.
If you decide to pull the trigger on shares here, the $200 level is a logical place to put a stop below.
More of What's Trending on TheStreet:
This article is commentary by an independent contributor. At the time of publication, the author held no positions in the stocks mentioned.