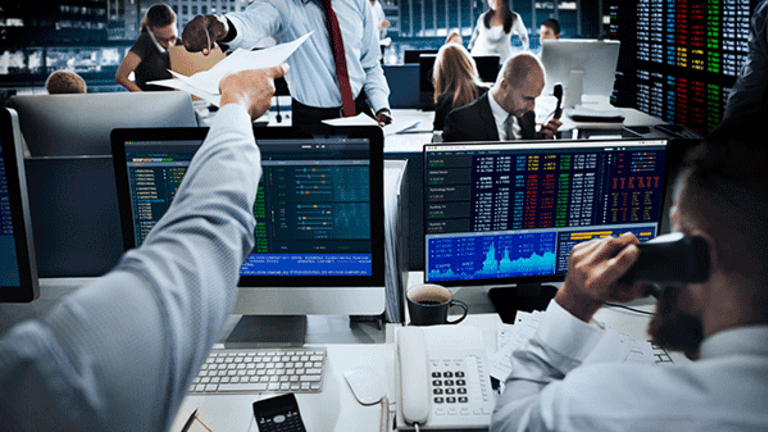 How to Trade Monday's Most Active Stocks - Facebook, Dynavax, Barrick Gold, More
Here's a technical look at how to trade some of the most active stocks on the market right now.
Here's a technical look at how to trade some of the most active stocks on the market right now.
Put down the 10-K filings and the stock screeners. It's time to take a break from the traditional methods of generating investment ideas. Instead, let the crowd do it for you.
From hedge funds to individual investors, scores of market participants are turning to social media to figure out what stocks are worth watching. It's a concept that's known as "crowdsourcing," and it uses the masses to identify emerging trends in the market.
Crowdsourcing has long been a popular tool for the advertising industry, but it also makes a lot of sense as an investment tool. After all, the market is completely driven by supply and demand, so it can be valuable to see what names are trending among the crowd.
While some fund managers are already trying to leverage social media resources like Twitter to find algorithmic trading opportunities, for most investors, crowdsourcing works best for investors who want a starting point in their analysis.
So, we'll leverage the power of the crowd to take a look at some of the most active stocks on the market. ...
Bank of America
Nearest Resistance: N/A
Nearest Support: $17.75
Catalyst: Technical Setup
First on our list of Monday's most actively traded stocks is Bank of America (BAC) - Get Report. BofA has consistently topped the NYSE's list of highest-volume stocks this past week, but today's price action in the $203 billion bank is anything but routine. Bank of America is rallying more than 5% this afternoon, boosted by the combination of a technical setup and the prospect that a Trump administration could put pressure on the Fed to raise rates, boosting net interest margin (and profitability) for big banks.
Technically speaking, BofA is clearly in breakout territory this afternoon, pushing through to new multi-year highs. Today's high-volume big-dollar move is a good indication that this stock's momentum isn't close to fizzling out here.
Dynavax Technologies Corp.
Nearest Resistance: $8
Nearest Support: N/A
Catalyst: FDA Rejection
Dynavax Technologies (DVAX) - Get Reportis in freefall this afternoon, down 64% on big volume, following news that the company received a rejection from the FDA regarding its Heplisav-B vaccine for hepatitis B. The complete response letter from the FDA requires additional information about adverse conditions from Dynavax, information that the company has said it may not be able to provide without financial assistance from another drug company or investor.
Dynavax has been in a well-defined downtrend for much of 2016, but today's big-volume selloff completely breaks the orderly nature of the decline. From here, shares could potentially fall further before reaching a meaningful support level. It makes sense to avoid the long-side of Dynavax for now.
Mentor Graphics
Nearest Resistance: $37.25
Nearest Support: $36.30
Catalyst: Acquisition
Mid-cap software stock Mentor Graphics (MENT) is up almost 19% this afternoon, gapping higher at the open following news that the firm had agreed to be acquired by Siemens AG for $37.25 per share in cash. That announcement means investors have managed to effectively double every dollar invested in Mentor since the calendar flipped to January of this year. At this point, however, the money has been made on the Mentor Graphics trade. Shares are currently trading for a miniscule discount to the offer price, signaling that market participants see a high likelihood that the deal gets done. Investors should look elsewhere for upside opportunities this fall.
Regions Financial
Nearest Resistance: N/A
Nearest Support: $10
Catalyst: Analyst Upgrades, Macro Environment
One of the most notable winners in the financial sector this afternoon is $17 billion banking stock Regions Financial (RF) - Get Report. Shares of this bank holding company are up 6.8% this afternoon, buoyed by the combination of an analyst upgrade from FBR Capital Markets, and the broader post-election tailwinds in the financial sector. Regions is hitting new multi-year highs this afternoon.
Like with larger peer Bank of America, Regions is proving this afternoon that its momentum isn't at risk of dying off here. So, despite the size of the move that this stock has already pulled off at this point, shares still have upside potential in the final stretch of 2016. If you decide to jump into the trade here, it's a good idea at a minimum to keep a stop in place at the 50-day moving average.
AK Steel Holding Corp.
Nearest Resistance: $8.50
Nearest Support: $4.50
Catalyst: Analyst Upgrade
AK Steel Holding (AKS) - Get Reportis up more than 6% this afternoon, rallying on the heels of an analyst upgrade from Morgan Stanley. Previously, Morgan Stanley had been rating AK Steel as an equalweight holding, but analyst Evan Kurtz is hiking AKS to overweight. The move more than doubled the firm's price target on AK Steel, bringing it from $5 to $11. That represents a 38% upside move from where shares sit today.
From a technical standpoint, AK Steel looks attractive here. Shares have been in a well-defined uptrend, stretching back to the end of February, and while they're near the top of their trading range this fall, the uptrend is alive and well in AKS. From here, it makes sense to look for buying opportunities on dips.
Facebook
Nearest Resistance: $120
Nearest Support: $109
Catalyst: Technical Setup
Today is turning out ugly for social media stock Facebook (FB) - Get Report. After spending most of the year in a well-defined uptrend, Facebook is violating trend line support for the first time in November, a bearish signal that could mean the start of a new downtrend. So while plenty of attention is being thrown on politics as a driver of Facebook's 3.5% selloff Monday, it has a lot more to do with this stock's breakdown through support. Buyers should wait for this stock to start establishing a series of higher lows again before initiating a position in this tech giant.
Barrick Gold
Nearest Resistance: $18
Nearest Support: $14
Catalyst: Spot Gold
Mining stock Barrick Gold (ABX) has consistently been one of investors' favorite way to play trends in gold prices in 2016 -- and that's not changing in November. Unfortunately for gold fans, the lack of post-election panic is keeping gold prices in the downtrend that they kicked off back in August. That means that Barrick and company are likely to continue seeing lower ground over the intermediate-term. With shares sitting at the bottom of their trend channel this week, don't be fooled by any near-term upside corrections in Barrick; the downtrend is still intact in this gold-mining stock.
This article is commentary by an independent contributor. At the time of publication, the author held no positions in the stocks mentioned.