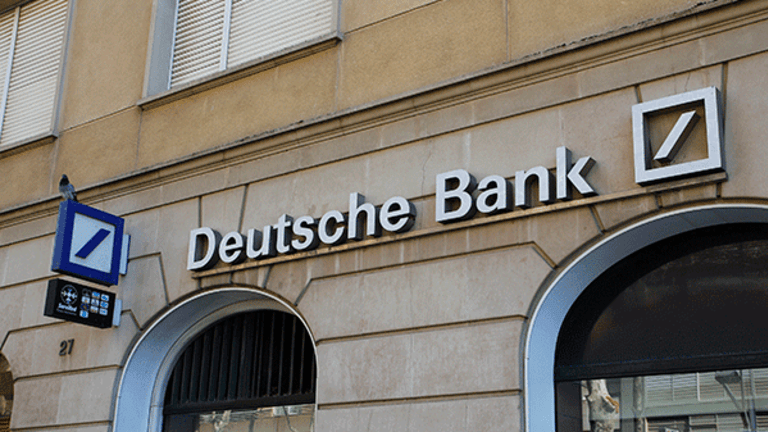 How to Trade Monday's Most Active Stocks -- Energy Transfer Partners, Deutsche Bank and More
Here's a technical look on how to trade some of the most active stocks on the market today.
Put down the 10-K filings and the stock screeners. It's time to take a break from the traditional methods of generating investment ideas. Instead, let the crowd do it for you.
From hedge funds to individual investors, scores of market participants are turning to social media to figure out which stocks are worth watching. It's a concept that's known as "crowdsourcing," and it uses the masses to identify emerging trends in the market.
Crowdsourcing has long been a popular tool for the advertising industry, but it also makes a lot of sense as an investment tool. After all, the market is completely driven by supply and demand, so it can be valuable to see what names are trending among the crowd.
While some fund managers are already trying to leverage social media resources like Twitter to find algorithmic trading opportunities, for most investors, crowdsourcing works best as a starting point.
So, today, we'll leverage the power of the crowd to take a look at some of the most active stocks on the market.
Chesapeake Energy

Nearest Resistance: $8
Nearest Support: $5.50
Catalyst: Asset Sale
Shares of $7 billion energy stock Chesapeake Energy (CHK) - Get Chesapeake Energy Corporation Reportare up almost 5%, following news that it has agreed to sell a portion of its Haynesville shale assets in Louisiana for approximately $450 million. Chesapeake has been selling off non-core assets in 2016 in a move to shore up the firm's balance sheet, and those sales now total about $2 billion year to date.
Chesapeake looks attractive from a technical standpoint right now. Shares have been trending higher since March, and they're continuing to climb following the most recent bounce off of trend line support in early November. Investors should aim to buy the dips in Chesapeake for the best risk/reward tradeoff in this stock.
Deutsche Bank
Nearest Resistance: $18
Nearest Support: $15
Catalyst: Technical Setup
Deutsche Bank (DB) - Get Deutsche Bank AG Reporthas attracted considerable trading volume this year -- for all the wrong reasons. Shares of the German financial giant have lost about a third of their market value in 2016, grabbing headlines all along the way.
But the tide may finally be turning in this big bank, at least from a technical standpoint. Deutsche Bank is currently forming an inverse head and shoulders pattern, a classic bullish reversal setup that triggered on Deutsche Bank's move through $15 resistance in November. Since then, shares have given investors a throwback to verify newfound support at that $15 price tag.
If you decide to buy Deutsche Bank here, it makes sense to park a protective stop at the 50-day moving average.
United States Natural Gas Fund
Nearest Resistance: $9.50
Nearest Support: $9
Catalyst: Gas Prices
After correcting hard in October, the United States Natural Gas Fund (UNG) - Get United States Natural Gas Fund LP Reportis alive again. Shares have been rallying from November's lows, pushing their way toward a retest of prior highs just above $9.50. If the fund can catch a bid above $9.50, it would be a pretty substantial breakout signal for a commodity group that's been tamped down hard in the years leading up to 2016.
Keep a close eye on how UNG acts around that $9.50 resistance level here.
iPath S&P 500 VIX Short-Term Futures ETN
Nearest Resistance: N/A
Nearest Support: N/A
Catalyst: Market Rally
The iPath S&P 500 VIX Short-Term Futures ETN (VXX) - Get iPath Series B S&P 500 VIX Short-Term Futures ETN Reportis seeing heavy trading volume this afternoon, in part thanks to a pretty broad upward session in the big stock indices to start the week. The VIX Volatility Index has an inverse relationship with the S&P, which means that when the broad market moves up, the VIX and the ETFs and ETNs that track it generally move down. That's translated into a prolonged selloff in VXX and its peer funds this year.
An important note about this exchange-traded note is the fact that VXX doesn't have conventional support and resistance levels like a normal stock. Since the price action in VXX is determined by a statistical formula, not direct supply and demand from market participants, it's important not to try to use conventional technical tools on this unique exchange traded note.
But, as long as the uptrend in the S&P remains intact, you don't want to own VXX.
Energy Transfer Partners

Nearest Resistance: $40
Nearest Support: $32
Catalyst: Pipeline Block
$19 billion midstream energy stock Energy Transfer Partners (ETP) is down slightly on high volume this afternoon, following news that the permit for the controversial Dakota Access Oil Pipeline was denied by the Army Corps of Engineers. It's likely not the final word on the pipeline -- a spokesman for President-elect Donald Trump has said that he supports the project, and that Trump will review the decision once in office.
Technically speaking, though, Energy Transfer Partners actually looks pretty straightforward here. Shares have been trending slightly lower in a shallow downtrend since peaking back in early August. From here, lower ground looks likely for shares in a move that's driven more by the prospect of higher interest rates than the Dakota pipeline.
Caveat emptor.
Nvidia

Nearest Resistance: $95
Nearest Support: $75
Catalyst: Technical Setup
The trend has certainly been a friend to Nvidia (NVDA) - Get NVIDIA Corporation Reportshareholders this year. Shares of this graphics chipmaker have rallied more than 176% since the calendar flipped to January, making Nvidia one of the best-performing stocks on the Nasdaq in 2016.
More importantly, that uptrend is still intact, giving investors an opportunity to buy on Nvidia's next bounce higher. For now, shares of this consistently high-volume stock are hovering near the top of their trading range.
Buyers should exercise some patience and plan to buy on the next pullback to trendline support, currently around the $75 level.
Groupon
Nearest Resistance: $10
Nearest Support: $3.75
Catalyst: Technical Setup
Last on our list of high-volume stocks today is online deals website Groupon (GRPN) - Get Groupon, Inc. Report. Groupon is getting attention for technical reasons this afternoon, as shares test trend line support for the fourth time this year.
Groupon's uptrend is wide-ranging, but support has been well-defined and effective, a fact that should give potential buyers confidence on the next bounce higher.
If you're planning on buying Groupon, wait for shares to actually bounce off of that lower blue line before you buy shares.
This article is commentary by an independent contributor. At the time of publication, the author held no position in the stocks mentioned.