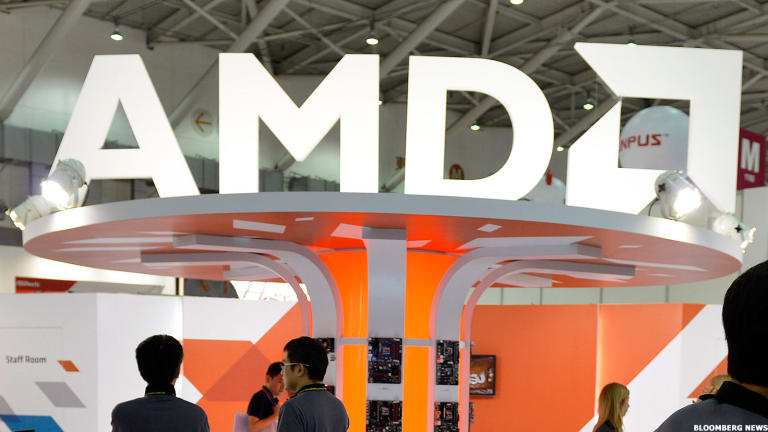 Publish date:
How to Trade Monday's Most Active Stocks - AMD, Esperion Therapeutics, Nokia and More
Here's how to trade six of the most active names on the market this afternoon.
Here's how to trade six of the most active names on the market this afternoon.
Put down the 10-K filings and the stock screeners. It's time to take a break from the traditional methods of generating investment ideas. Instead, let the crowd do it for you.
From hedge funds to individual investors, scores of market participants are turning to social media and market data to figure out which stocks are worth watching. It's a concept that's known as "crowdsourcing," and it uses the masses to identify emerging trends in the market.
Crowdsourcing has long been a popular tool for the advertising industry, but it also makes a lot of sense as an investment tool. After all, the market is completely driven by the supply and demand, so it can be valuable to see what names are trending among the crowd.
While some fund managers are already trying to leverage social media resources like Twitter to find algorithmic trading opportunities, for most investors, crowdsourcing works best as a starting point for investors who want a starting point in their analysis.
So, today, we'll leverage the power of the crowd to take a look at some of the most active stocks on the market...
Advanced Micro Devices Inc.
Nearest Resistance: $15.50
Nearest Support: $13.75
Catalyst: Analyst Upgrade
Leading off our list of the market's most actively-traded stocks today is $13 billion chipmaker Advanced Micro Devices Inc. (AMD) - Get Report. AMD is seeing a 7.3% pop on huge volume this afternoon, boosted by an upgrade from Jefferies. The firm raised its buy target to $16 from $13, reiterating AMD as a buy. The news is sending investors flocking back to this momentum stock, which has led the NASDAQ as one of the strongest trends of the last year. Shares are up 392% in that 12-month stretch.
Esperion Therapeutics Inc.
Nearest Resistance: N/A
Nearest Support: $24
Catalyst: FDA Plan
After falling victim to a peer-induced selloff on Friday, shares of $648 million drug stock Esperion Therapeutics Inc. (ESPR) - Get Report are up 53% as I write this afternoon, after the firm solidified its plans to file with the Food and Drug Administration for its first marketed drug. Shares are testing a breakout through prior highs at $34 to make new 52-weeks highs this afternoon. At this point, volatility is exceptionally high in ESPR - shares have made a nearly 100% round trip in the past two trading sessions, and headline risk remains elevated as more eyes turn to this stock. That said, for traders willing to tackle that risk, ESPR's breakout through $34 today looks like a buy signal.
Nokia Corp.
Nearest Resistance: $5.60
Nearest Support: $4.90
Catalyst: Corporate Shakeup
Nokia Corp. (NOK) - Get Reportis seeing a 1.6% pop this afternoon, pushing slightly higher to start the week after an announcement Friday afternoon that the firm plans on splitting its services business into a separate unit. The organization changes, plus moves in the firm's executive team to handle the new unit, are effective April 1.
Technically speaking, Nokia's price trajectory has looked attractive since shares bottomed in mid-November. That said, with Nokia testing the top of its recent trend channel, it makes sense to wait for some semblance of a correction before jumping into this stock - shares could correct all the way to $4.90 without having any impact on Nokia's technical outlook.
FireEye Inc.
Nearest Resistance: $12.50
Nearest Support: $10.25
Catalyst: Analyst Upgrade
Cybersecurity firm FireEye Inc. (FEYE) - Get Report is kicking off the week with an 8.7% rally, climbing higher Monday following an analyst upgrade. FireEye was raised to a buy at Bank of America Merrill Lynch, with a price target of $18. That price target implies a 54% rally from where shares sit today. Despite the positive reaction to the upgrade, it's a little early to want to pull the trigger on FireEye from a technical standpoint. While the nearly 9% pop in shares is welcome, it's not technically significant. Shares are stuck in a falling wedge that doesn't get invalidated until shares can catch a bid above $12.50. Until that happens, investors should steer clear of FEYE.
Array Biopharma Inc.
Nearest Resistance: $11
Nearest Support: $9
Catalyst: FDA Application Withdrawal
Shares of $1.7 billion biotech stock Array Biopharma Inc. (ARRY) - Get Reportare down more than 5% today, correcting after the firm pulled its FDA application for its solo melanoma drug therapy. While the news initially spooked investors at the open this morning, ARRY has been creeping higher over the course of today's trading session, reversing what started out as a much larger decline.
Despite the bullish turn in shares intraday, more downside risk was opened when ARRY violated its prior uptrend earlier in the month. Until shares can start establishing a series of higher lows, this is a stock that buyers should be cautious about.
Nektar Therapeutics
Nearest Resistance: $20
Nearest Support: $14
Catalyst: Phase 3 Data
Last on our list of active trades is $3 billion biopharmaceutical stock Nektar Therapeutics (NKTR) - Get Report. Nektar is rallying more than 33% today, boosted by positive phase 3 results from its experimental chronic lower back pain drug. The drug, named NKTR-181, is seen as an attractive alternative to opioids in helping back pain sufferers cope, given the minimal euphoria that the drug provides. Technically speaking, Nektar is testing an important breakout level this afternoon, as shares move up past $20. If shares can manage to hold above $20 through the close today, shares open more upside potential for this spring.
At the time of publication, the author had no positions in the stocks mentioned.