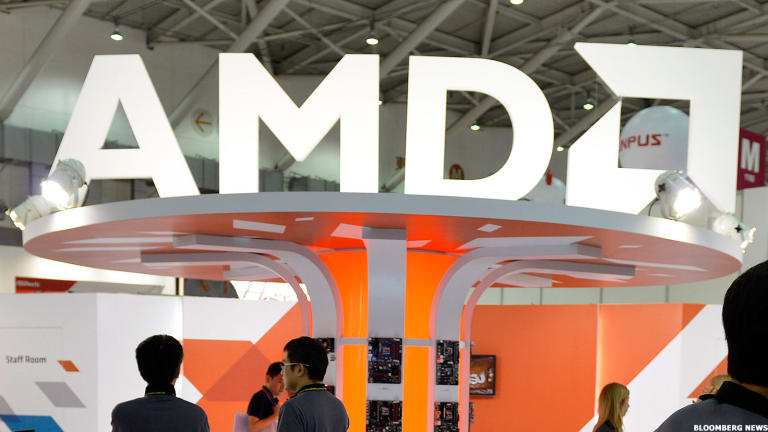 How to Trade Monday's Most Active Stocks - AMD, CBS, Ophthotech and More
Here's a technical look on how to trade some of the most active stocks on the market this week.
Here's a technical look on how to trade some of the most active stocks on the market this week.
Put down the 10-K filings and the stock screeners. It's time to take a break from the traditional methods of generating investment ideas. Instead, let the crowd do it for you.
From hedge funds to individual investors, scores of market participants are turning to social media to figure out which stocks are worth watching. It's a concept that's known as "crowdsourcing," and it uses the masses to identify emerging trends in the market.
Crowdsourcing has long been a popular tool for the advertising industry, but it also makes a lot of sense as an investment tool. After all, the market is completely driven by the supply and demand, so it can be valuable to see what names are trending among the crowd.
While some fund managers are already trying to leverage social media resources like Twitter to find algorithmic trading opportunities, for most investors, crowdsourcing works best as a starting point for investors who want a starting point in their analysis.
So, today, we'll leverage the power of the crowd to take a look at some of the most active stocks on the market...
Advanced Micro Devices
Nearest Resistance: N/A
Nearest Support: $9
Catalyst: Analyst Upgrade
Leading the list of today's most actively-traded stocks is chipmaker Advanced Micro Devices (AMD) - Get Report. AMD is consistently one of the most heavily-traded stocks on the NASDAQ, but it's getting extra attention this afternoon following an analyst upgrade from BMO that hiked the firm to "Outperform" with a price target of $15. That target increase implies a 41% upside move from where AMD is currently trading.
Technically speaking, AMD is still in "breakout mode" this week, making new highs after shares cracked long-term resistance up at $8. AMD's price momentum is clearly being controlled by buyers right now - if you decide to pull the trigger on shares here, it makes sense to park a protective stop on the other side of the 50-day moving average.
Ophthotech Corp.
Nearest Resistance: $25
Nearest Support: N/A
Catalyst: Study Failure
Shares of small-cap drug stock Ophthotech  (OPHT) - Get Report are plummeting 85% this afternoon, down on the heels of a failure of the firm's experimental Fovista drug failed to benefit patients with age-related macular degeneration. The drug provided no additional benefit to patients in two late-stage studies, where it was being tested in combination with Lucentis. The failure of Ophthotech's leading drug is sending shares to new all-time lows to start the week.
Technically, Ophthotech's price chart is broken at this point. Shares violated the bottom of their downtrend in a big way with today's gap-down, losing the majority of their market value in one fell swoop. Opportunistic buyers should steer far clear of OPHT until shares can establish some semblance of support again.
VelocityShares 3x Inverse Natural Gas ETN
Nearest Resistance: $8
Nearest Support: $3
Catalyst: Natural Gas Prices
The VelocityShares 3x Inverse Natural Gas ETN (DGAZ) - Get Reportis seeing unusually high volume this afternoon, up double-digits as natgas prices get pressured. That doesn't necessarily make DGAZ a buying opportunity, however - in the long-run the trend is unmistakably down in this big exchange-traded note. While shares do look likely to see an upward correction in the near-term, that price trend and the negative effects of rolling commodity futures mean that this leveraged note isn't something you want to own for the long-haul. Caveat emptor.
Weatherford International plc
Nearest Resistance: $6
Nearest Support: $4.75
Catalyst: Crude Oil Pop
Meanwhile, another side of the energy sector is looking stronger today. Oil prices are showing some upward trajectory this afternoon ahead of this week's Fed meeting, and that's pushing volume into some big-volume energy stocks. Case in point: Weatherford International plc (WFT) - Get Report. Weatherford is up slightly on high volume this afternoon, enough to make it one of the most heavily-traded issues on the NYSE today.
Despite that buoyancy, Weatherford remains stuck in a downtrend this afternoon. Shares have been harangued by that trendline resistance level since the start of June, and they're testing that price ceiling for the fourth time here. If Weatherford can actually manage to catch a bid above $6, it's a buy signal - otherwise, look out for a correction in December.
Alexion Pharmaceuticals
Nearest Resistance: $130
Nearest Support: $110
Catalyst: Sales Probe
Alexion Pharmaceuticals (ALXN) - Get Reportis down almost 15% this afternoon, swatted lower following news that CEO David Hallal and CFO Vikas Sinha have both left the firm after the board lost confidence in them. Alexion is currently dealing with a probe into improper sales practices, and the shakeup in the C-suite is shaking investor confidence this afternoon.
Technically, Alexion's price action in is jeopardy. That's because, long-term, shares have been forming a textbook example of a descending triangle pattern, a bearish continuation setup that signals downside if support at $110 gets violated. For now, ALXN is holding up above that $110 line in the sand, but investors should keep a very close eye on how shares trade here, particularly given the headline risk of owning Alexion amid the sales probe.
Viacom
Nearest Resistance: $37
Nearest Support: $35
Catalyst: CBS Merger
Entertainment stock Viacom (VIAB) - Get Report is down more than 7% this afternoon, after Shari Redstone withdrew her proposed merger between Viacom and CBS Corp. (CBS) - Get Report, another major Redstone family holding. Investors had hoped that the merger would help to unlock some of the value in Viacom's media portfolio, but CBS head Les Moonves had shown some resistance to the plan. Today's news means that it's not happening.
Viacom had been in a well-defined uptrend since late September, but today's news is breaking shares down below the bottom of that price range. That breakdown through support means that Viacom is opening up new downside risk here. Shares could have further to fall.
CBS Corp.
Nearest Resistance: $68
Nearest Support: 53
Catalyst: Viacom Merger
The other side of the Viacom trade is CBS, which is actually up slightly on the heels of the news. CBS started today's session off lower, but shares have been spiking early in this afternoon's trading following rumors that the firm could now create an attractive acquisition target on its own for a larger media company. From a technical standpoint, CBS's price action is still intact. Shares have been in an uptrend since February, and while the wide-ranging price channel means that shares could still correct materially from here without changing their trend, CBS looks like a stock worth buying on the dips as long as that uptrend holds.
At the time of publication, the author had no positions in the stocks mentioned.