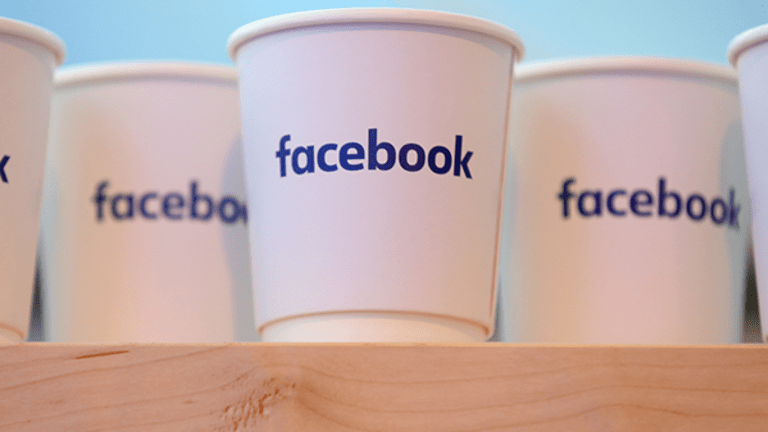 Facebook Makes Powerful Move Higher -- How to Trade It, Along With 6 Other Active Stocks
Put a charge in your portfolio this week.
Put down the 10-K filings and the stock screeners. It's time to take a break from the traditional methods of generating investment ideas. Instead, let the crowd do it for you.
From hedge funds to individual investors, scores of market participants are turning to social media and market data to figure out which stocks are worth watching. It's a concept that's known as "crowdsourcing," and it uses the masses to identify emerging trends in the market.
Crowdsourcing has long been a popular tool for the advertising industry, but it also makes a lot of sense as an investment tool. After all, the market is completely driven by the supply and demand, so it can be valuable to see what names are trending among the crowd.
While some fund managers are already trying to leverage social media resources like Twitter to find algorithmic trading opportunities, for most investors, crowdsourcing works best as a starting point for investors who want a starting point in their analysis.
So, today, we'll leverage the power of the crowd to take a look at some of the most active stocks on the market...
Ariad Pharmaceuticals
Nearest Resistance: $24
Nearest Support: $23.72
Catalyst: Acquisition
Leading off this afternoon's list of heavily traded stocks is mid-cap oncology drug developer Ariad Pharmaceuticals (ARIA) . Ariad has been a strong performer over the last year, but today's massive 73% pop in shares is a little different -- it's coming from acquisition news.
Ariad is rallying on the announcement that Takeda Pharmaceutical is buying the firm for $24 a share, a substantial premium to Friday's close. Ariad is seeing big volume today as shareholders cash in on the overnight price appreciation. At this point, shares of Ariad trade for a tiny discount to the deal price, implying a high probability that the buyout goes through as planned. Put simply, the money has already been made on the Ariad trade at this point.
Advanced Micro Devices 
Nearest Resistance: $12
Nearest Support: $11
Catalyst: Technical Setup
Semiconductor company Advanced Micro Devices (AMD) - Get Advanced Micro Devices, Inc. Report was a consistently high-volume stock in 2016, seeing huge attention from traders as shares pulled off a 295% gain last year. Now, shares of AMD are getting even more attention in 2017 as investors try to figure out this stock's follow-up act.
The early indications look bullish. AMD has been consolidating just below resistance at $12 for the last couple of weeks, signaling the potential for a breakout through that price level in January. Put simply, if AMD can catch a bid above $12, we've got a fresh buy signal in this serial outperformer.
iShares MSCI Emerging Markets ETF
Nearest Resistance: $40
Nearest Support: $34.25
Catalyst: Technical Setup
The iShares MSCI Emerging Markets ETF (EEM) - Get iShares MSCI Emerging Markets ETF Reportmay be sitting flat this afternoon, but this popular exchange-traded fund is seeing big volume to kick off the week on the heels of strong fund flows into emerging markets funds in the first week of 2017. U.S.-listed emerging market ETFs took in $522.4 million last week, according to data compiled by Bloomberg.
From a technical standpoint, EEM looks attractive in the long term. Shares have been bouncing their way higher in a well-defined uptrend since last March, and shares are just now making their way higher from their most recent test of their price floor in late December. Put simply, now still looks like a good time to be a buyer in EEM; plan on selling this big emerging market ETF near the top of its channel.
Nvidia
Nearest Resistance: $120
Nearest Support: $100
Catalyst: Analyst Upgrades
Visual computing giant Nvidia  (NVDA) - Get NVIDIA Corporation Report is another big tech stock that's looking to add onto its 2016 rally in the new year. Nvidia is up almost 4% this afternoon, boosted following a pair of price target upgrades from analysts at Susquehanna and Jefferies. Susquehanna increased its price target from $75 to $95, while Jefferies boosted its target from $110 to $125. Nvidia was the best-performing S&P 500 component last year, and Wall Street is increasingly expecting more of the same in 2017.
Technically, there's still a lot to like about Nvidia. Shares have been in an uptrend for the better part of the last year, actually accelerating that trend back in November with a breakout that put newfound support at S1 on the chart above. As Nvidia catches a bid just above that price floor, now looks like an attractive time to add to your Nvidia position from a risk/reward standpoint.
VCA
Nearest Resistance: $93
Nearest Support: $90.50
Catalyst: Acquisition
Animal health care stock VCA  (WOOF) - Get Petco Health & Wellness Co. Report is seeing a 28% rally on huge volume this afternoon, propelled higher by news that the firm is being acquired by candy giantMars. Mars will pay investors $93 per share in cash to buy VCA, adding pet hospitals to Mars' current exposure to pet brands like Pedigree pet food. VCA popped up to within 3% of the deal price at the open this morning, implying a 90.7% probability that the acquisition gets closed without issue later this year. Investors should look elsewhere for upside opportunities - the tiny premium left in WOOF doesn't present an attractive arbitrage opportunity for individual investors.
United States Natural Gas Fund
Nearest Resistance: $9.50
Nearest Support: $7.25
Catalyst: Spot Gas Prices
United States Natural Gas Fund (UNG) - Get United States Natural Gas Fund LP Report is correcting 4% on high volume this afternoon, dipping as spot natgas prices correct. This big commodity pool is individual investors' most direct way to get exposure to the price changes in natural gas, and while this commodity has shown an upward bias since last March, the price action looks corrective within the context of an uptrend right now. Natural gas bulls should consider waiting for the correction to play out closer to $7.25 per share of UNG before buying.
Facebook
Nearest Resistance: $124
Nearest Support: $115
Catalyst: Technical Setup
Last on our list of high-volume stocks is social media giant Facebook (FB) - Get Facebook, Inc. Class A Report , a holding in Jim Cramer's Action Alerts PLUS portfolio. Facebook has been under pressure since late October when it violated the uptrend that had been intact for effectively all of 2016.
Since then, Facebook has been consolidating sideways in a price channel, a behavior that isn't uncommon after a technically-significant price move. The good news for Facebook bulls is that this big stock is trying to resume its uptrend as shares test a breakout through $124 resistance at the top of that consolidation channel.
At this point, it's a little too early to call the breakout through $124 confirmed -- shares are within a couple of cents of that level as I write. But a close above $124 followed by an open above that level tomorrow looks like a buying opportunity and the end of Facebook's correction. Keep a close eye on how shares of Facebook trade this week.
At the time of publication, author had no positions in the stocks mentioned.