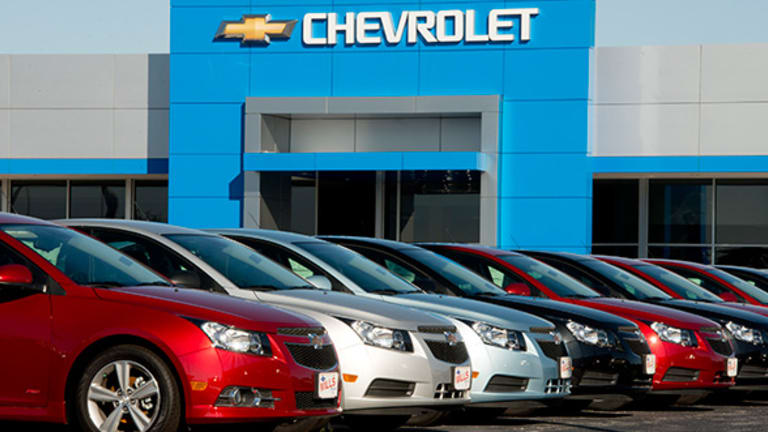 Put down the 10-K filings and the stock screeners. It's time to take a break from the traditional methods of generating investment ideas. Instead, let the crowd do it for you.
From hedge funds to individual investors, scores of market participants are turning to social media to figure out which stocks are worth watching. It's a concept that's known as "crowdsourcing," and it uses the masses to identify emerging trends in the market.
Crowdsourcing has long been a popular tool for the advertising industry, but it also makes a lot of sense as an investment tool. After all, the market is completely driven by the supply and demand, so it can be valuable to see what names are trending among the crowd.
While some fund managers are already trying to leverage social media resources like Twitter to find algorithmic trading opportunities, for most investors, crowdsourcing works best as a starting point for investors who want a starting point in their analysis.
So, today, we'll leverage the power of the crowd to take a look at some of the most active stocks on the market.
General Motors
Nearest Resistance: $37.50
Nearest Support: $35
Catalyst: December Sales
A day after getting caught in President-elect Trump's crosshairs, General Motors (GM) - Get General Motors Company (GM) Reportis rallying nearly 4% on big volume, following better-than-expected deliveries for December. While analysts were expecting an increase of 4.4% on average, GM said deliveries actually increased by 10%. That puts U.S. auto sales near record highs in 2016, and it means that automakers are in prime position to profit in 2017.
Technically speaking, there's a lot to like about General Motors right now. Shares are in an uptrend long-term, bouncing higher on every test of the bottom of their trading range. Shorter term, the Chevy maker is bouncing off of support at $35, a move that makes a retest of prior highs just above $37.50 likely as we kick off the new year.
Bank of America
Nearest Resistance: $25
Nearest Support: $21.50
Catalyst: Technical Setup
Bank of America's (BAC) - Get Bank of America Corp Reportbreakneck rally continues in 2017. After a stellar run at the end of last year, BofA is adding nearly 1% to its price tag today for technical reasons.
Bank of America has been in a well-defined uptrend since last summer, bouncing its way higher on every successive test of support. Shares actually broke above the channel in November, and they've been holding onto a parallel uptrend ever since. This week's bounce off of support (marked at S1 on the chart above) signals that the uptrend is still intact in 2017. Buy the dips in BofA.
VanEck Vectors Gold Miners ETF
Nearest Resistance: $22
Nearest Support: $18
Catalyst: Spot Gold
The VanEck Vectors Gold Miners ETF (GDX) - Get VanEck Vectors Gold Miners ETF Reportis seeing a big-volume move of its own today, up slightly as spot gold prices move higher ahead of the Federal Reserve minutes. As a miner exchange-traded fund, GDX basically acts like a leveraged bet on gold prices, and while that was a great thing at the start of 2016, it's been decidedly less good more recently as the uptrend rolled over and GDX began trading lower in August.
GDX is testing trendline resistance right now, which means shares are likely to get batted lower for a fourth time as we kick off the 2017 calendar year. It makes sense to steer clear of this popular ETF until it can break above the red downtrending channel on the chart.
AstraZeneca
Nearest Resistance: $28
Nearest Support: $27
Catalyst: Analyst Note
AstraZeneca (AZN) - Get Astrazeneca PLC Sponsored ADR Reportis up slightly on big volume for a second day today, boosted in part by the stock's inclusion of Bank of America-Merrill Lynch's list of top European picks for the first quarter. Like many of its peers, AstraZeneca has been under pressure in recent months, and the recent upside since bottoming in December has come as a welcome reprieve for shareholders.
Technically, AZN looks "bottomy" here. Shares have been carving out a rounding bottom pattern, a bullish technical reversal pattern that looks just like it sounds. For AstraZeneca, the breakout level to watch is resistance up at $28, a price level that's squarely within grabbing distance today. If AZN breaks out above $28, it's a buy.
J.C. Penney
Nearest Resistance: $10.75
Nearest Support: $8.25
Catalyst: Campus Sale
Small-cap department store retailer J.C. Penney (JCP) - Get J. C. Penney Company, Inc. Report is getting attention  following Tuesday's announcement that it had sold its headquarters building and surrounding 45 acres in Plano, Texas, for a gross sale price of $353 million. JCP will lease back 65% of the building from the buyer, Dreien Opportunity Partners, with the remaining space to be leased to new tenants. The sale is freeing up substantial cash to put toward debt reduction.
While the asset sale is the catalyst, the size of Penney's 3% pop Wednesday is largely technical. JCP has been in a well-defined uptrend since May, and today marks the third consecutive bounce off of that uptrend support line. Today's bounce at support looks like a low-risk buying opportunity for shares of JCP - buyers are still in control of shares in 2017.
SPDR S&P 500 ETF
Nearest Resistance: $227
Nearest Support: $222.50
Catalyst: Fed Minutes
The broad market is seeing a big-volume push as the SPDR S&P 500 ETF (SPY) - Get SPDR S&P 500 ETF Trust Report, investors' best investible proxy for "the stock market," ranks as one of the highest-volume issues on the NYSE. SPY has been a strong performer in recent months, climbing as the "Trump rally" sent the S&P on a year-end rally. Now, this big ETF is seeing added volume ahead of the Federal Reserve's December meeting minutes.
From a technical standpoint, SPY looks attractive here. This ETF has been consolidating following its breakout through prior resistance at $217.50, and shares are within grabbing distance of another breakout above the top of that consolidation range as I write Wednesday. A move through $227 in SPY signals another leg higher in the broad market.
Agile Therapeutics
Nearest Resistance: $6.50
Nearest Support: N/A
Catalyst: Phase 3 Results
Finally, small-cap specialty pharma stock Agile Therapeutics (AGRX) - Get Agile Therapeutics, Inc. Reportis getting even smaller, pummeled almost 60% lower following worse-than-expected Phase 3 results for its Twirla contraceptive patch. Analysts are predicting much lower chances of FDA approval for the patch, and the selling in Agile has been enough to make this stock one of the most actively traded names on the Nasdaq today.
Agile's chart doesn't look any better. Shares actually violated their uptrend back in December, and it's been a falling knife ever since. While a surprise FDA approval for Twirla could send shares rocketing back the other way, the technical trajectory paired with the headline risk looks more like a lottery ticket than a high-probability trade. Agile Therapeutics bulls should wait for this stock to establish some semblance of support again before even thinking about buying.
At the time of publication, author had no positions in the stocks mentioned.