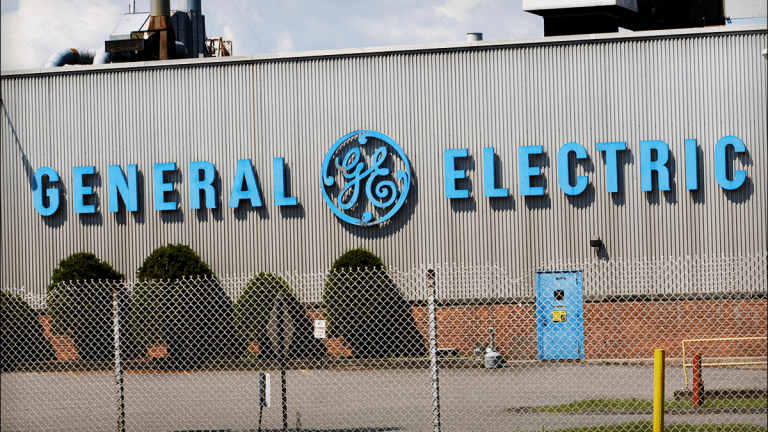 How to Trade GE Stock After Earnings Surge
GE stock is surging Thursday, up 15% after the company reported fourth-quarter results.
GE stock is surging Thursday, up 15% after the company reported fourth-quarter results.
Shares of General Electric (GE) - Get Report continue to push higher, with shares up about 15% in midday Thursday trading, to $10.45. While it may still be significantly below its highs, GE stock is now well off its lows.
Shareholders can thank earnings for the stock's latest jump. In fact, the results are leading to one of the GE's  best one-day price gains in a decade. Fourth-quarter non-GAAP earnings came in at 17 cents a share, missing expectations of 22 cents a share and down 36% year-over-year. That said, revenue of roughly $33.3 billion came in ahead of consensus expectations of $32.6 billion.
General Electric settled with the Department of Justice over a subprime mortgage loan and took further steps to deleverage its balance sheet. Were the results perfect? No, not necessarily. But CEO Larry Kulp and & Co. are taking the necessary steps to turn GE around.
The company still struggled with cash-flow generation in the quarter, even though it generated about $10 billion. However, part of that came from GE previously slashing its dividend and from selling assets. Cash flow from operations still declined over 8% year-over-year.
Management's work isn't done, but GE appears to be on the right track and as such, the market is rewarding shareholders. The big move is also likely forcing short-sellers to cover their position, adding more fuel to the fire.
Trading GE Stock
Given the train wreck that GE stock has been, it was hard to buy it once it broke into the single digits. After $11 gave way, the $10 level was lost just a few days later. It didn't help that all of this was happening in the fourth quarter, a time where the broader stock market was under tremendous pressure.
GE stock bottomed at $6.66 -- ironically, the S&P 500 bottomed at 666 in 2009 -- and didn't give investors a clear buy signal until its move over $8. Once it pushed through, GE did a great job consolidating higher, highlighted on the chart with a purple trend line.
Thursday's burst sent it through $10 with ease and this area would mark a reasonable stop-loss for investors. For those with a little longer leash, they can use Thursday's low as their stop-loss.
For an upside target, I would expect some resistance between $11.25 and $11.50. The former price marks the level that gave way to a flood of selling pressure, while the latter is near the 200-day moving average. For those looking to buy, consider GE if it's able to consolidate above $10 per share, setting up a larger move down the road. For bulls, I'd hate to see GE lose Thursday's low at this point, but if it holds over $9.25, it may look attractive for bulls.
Score a Touchdown with Jim Cramer's Big Game Special
Get access to the best stock picks in Jim Cramer's investment portfolio by executing a two-minute drill on our Big Game Special on Action Alerts PLUS, Jim's VIP club for investors.
through Feb. 4 and receive 58% off of the normal subscription price. Now that's a real touchdown!
This article is commentary by an independent contributor. At the time of publication, the author had no positions in the stocks mentioned.