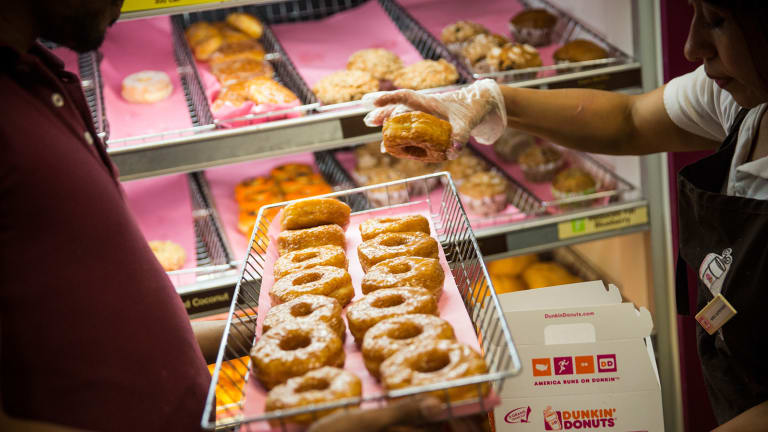 How to Think About Dunkin's Rebranding
The rebranding is reflective of a talented executive team.
I'm Jacob Sonenshine, filling in for Brian Sozzi. When Dunkin' Brands (DNKN) told us here at TheStreet there was some news it wanted to share Tuesday afternoon, Sept. 25, a couple of us asked, "Are they making an acquisition? Are they selling one of their units? What's going on?" Well, the company wasn't doing any of that, and instead it was rebranding the name of its flagship business to Dunkin' from 'Dunkin' Donuts'.
Sure there was a second of confusion, during which time we wondered why the announcement was just a simple name-change. One of the first questions that came to mind was how the rebranding could actually improve sales. We don't know truthfully because branding is one part of a business that is difficult to quantify.
The move revealed a few things about Dunkin's management, however, that investors should take note of when looking at consumer discretionaries or restaurant companies: The executives are incredibly attuned to their customers. I don't always fully believe in the idea of winning over the hearts of customers, and to me that's not what this is about.
The rebranding reflects that management understands how to approach the customer in a pragmatic way. Management understands that speed is the way to go in order to sell discretionary goods in the digital age. Consumers can buy with more speed across industries, and they can do the same with their coffee.  Starbucks (SBUX) has a robust app that aims to create more speed, for example.
To be a profitable investor and build long-term wealth, you need the right information and techniques. Join TheStreet Oct. 13, 2018, for a special investing event for sophisticated and active traders. Register for "Invest Like the Pros: Jim Cramer's Boot Camp for Investors" here.
Dunkin' is trying to maximize its in-store speed. Sales growth in its last quarter was 1.4% year over year on declining foot traffic. A few weeks ago, Dunkin' US Chief Operating Officer Scott Murphy told me the company was creating "next generation" stores because it wants to improve the speed of getting coffee and food to customers, which new features in the store will help with. Dunkin's mass advertising campaigns, coupled with digital marketing, could raise awareness of the new stores, but it's the management of the app that impresses me. Murphy said the app can pair food items with what coffee the customer orders. The experience is customized, which is a great way to create loyalty and retain customers.
So what's one of the core tenets of the rebranding effort? Simplicity and energy, two things that go hand-in-hand with creating speed. "The simplicity of our new branding creates energy," CEO David Hoffman said on a conference call with reporters. He added that Dunkin' wants to "meet the demands of today's on-the-go consumer." He added, "By simplifying and modernizing our name we have the opportunity to create a new energy for the brand."
Dunkin' is in the right mode, and management is showing it understands how to serve, how to sell, and how to grow in the broader environment.
One risk to the stock? It's got a price-to-earnings ratio of 30. Starbucks is at 17.
Start, and end, your trading day right with TheStreet's 'Daily Snapshot' on your favorite smart-speaker. Learn more about TheStreet's market coverage for your trusted smart-speaker here.