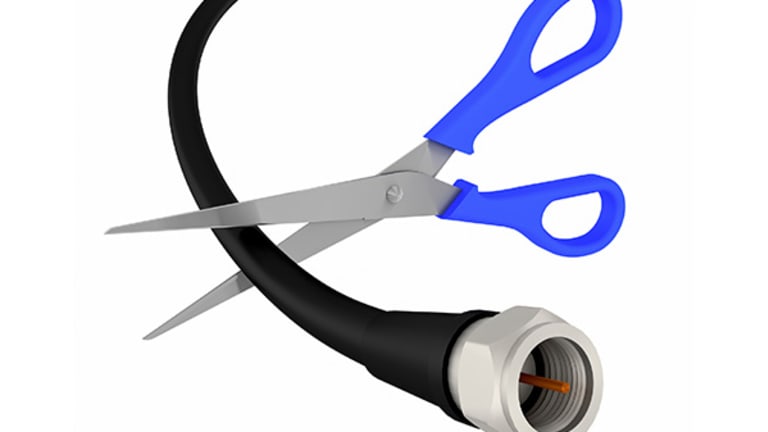 How to Watch TV Online Without Cable And Still See Your Favorite Shows, News and Sports
Ever click through all 700 HD channels on your cable or satellite service channel lineup only to announce, "Nothing's on..." with a long sigh? Target your watching on the cheap.
NEW YORK (MainStreet) — Ever click through all 700 HD channels on your cable or satellite service channel lineup only to announce, "Nothing's on..." with a long sigh? Maybe you subscribe to a streaming service such as Netflix, Hulu Plus or AmazonPrime to get more shows when you want them, but you also want to see them on your big TV screen. Or maybe you want to cut the cable cord entirely to watch live TV and just use video streaming but are worried about missing live sports from the NFL and MLB or news?  
Officially termed SVOD (subscription video-on-demand) and OTT (over-the-top) TV-watching, online streaming services like these add more options to the traditional TV channel lineup from a paid cable or satellite provider. Digital TV Research projected the number of worldwide households using SVOD would grow from 21 million in 2010 to 83 million in 2014 and 199 million in 2020. Almost half (46%) of households in the U.S. have streaming service as of July, according to Nielsen. That percentage jumps to 62% among Millennials.
What's more, new consumer research from Leichtman Research Group, Inc. found that some 83% of all households nationwide subscribe to some form of pay-TV service, a drop from the 87% that did so in 2010. That may be because cable is so expensive, and cost-conscious consumers who have options to get programming that more directly meets their desires spend their dollars more precisely. 

This is all part of the changing tide -- less bland and general cable, more targeted on-damand. In fact, as TheStreetpreviously reported, when Disney announced that ESPN had "modest subscriber losses" in its second quarter, shares tumbled 9.2% earlier this year. This is indicative of the future.
With an array of choices, this consumer consideration is the ultimate personal finance decision for your homelife leisure -- how to get the maximum quality entertainment tailored to your tastes for the lowest price. We'll teach you how to watch your favorite TV shows, live news and sports without an expensive cable or satellite TV service. First, you'll need a device to connect online streaming video to your TV, then you can subscribe to some inexpensive streaming services and, finally, you can find local TV programming and sports to complete your package.
With SVOD apps using a streaming device connecting your TV to the Internet, there is now the option of cutting out the paid cable subscription service (and bill) entirely, but there is a learning curve and you'll need a major attitude adjustment. Once you've learned to watch TV this new way, you'll be getting so much more from your TV while paying much less.
Cancel the cable/satellite service...and bill
Cord-cutting is all the rage. The cable industry shrank at a rate of 0.5% in the 12 months ending in May, according to media industry research firm MoffettNathanson. That's at least in part due to cost. If you've been paying for cable or satellite TV, you paid an average of $86 per month in 2011, according to The NPD Group. Rising to a 2015 prediction of $123 per month, you could be spending $1,476 per year, just for pay-TV programming. As a result, the U.S. in 2014 lost 176,000 subscribers to cable TV, satellite or fiber services, according to research firm SNL Kagan -- the second straight year of decline.  
Could you use that extra $100 elsewhere in your budget? If so, simply call up your provider and cancel your service. Be prepared for the provider to offer to reduce your rate or try to get you to bundle up and pay even more. Once the cable or satellite box is gone, you'll need to reconfigure your TV for streaming yours shows online. 
Connect your TV to a video streaming device
If you hate watching TV on your iPad or computer, you'll need to connect your TV (via the HDMI port) to a video streaming device which connects it to the Internet wirelessly, as 47% of households already did in 2014, according to NPD Group. Then, you suddenly have access to a whole new world of viewing content in the form of "apps" that represent each channel you already know and love plus many more you've yet to discover. John Buffone, Connected Intelligence industry analyst for The NPD Group, says one of the big changes this year is increased affordability of these devices with an average one-time price as low as $35. "Since cost is removed from the equation, you can try the one that appeals to you most," he says.
Other choices include streaming devices from NetGear, not to mention blu-ray Disc players and gaming consoles such as PlayStation 3 that double as streaming video devices.
Pay for a few cheap SVOD services
Streaming subscriptions are extremely inexpensive, a mere fraction of what your cable TV bill was. It used to be if you didn't know about a show you simply missed it or you'd jump in mid-season. Now you can "marathon" or "binge-watch" as many episodes as you want when you want, some from the very beginning of the series. At $7 to $10 per month, these services each offer something different, with a lot of cross over, so choose the one(s) most meaningful to you.
Netflix: Netflix is the most popular streaming service, and you can watch an entire production, every season from the pilot to series finale or the last completed year for most major TV series (updated often) such as "Mad Men" and "Breaking Bad" plus have access to some exclusive, original award-worthy Netflix series you may have heard about: "House of Cards" and "Orange is The New Black" are among the most popular. There's also a huge catalog of documentaries, kids' shows, reality TV, stand-up comedy and movies. Netflix learns what you like and suggests new shows and movies without ads or added fees. New members pay $8.99 monthly while existing subscribers keep their $7.99 monthly fee. Use the Netflix free trial month to see if shows you want are available. Netflix typically does not get this season's episodes until the next season is about to start. If you want to watch this season's episodes, you might also need Hulu Plus. What's more, Netflix is nearly doubling its original content from 16 to 31 scripted shows for next year. 
Hulu Plus: This service lets you watch the current season TV offerings the next day after episodes actually aired, including shows from NBC, Fox, ABC and many other cable-only channels. So, for example, if I love to watch Comedy Central's "The Daily Show" (not available on Netflix), I can watch it whenever I want on Hulu Plus which offers many episodes of the current season, but not the entire season or series like Netflix. Hulu Plus also has many original and exclusive shows and costs $7.99 per month (with ads) with no additional fees, although the ads are annoying. If you don't want to suffer through ads, you can pay $11.99 per month for an interruption-free experience. Hulu also added movies from Epix after Netflix dropped its Epix deal, and it has offerings from in-season episodes of hits like Fox's "Empire." ." If you don't want to pay for Hulu Plus, you can stream many episodes for free on Hulu (without the Plus), but will have to wait eight days, and then you'll get them with commercials. Also, you won't be able to binge-view an entire season for free; you can only see the most recent episodes, and even those are limited. Plus, some networks are getting smart and not selling the rights to their shows universally or on Netflix or Hulu Plus, and that's when you need Amazon Prime.
Amazon Prime: CBS's "Extant" with Halle Berry and "Under the Dome" have exclusive streaming agreements with Amazon Prime, the only place you can see the show on-demand and if you do not have local network access. It's also the only place you can find all previous seasons (1-5) of "Downton Abbey" included (but not the current season, which you can access for free on the PBS app on a Roku every week after each episode airs). And most recently, Amazon gained permission to exclusively stream a vast amount of past and present HBO content and has been pumping out original shows such as the Golden Globe-winning series "Transparent." While they do offer viewing from the pilot to present, the current season and sometimes the prior season are pay per view which defeats the purpose of having Amazon Prime, although you do also get that free two-day shipping. Amazon Prime costs $99 per year (still, that's just $8.25 per month). By the way, Amazon Prime includes free 2-day shipping on most Amazon products.
Amazon offers a 30-day free trial for new subscribers
CBS All Access: CBS offers streaming of live TV in 86 local markets, new episodes of most CBS shows on the CBS App the next day and over 6,500 episodes on demand for $5.99 per month. If you don't want to pay for CBS All Access, you can see many of the episodes on the CBS App for free, but then you'll only get the most recent episodes. More big news: CBS is launching a completely new Star Trek series to go live in January 2017. That CBS is investing in original OTT content is big news for the future and sure sign of the cord-cutting zeitgest. 
Sling TV: Now you can finally close the gap on some cable channels that are just not available on any other TV streaming service. Sling TV by Dish Network offers an app for any Roku (it is not currently available on Apple TV, Amazon Fire or Chromecast). Sling TV's "Best of Live TV" package gives you 22 popular channels, including ESPN, ESPN2, AMC, TNT, TBS, CNN, A&E, Lifetime, History, Food Network and Disney Channel for just $20 per month. Sling TV will also offer you AMC (for your "Walking Dead" fix), IFC and a movie package.  Beware: while you can download the app onto all your devices, only one person can watch Sling TV on your account at one time. Sling TV has a 7-day free trial so you can evaluate whether you watch it enough to warrant the additional $20 per month.
HBONOW: For $14.99 a month, you can get is offering HBO's Internet-based stand-alone service HBO Now, which allows consumers to HBO's award-winning original programming like "Game of Thrones," "VEEP" and "Girls." 
Showtime: What started back in July for shows Ray Donovan and Masters of Sex, the commercial broadcast network will offer, Showtime has been offered for $8.99 a month through Hulu as the first premium service to be offered through to Hulu's subscriber base of almost 9 million people nationwide. Of course, new and existing subscribers will have to also pay $7.99 for Hulu use. Showtime had previously said it would offer a $10.99-per-month stand-alone Internet iteration of premium channel Showtime -- including an Apple partnership. What's more, Amazon now has its own OTT offering of Showtime for $8.99 a month.
Custom TV: This offer from Verizon FiOS offers a bulky bundle at $79.99 a month -- including Internet and phone. But it does provide a skinnier bundle and allows consumers to eschew certain channels, like ESPN, while still having access to premium channels like HBO and Showtime at no extra cost for 12 months. 
Starz: Amazon now has its own OTT offering of Starz for $8.99 a month. Now consumers can get access to the ever-popular Outlander, among the network's other fan-favorite offerings.
CNBC Pro: The business news juggernaut is offering CNBC TV in streaming form for $29.99 a month as part of CNBC Pro, the station's subscription offering. As an added benefit, you get it commercial free.   
So for the three major SVOD services, you have a massive amount of new, current and past programming to explore via apps on your streaming device to use at will for just about $24 per month compared to that $100 monthly paid cable or satellite subscription. If you add SlingTV, you're up to $44 per month plus tax. Personal finance expert Andrea Woroch advises you use all the free trials for streaming subscriptions if you want to cut the cable or satellite cord entirely too see which you want to watch the most.
And, there are hundreds more free TV channel apps including those from most network and cable TV channels offering a lot of free content such as History Channel and PBS.

How can I watch local network channels on my TV without cable or satellite?
Remember "rabbit ear" antennas? Well, forget about all that static because new HDTV antennas give you crystal-clear signals to your TV. An HDTV antenna starts at $10.99 for a 25-mile range (good for city dwellers) and $32.99 for a 50-mile range (good for suburbanites). More good news: these are both indoor antennae -- no need to go on the roof (they're available here) 
Now, if there is still a network show in season that you can't live without such as "The Big Bang Theory" or your local news or even special network events such as the Olympics or local market sports coverage which you want to watch as it airs or it is not available or it is not available on any of SVOD services or devices, then you might want to get a local network antenna.
Depending on many other factors, attennae can range in their one-time price from $30 for an indoor antenna to $250 for a large outdoor antenna installed. There is no single type of antenna that will work for everyone as TV reception depends on your distance from the broadcast signal, its strength, obstructions and more.
Check the Consumer Electronics Association's www.AntennaWeb.org to identify appropriate antenna attributes based on your location. Do you need full market sports coverage?
With your network antenna you'll have the local market sports coverage from Fox and CBS plus NBC's Sunday Night Football and CBS's Thursday Night Football. The offering included a special game between the Dolphins and the Jets in London on October 4.

How can I watch cable sports without cable?

In addition to all the games broadcast over-the-air, which you can see for free with an antenna, Verizon Wireless is making live-streaming NFL games available for no extra charge to all its smartphone customers for 2015 -- a feature which previously cost $5 per month. Of course, there's a whole cottage industry dedicated to bringing you NFL games without the need for cable.
You can also watch sports that are broadcast on cable. For example, games broadcast on ESPN and ESPN2 are available on SlingTV.
DirecTV will sell you NFL Sunday Ticket without a satellite subscription for out-of-market games, so that you can watch them online, but it costs from $199.96 - $359.96 per season, depending on the level of services you buy. 
This fall, Yahoo! (YHOO) streamed one NFL game, a deal that cost the technology company a reported $20 million. To boot, fans of America's pastime can get wide access to baseball diamonds across the country: the MLB streams out-of-market games for $99 per year, available through Roku, Xbox, AppleTV and Sony PlayStation. 
Baseball games are also available through a pricier SVOD app such as MLB.TV which cost $125 last season ($10 per month) for access to every out-of-market season game. For the uninitiated, the out-of-market arrangement means you can't stream your local team when it's being shown in your local TV market. 
There are also similar packages available for watch basketball (NBA) and hockey (NHL) games online.

Forget TV schedules forever
Back when DVR became popular, you could record shows and watch when convenient for you, but with limitations.
"These new apps coupled with the devices remove the need to remember schedules or record shows," Buffone says. "They are simply there when you want to watch them."
For those addicted to "Game of Thrones," there's HBO Now. Or for those desperate to watch the current Season 6 of "The Walking Dead" or the much-awaited prequel to "Breaking Bad" -- "Better Call Saul," which premiered on AMC this past February -- there's Sling TV. Inevitably, in some cases, it's impossible to see some show sand current episodes without paying for cable or paying per episode on Amazon Prime. But, channel lineups and licensing agreements are constantly changing and many other major players are scrambling to get into the streaming game. 
Woroch adds, ""The problem now is that people want it all and now that Netflix, Hulu Plus and Amazon Prime are all producing exclusive shows -- think: Netflix's "House of Cards" among many others -- consumers may want to keep all the streaming subscriptions including the paid cable."
For this reason, Buffone says most people won't actually cancel their cable subscription and adopt this cheaper, more flexible way of watching TV and instead add SVOD on to their paid subscriptions. What about you?