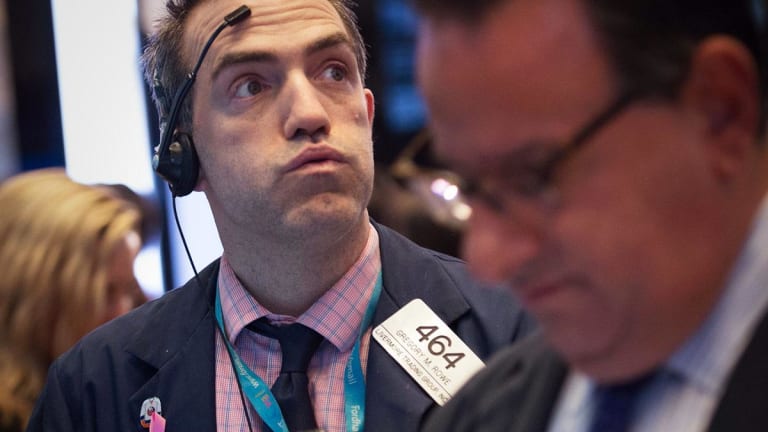 Stocks Are Having a Crazy Week - Here's What Our Columnists Recommend You Do
Four of our experts weigh in with their best advice.
U.S. stocks are in the middle of a wild week, with the Dow Jones Industrial Average rebounding slightly Wednesday after tumbling 473 points Tuesday following President Donald Trump's threat to enact additional tariffs on $200 billion worth of Chinese goods.
We asked four of our top columnists what they think investors should do right now:
James "Rev Shark" DePorre, Real Money Columnist and Founder of SharkInvesting.com
With first-quarter earnings reports coming to an end, the start of the traditional period of seasonal weakness and difficult negotiations with China on trade, it's a good time for investors to increase cash levels. The market has had a good run off of the December lows, but now it's time to take a more strategic approach as conditions evolve.
Two sectors that are likely to offer some opportunities if the market becomes choppier are gold and oil. In the gold sector, I'm accumulating Kirkland Lake Gold (KL) , which just posted excellent numbers and is leveraged to do well on any increase in gold prices.
As for oil, I've been accumulating Penn Virginia Corp. (PVAC) , which suffered when a recent merger agreement fell apart. However, PVAC still has excellent prospects as a takeover play and is trading at about 3.7x forward earnings.
Bob Lang, RealMoney Columnist, Co-Portfolio Manager of Trifecta Stocks
Last week's strong U.S. jobs report seemed to put investors and traders at ease, with the VIX falling sharply to finish under 13. That meant that the market wasn't expecting any sudden big moves -- but all of that changed with just one tweet by President Trump over the weekend where he announced increased tariffs on Chinese imports. We saw the VIX lift higher on Monday as a result, and then even higher on Tuesday as the news was confirmed.
Markets simply hadn't fully priced in the possibility of higher U.S. tariffs on Chinese goods. After all, we'd heard for weeks on endless tweets, articles and sound bites about how "things are going well" in U.S.-Chinese trade talks. It's true that markets really shouldn't be so tied to the political landscape or trade policies, but there's definitely a connection to those.
In any case, we have to be concerned with how trade issues will affect our own portfolios. As an options trader, I'm always looking to maximize gains and minimize risks where I can.
That being said, I advocate having some protection for your portfolio by buying puts on index options like the SPDR S&P 500 ETF (SPY) or the PowerShares QQQ ETF (QQQ) . These will go up in value if the market falls, which will offset your losses elsewhere.
Even with the VIX around 19 as I write this, put protection isn't that expensive and will serve you well if another unexpected story or tweet hit the wires. You should think of these puts like they're an insurance policy -- they cost money, but they'll help you sleep better at night.
The bulls were charging hard during 2019's first four months, but now things are becoming a bit trickier. Taking great care to protect your gains (if you have them) is paramount to getting through the market's next phase.
Some other tips:
Step back, wait and observe.
Play smaller position sizes than normal.
Doug Kass, RealMoney Pro Columnist, Principal at Hedge Fund Seabreeze Partners Management 
I've written a lot in Doug's Daily Diary -- my live blog on Real Money Pro, our premium site for active traders -- about the new regime in volatility that we're seeing in markets. 
But while the past two days have been characterized by a rising VIX and renewed volatility, this isn't a new phenomenon as far as I'm concerned. In my view, the market's new volatility regime started all the way back in late January 2018.
The market has had big moves since then -- down into the spring, up into September 2018, down again until Christmas Eve 2018 and of course, the sizable rally that in my view ended last Friday. Still, I don't think that most investors should change their tactical strategy here. It all depends on your time frame and risk appetite.
If you're a risk-averse investor, you should consider 90-day U.S. Treasury bills and continue to roll them over, as they're yielding 2.43%. That's well above the S&P 500's current dividend yield of about 1.8%.
But for myself and more-aggressive investors, try to use this volatility to your advantage, as I discussed in a recent column entitled Are We Entering a Period of Heightened Volatility? in my daily diary.
It's important to understand that the market is now dominated by products and strategies that are momentum-based, which is the principal factor behind a lot of Wall Street's volatility. This tends to exaggerate short-term moves.
You might consider taking advantage of this by buying some of your long-term favorites when the downside is extreme. (Some of my favorite stocks for that include banks like Citigroup (C) and Bank of America (BAC) ).
If you're willing to take on some additional risk, you could even "trade around" some of your long-term positions -- selling them the machines and computer algorithms take markets up and buying them back  when things settle down and prices fall.
Chris Versace, Real Money Columnist, Co-Portfolio Manager of Trifecta Stocks and Stocks Under $10
If President Trump does indeed expand the scope of tariffs, you may need to reconsider your positions. But investors should remain focused on the long-term time horizon. If your investment thesis is intact, you can use market volatility to your advantage to improve your cost basis by buying more of your favorite stocks when prices fall.
I'd recommend looking at small-cap stocks like we own in the Stocks Under $10 model portfolio. These are more domestically focused and largely insulated from China and global trade.
If new tariffs do go into effect, that's going to affect demand at larger companies. Their input costs will likely rise, prompting them to raise prices. Trucking and railroads, which are more economically sensitive both on a global basis and even here in the United States, are also likely to come under some pressure.
By contrast, products that are more inelastic in nature are likely to be a more-defensible area for investors. These could include consumer-products companies like Procter & Gamble (PG) or Colgate-Palmolive (CL)  . Both pay nice dividends and are "safer-haven" investments, although I'm not specifically endorsing either. 
Citigroup is a holding in Jim Cramer's Action Alerts PLUS club for investors. Want to be alerted before Jim Cramer buys or sells C? Learn more now.
At the time of publication, DePorre was long KL and PVAC; Lang was long SPY and QQQ puts and Kass was long BAC, C and U.S. Treasuries.