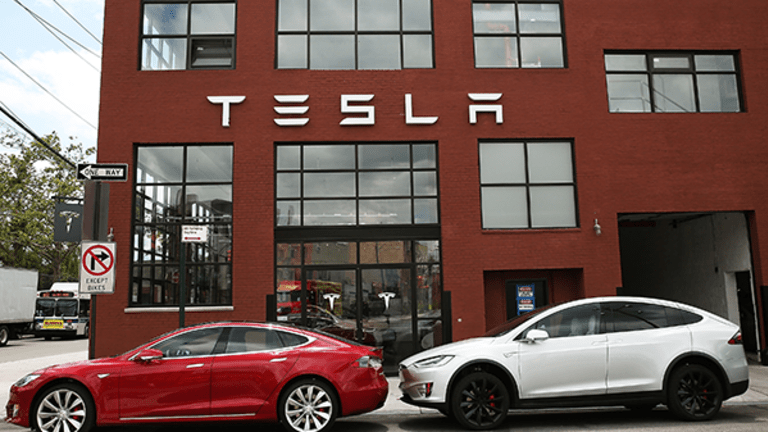 How to Play Tesla's Incredible Momentum
Tesla shares have ripped higher.
Shares of Tesla Motors (TSLA) - Get Free Report have had incredible momentum in 2017 and are up 14.5%.
In October, the company reported third-quarter fiscal 2016 earnings of 71 cents a share, well above the analyst estimate of a loss of 54 cents. The results include 90 cents a share of zero-emission vehicle credits and 16 cents from the add-back of higher-than-expected stock-based compensation. Revenue was $2.3 billion, which includes $139 million of zero-emission vehicle (ZEV) credits.
In order for an automaker to sell vehicles in California, automakers need to sell a certain percentage of zero-emission vehicles. Automakers that don't meet the standard can purchase ZEV credits from Tesla. ZEV credits have become a major source of revenue for Tesla.
The company announced it had delivered 24,821 vehicles, up 75% year over year, in the quarter, driven by the ramp of the Model X luxury SUV. Model X prices declined 1.2% sequentially. The company delivered 12,700 Model S and 9,500 Model X vehicles.
Third-quarter capital expense fell 36% to $248 million. The sharp reduction in capital expenditures boosted cash flow to $349 million and reduced the company's cash burn rate. You have to wonder if Tesla can keep its capex so low as it rolls out the Model 3 in late 2017.
On Jan. 3, Tesla announced it had delivered approximately 22,200 vehicles in the forth quarter.
Tesla delivered 83,922 vehicles in 2016, up 64% year over year. While that's exciting, Tesla bears point out that figure is less than one-third the number of vehicles produced by the typical auto plant. The company has been making autos for four years and has been unable to ramp production levels up to that of a typical auto plant.
On Nov. 17, shareholders approved the merger with SolarCity. In early November, SolarCity reported a third-quarter loss of $2.27 per share, 21 cents better than expected. Revenue rose 76.1% to $200.6 million. For fiscal 2016, management said installations would be toward the low end of guidance, or approximately 900 megawatts. Previously, management said it would it would install 900 to 1,000 MW for the full year.
Without SolarCity, Tesla revenue is expected to rise 38% in 2017
Tesla is expected to report fiscal 2016 sales between $6.6 billion and $7.0 billion. And the Model 3 is expected to launch in late 2017. It is priced at $35,000 and has more than 400,000 customer orders. Looking at 2018 and assuming the Model 3 is successful, the company could generate over $12 billion in revenue by 2018.
Valuing Tesla is very difficult. It is basically a momentum stock, and investors are buying it on the hope the company will turn a profit sometime in the future. Tesla shares are having difficulty getting over $250 as the bulls and bears fight it out.
If the Tesla bulls can get the shares over $250, I think the stock will keep going as the Model 3 comes on line. But right now, I view the acquisition of SolarCity as a near-term distraction and a giant cash flow drain. Eventually the company will need additional funding.
It could be a bumpy road to get the shares over $250. I think the stock will trade sideways until the Model 3 is released to customers and skeptical investors watch the cars shipped to paying customers. Shipping the Model 3 on time will get the stock in gear.
This article is commentary by an independent contributor. At the time of publication, the author held no positions in the stocks mentioned.