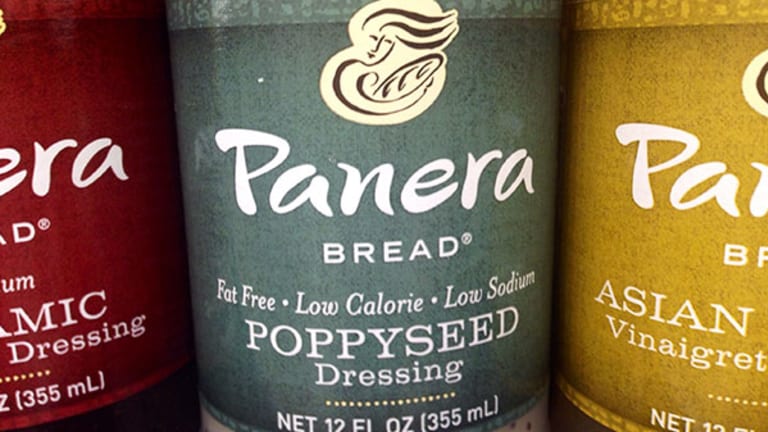 How to Make Tidy Profits From This 'Clean' Restaurant Stock
Bakery chain Panera Bread has fulfilled its promise to eliminate all artificial additives from its menu. Here's what that means for investors.
Panera Bread (PNRA) announced Friday that it has successfully completed its goal of eliminating all artificial ingredients from its menu.
Investors appeared to be pleased initially, sending shares of the fast-casual bakery cafe chain up Friday morning. Those gains didn't last, however, and the stock ended the session down 0.2%.
In May 2015, Panera unveiled a "No No List" of 96 ingredients and additives that it planned to cut from both its in-restaurant foods and in its Panera at Home products. These ingredients are approved for consumption by the federal government, but an increasing number of Americans consider them unhealthy as they strive for a "cleaner" diet.
Many restaurant chains have touted a turn toward cleaner foods. Until Panera's announcement, Yum Brands' (YUM) Taco Bell was the leader in the move against artificial ingredients, having eliminated these additives from all but cobranded products back in 2015.
A humanely sourced and GMO-free menu was also a big selling point for Chipotle Mexican Grill (CMG) before 2015's food poisoning scandal skewed the company's marketing angle toward simply proving that its restaurants are safe.
And even fast-food giant McDonald's (MCD) has incorporated health-conscious changes to its products. No longer can artificial ingredients be found in McNuggets, for example.
Many more restaurant chains have made promises to move toward better ingredients, but Panera Bread is the first to actually fulfill its vow of becoming 100% "clean."
Panera is a holding in Jim Cramer's Action Alerts PLUS Charitable Trust Portfolio. See how Cramer rates the stock here. Want to be alerted before Cramer buys or sells PNRA? Learn more now.
The company has made other improvements to the food it serves within the last few months, including the adoption of strict guidelines for humanely raising chickens according to the Global Animal Partnership's Broiler Chicken Standard. And the company also made headlines last year by promising healthy kids' meals.
To meet its clean food goal, the company reports that it has reformulated 122 ingredients, changing most of its recipes. The company has also partnered with more than 300 suppliers to advocate different methods of preparation and to eliminate artificial additives from the entire process.
Panera CEO Ron Shaich insists that the move to become cleaner is more than just about delivering on current trends. In a recent interview with Business Insider, Shaich said that the decision to change the menu is a big step toward anticipating the needs of what customers will also want in the future.
"What I'm paid to do as CEO, what the leadership at Panera spends its time working on, is figuring out where is the world going to be for our guests in the next two to five years, and making sure Panera is there when it gets there," he said. "They don't pay us to react to yesterday."
But make no mistake, there is already big money to be made by switching to a more health-conscious menu. Analysts have remarked that we've entered into a "restaurant recession" during which many Americans are choosing to cook at home, rather than dining out. That puts increased competitive pressure on restaurant chains. Having a cachet of being the "cleanest" restaurant when it comes to its menu should give Panera Bread an advantage over its rivals.
Panera is a tasty restaurant stock for investors' portfolios. Analysts expect the company to post year-over-year revenue growth of 6.1% during fiscal 2017, to $3 billion. That should result in tidy profits for those who scoop up shares on any price dips.
Of course, no restaurant stock is without its risks, especially during an industry "recession." However, Panera remains one of the safest and best plays for the long term, thanks to forward-looking moves like Friday's announcement.
---
However, what if I told you I know a way you can see a $67,548 per year - or more - in profitable trades just by following this simple step-by-step process? The trader who is sharing this secret has been right more than 8 out of 10 times, turning $5,000 into more than $5 million for himself. Click here to see how easy it is to follow his lead and collect thousands of dollars in "Free Money" every month.
This article is commentary by an independent contributor. At the time of publication, the author held no positions in the stocks mentioned.