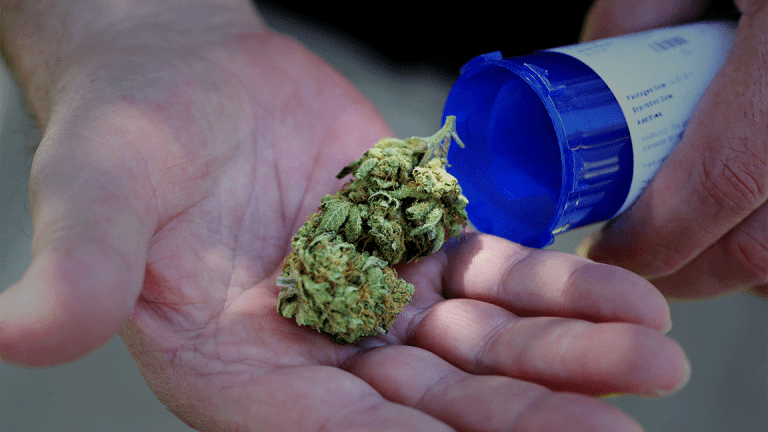 Cannabis Investing: 2 of the Easiest Stocks to Buy to Play the Legal Weed Boom
The legal cannabis industry could be worth $24 billion by 2025. Are you willing to pass that up?
Despite Attorney General Jeff Sessions' best efforts, the legal cannabis industry has been set ablaze in recent years. And the continued growth in the industry means smoking hot investment opportunities for investors. 
Here's how to think through investing in the space.
The Setup
By the end of 2017, the legal cannabis market was worth about $7.9 billion. By 2025, that number is expected to jump to $24 billion, according to a study from BusinessStudent. Retail sales of legal cannabis alone are forecast to hit $2.3 billion by 2020.
The average medical marijuana consumer purchases cannabis every 10 days and spends $136 per transaction. The average recreational marijuana consumer purchases cannabis every 14 days and spends $49 per transaction, BusinessStudent found.
Think about that in terms of comparison to a highly regarded company like Action Alerts Plus holding Apple Inc. (AAPL) - Get Apple Inc. (AAPL) Report . If you buy one new iPhone at $1,000 every year, you still don't spend what a medical marijuana consumer spends in a year -- as much as $4,964. Even the recreational marijuana user would spend more than the habitual iPhone buyer -- as much as $1,274 per year on average.
It's legal for adults over the age of 21 to smoke recreational weed in nine states, and medical marijuana is legal in 29 states. This legalization movement isn't slowing down anytime soon. 
Under full federal legalization, cannabis could potentially create $105.6 billion in federal tax revenue and 1 million new jobs by 2025, according to a report from cannabis industry data and analytics expert New Frontier Data.
If full decriminalization occurred in all 50 states today, there would be an excess of 654,000 jobs, analysts found. That figure would increase to 1 million jobs by 2025.
"Full legalization would result in more legal businesses entering the market, more consumers participating in the legal market, and more employees on official payrolls, resulting in $3.3 billion in payroll taxes," New Frontier found. "By 2025, payroll deductions would increase to $5.3 billion." The job increases in cannabis are expected to top those in transportation and warehousing, manufacturing and mining in the near-term.
And the businesses jumping in on legal cannabis? They're in on the ground floor of a potential long-term industry boom.
How to Play
In an emerging industry like cannabis, one rife with colorful characters, hype, speculation and inevitable busts, it pays to go with the largest names trying to capitalize. 
Action Alerts Plus holding Constellation Brands Inc. (STZ) - Get Constellation Brands, Inc. Class A Report which owns the Corona, Modelo Especial, and Svedka Vodka alcohol brands, in late-October announced it had agreed to take a minority 9.9% stake valued at close to $200 million in Canopy Growth Corp. The Ontario, Canada-based company, which sports a market cap of more than $3 billion, is a provider of medicinal cannabis products.
Even without the play on cannabis, Constellation is firing on all cylinders. 
Fueled primarily by strong beer sales and $800 million in stock repurchases, Constellation reported earnings for the fiscal year ended February 2018 this week that grew 29% from the previous year. Analysts polled by FactSet expect earnings will grow another 10% next year, and another 13.4% in the year following.
But with cannabis in the mix, Constellation looks poised for an even bigger next few years on the bottom line. At the very least, it gives executives a good story to tell Wall Street in the hopes of bumping up future profit and price-to-earnings multiple estimates. 
"This investment [in Canopy Growth] provides Constellation with the first mover advantage for a potentially significant, emerging consumer opportunity," reminded Constellation Brands CEO Rob Sands on a Mar. 29 earnings call. Sands said Constellation will spend the next twelve months investing in cannabis to open new markets and to create new brands.
As a pharmaceutical company, AbbVie Inc. (ABBV) - Get AbbVie, Inc. Report has a unique corner of the cannabis market dominated: cannabis-based drugs. AbbVie's Marinol cannabis-based drug alleviates nausea and vomiting for chemotherapy patients and helps AIDS sufferers regain the desire to eat. And it's not even AbbeVie's biggest seller.
AbbVie's annual sales surged 11.8% year-over-year in 2016, and by 10.4% in 2017. This year, Wall Street estimates 13.9% growth. Shares have surged 46% in the last year.
It's clear cannabis is only growing from here. The demand is there, the financials are there -- now are you?