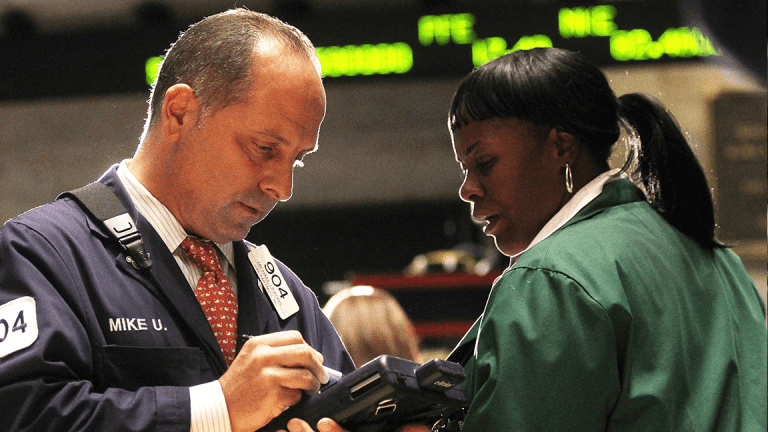 How to Buy Great, Cheap Stocks When Indexes Are at All-Time Highs
As the market keeps reaching all-time highs, the mantra of 'buying low, sell high' isn't always that easy. Here's how to strategize.
As the market keeps reaching all-time highs, the mantra of 'buying low, sell high' isn't always that easy. Here's how to strategize.
Returns in the stock market have been reaching all-time highs for months, but investors are facing hurdles in finding quality stocks that remain inexpensive to add to their portfolio.
Differentiating between stocks that are inexpensive and ones that appear to be undervalued is important, because many investors erroneously use the terms interchangeably, said J.J. Kinahan, chief market strategist for TD Ameritrade, an Omaha, Neb.-based online broker.
"Inexpensive stocks can be overvalued," he said.
Part of the issue stems from the fact that many price to earnings ratios are stretched and the earnings are catching up to the price. 
"If that is the trend, be cautious," Kinahan said. "We tend to see that a lot with healthcare companies since the prices stretched and you have to decide for yourself."
The whole stock market is experiencing a "tremendous rally," he said, which means finding a sector which is overlooked is difficult.
One of the biggest mistakes some investors make is not determining a time frame and price target before they invest in a company. Many investors want a quick turnaround or they deem an undervalued or cheap stock not to be worthwhile.
Many stocks, including value ones have experienced a "severe" downside in 2017 even though the Dow, S&P 500 and Nasdaq continue to reach all-time highs, said Edison Byzyka, chief investment officer of Hefty Wealth Partners in Auburn, Ind.
"Buying great, and cheap, stocks has been a Wall Street nightmare this year," he said.
Stocks that are not only worthwhile, but also inexpensive tend to fall in the value category and those are ones with lower P/Es, solid dividends, dividend growth rates and operating cash flow relative to liabilities, strong cash flow and a notable return on invested capital as it relates to the company's weighted average cost of capital, Byzyka said.
"Investors must be careful to avoid the proverbial value trap," he said. "Although something is cheap and does appear to have a solid balance sheet, attention to trends and a relative comparison to peers is of utmost importance."
Many value stocks have experienced recession-like downside and are now trading at discounts.
"If you ignore the fact that Facebook (FB) - Get Report , Apple (AAPL) - Get Report , Amazon (AMZN) - Get Report , Alphabet (GOOG) - Get Report , and Netflix (NFLX) - Get Report are responsible for a massive chunk of year-to-date returns, you'll notice indices behaving more in-line with what a perceived appropriate valuation may be," Byzyka said. "Value stocks remain below such valuation metrics and may be poised for some investor love in 2018."
Investors can also seek out an underperforming sector and then find a stock that tends to outperform within the sector such as energy, said Patrick Morris, CEO of New York-based HAGIN Investment Management.
"Energy has been out of favor for awhile and while prices are firming up, the trick, of course, is trying to figure when a sector has actually bottomed and that is generally a matter of macro fundamentals," he said. "Obviously in energy, it is natural gas and crude oil prices."
Within the blue chip sector, several stocks have not participated in the recent hype, said K.C. Ma, a CFA and director of the Roland George investments program at Stetson University in Deland, Fla.
Johnson & Johnson (JNJ) - Get Report has underperformed the S&P 500 by 2% year to date while General Electric (GE) - Get Report has underperformed the S&P 500 by 88% in the past five years.
"These are clearly solid companies with proven, strong long-term fundamentals, yet they didn't not price in recent unrealistic 'techy bubble-ish' pricing," he said. 
Another company that stands out is Hologic (HOLX) - Get Report , which develops, manufactures and supplies medical equipment and focuses on women's health.
The company, which has an annual revenue of nearly $3 billion, has a niche market focus that gives it an advantage over its peers, Ma said.
Another attractive option: emerging growth companies, ones that are young and for which the future growth potential has not been priced in.
Energous (WATT) - Get Report is a company engaged in developing a technology called WattUp and uses revolutionary radio frequency (RF) based charging solution that delivers scalable power via radio bands, similar to a Wi-Fi router. The technology is applicable in a range of devices, including wearables, Internet of Things (IoT) devices and smartphones.
"It differs from older wireless charging systems in that it delivers power at a distance to multiple devices at the same time and is a wire-free experience," he said. "We predict that this system will be a significant and growing market opportunity across multiples industries because the capability of energy transition will be available anywhere at any time around the power transmitter."
Since the company is the first inventor of the over the air power transmitter, Energous is likely a strong acquisition target for larger technology companies and is currently underperforming the S&P. They recently got their nearfield transmitter certified by the FCC.
In the current market, if companies miss their estimates and or lower guidance, there is a good possibility the stock will get further discounted, said Ron McCoy, a portfolio manager on Interactive Brokers Asset Management, the Boston-based online investing company and founder of Freedom Capital Advisors in Winter Garden, Fla.
Investors could initiate a small position such as one-half to one-third of a normal position size until the dust settles.
"When the markets do correct, it is possible they may get even cheaper as most stocks will correct during a correction," he said. "Make sure you know what you are buying and pay attention to valuation. Just because it's cheap doesn't mean it can't get cheaper."
GE has faced many struggles lately and could "easily bounce from here as much of the bad news might be factored in," McCoy said. "We have a small position but want to wait to see what the company says before adding more."
While the mantra of "buying low, sell high sounds good, it isn't always that easy," said Bill DeShurko, president of 401 Advisor, a registered investment advisory in Centerville, Ohio.
"There just flat out are not any great stocks selling at deep discounts," he said. "Most are 'damaged goods,' at least in the short term. However, that can be the individuals advantage. If you are willing to wait for a turn around, you can sometimes beat Wall Street to the punch by taking a longer view. The trick is in the timing."
McDonald's (MCD) - Get Report is a great example of a company whose price remained flat for many years, but its stock is at an all-time high now.
"Just a couple years ago they were the company everyone loved to hate," DeShurko said. "The only way I know to get in on these turnarounds is to buy into them early. With this strategy it is nice to collect a nice dividend while waiting for the turn around. Can Chipotle (CMG) - Get Report ever recover? Where is the bottom with GE? Will Amazon really put Kroger (KR) - Get Report out of business? Find a positive answer and you have the start of a value portfolio."
Banks remain good values in this market, said Robert Johnson, president of The American College of Financial Services in Bryn Mawr, Pa.
"JPMorgan Chase (JPM) - Get Report , Citigroup (C) - Get Report , Bank of America (BAC) - Get Report , and Wells Fargo (WFC) - Get Report all have outperformed the market in the past 52 weeks, but each still sells at an attractive PE ratio compared to the overall market," he said. "The dividend yields on these stocks are also attractive, 2.21%, 1.73%, 1.24%, and 2.72%, respectively. Given that the 10-year Treasury is yielding 2.32%, these dividend yields provide near bond-like returns in a low interest rate environment."
There are, indeed, large cap and small cap stocks that still provide tremendous value for long-term investors since 30% of the stocks in the S&P 500 are actually lower year to date, said Vahan Janjigian, CIO at Greenwich Wealth Management and a portfolio manager at Interactive Brokers Asset Management, the Boston-based online investing company.
While IBM (IBM) - Get Report has struggled for several years and revenues have fallen for 22 quarters in a row on a year-over-year basis, now is a good opportunity for buying shares, because it is on the cusp of a turnaround.
"Management was late to the game, but it's now aggressively moving into key areas of growth such as cloud computing and data analytics," he said. "I expect overall revenues to start growing again within the next quarter or two."
More of What's Trending on TheStreet: