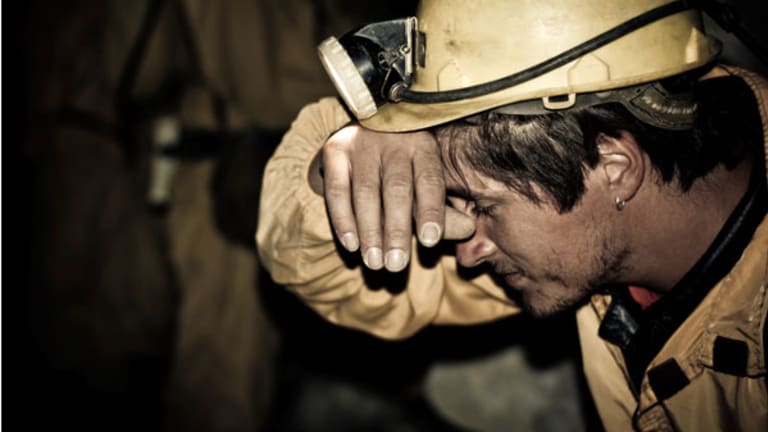 How to Buy Gold Mining Stocks
Gold prices are roaring higher. Adam Graf, director of emerging miners for Dahlman Rose & Co., explains how to buy gold mining stocks.
NEW YORK (
) -- Record high
have investors looking for new ways to get in on the trade and
.
Mining stocks are volatile but can offer a 3-to-1 leverage to
.
SPDR Gold Shares
(GLD) - Get Free Report
, which tracks gold prices, are up 18.43% year to date while
Market Vectors Gold Miners ETF
(GDX) - Get Free Report
has popped 25.06%.
Adam Graf, director of emerging miners for
Dahlman Rose & Co.
, has ideas if you want to buy mining stocks without an ETF. Gold prices are "a currency reaction to inflation and subject to big overall trends in investment demand for gold as an alternative asset class." Graf uses value and leverage models to find the best stocks. Here's how he laid out the strategy:
What are your favorite large cap miners?
Graf
: Of the large names I like, the large-cap, liquid, major gold producers, I like
Newmont
(NEM) - Get Free Report
,
Kinross
(KGC) - Get Free Report
and
Yamana
(AUY) - Get Free Report
. In my view, they are all trading at approximately .8 times NAV. In other words, they are trading at 80% of their full intrinsic value. That's how they fall on a value metric.
On a leverage metric, Newmont gives you ... almost the most leverage in the space, Barrick's
has
lightly higher leverage. And the way I measure leverage is the change in the theoretical forward-looking change in the stock prices over the current stock price. ... So Newmont and Barrick
have
the most leverage to gold. But I like Newmont better because it gives you almost as much value as Barrick ... but it's much cheaper vs. Barrick.
I like Yamana because it's a smaller company with good growth. While it gives you slightly less leverage than
Agnico-Eagle
(AEM) - Get Free Report
and
Goldcorp
(GG)
, and a similar growth profile, again it trades much cheaper. My call on Yamana is not so much of a leverage call, but a value call.
The third company I like
is
Kinross. The leverage there is not quite as high as Newmont and Barrick, but
is
still very attractive ...
and
it also gives value.
And what about some speculative names like NovaGold? (NG) - Get Free Report
Graf
: NovaGold, I have followed that name for a long time. I think it has value. I give the name full credit for all of its assets regardless of the fact that I don't see how a company of the market cap of NovaGold ... can raise the $2 billion, more or less, it would need to either develop Galore Creek or Donlin Creek at 50% interest. ... It's not a favorite name of mine, just because I don't see how they can raise the capital to develop any of the projects that give them value, and I don't see how the pieces of the projects that they own would be interesting to anyone else with the possible exception of the Chinese. And we've seen in the past how strong NovaGold feels about being bought out. It fought tooth and nail to prevent getting taken over by Barrick.
But value wise you still like it?
Value wise it doesn't look bad and actually gives you decent leverage. ...
but
there are two other names that I think are more interesting and trade cheaper than NovaGold and to a large extent provide the same or superior leverage to NovaGold. On the gold side,
Seabridge Gold
(SA) - Get Free Report
... actually provides more leverage than NovaGold does, also provides more leverage on copper side than NovaGold does. And
they
have been very forthright that they are not interested in developing their projects. They're taking their projects to pre-visibility and have the full intention of selling them to a major for shares. So that is a very different, radically different, path than NovaGold.
Another name that also comes to mind is
Northern Dynasty
(NAK) - Get Free Report
... Anglo American is earning in 50% of their project and they have a monstrous copper and molybdenum project in Alaska called Pebble. ... In my mind,
they
offer superior copper leverage vs. NovaGold and actually have a huge gold resource.
>>Slideshow: How to Invest in Gold
--
Written by Alix Steel in New York
.
c