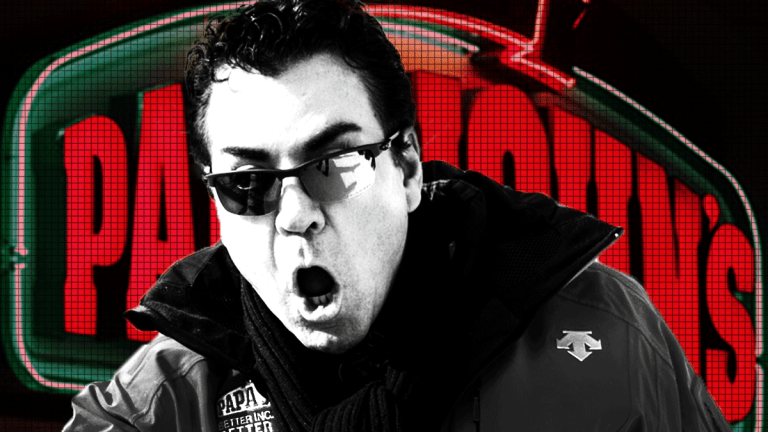 Papa John's Board Hits Pause With Poison Pill
The pizza chain's lingering problems could turn investors against founder John Schnatter.
Slow down and let's think this through.
That is one interpretation of what the board of Papa John's International Inc. (PZZA) - Get Papa John's International Inc. Report could be doing in light of the "poison pill" it adopted on Sunday, July 22, one expert said.
"They need the breathing room," said Nell Minnow, vice chairman of ValueEdge Advisors, "so that they have the opportunity to get other offers and evaluate in a thoughtful manner."
The move by the board prevents founder John Schnatter, whose stake in the company is just under 30%, and others from gaining a controlling interest. According to the Form 8-K filed with the Securities and Exchange Commission on Sunday, Schnatter is considered one of the "grandfathered persons," rather than an "acquiring person." The distinction is that if he, "his spouse, lineal descendants or his affiliates and associates" don't attempt to buy more shares directly or indirectly, Schnatter is allowed to keep the shares he has without triggering a poison pill.
Part of what brought on Sunday's board action, according to Charles M. Elson, the Edgar S. Woolard Jr. chair in corporate finance and professor of finance at the University of Delaware, were news reports that Schnatter spoke with executives at Wendys Co. (WEN) - Get Wendy's Company (The) Report last week about merging the two companies.
The board action is "an extraordinary move by the board, but this is an extraordinary situation," Elson said. 
In a note published on Sunday, Stifel Financial Corp. analyst Chris O'Cull downgraded Papa John's to sell from hold and lowered its earnings per share guidance to $1.95 and $1.75 for 2018 and 2019, respectively.
"The outlook for Papa John's is growing dimmer with recent media reports citing a fraternal corporate culture that is reinforcing consumer perception that Papa John's is not a trusted brand," O'Cull wrote. "We believe the company is in a precarious position -- needing a strategic savior but struggling to find one willing to underwrite a transaction given the brand damage."
O'Cull wrote that based on social media comments, the sentiment toward Papa John's is "extremely negative," or -48%, whereas competitors Domino's Pizza Inc. (DPZ) - Get Domino's Pizza Inc Report and Pizza Hut, owned by YUM Brands Inc. (YUM) - Get Yum! Brands Inc. Report , respectively are at +56% and +46%. 
Papa John's most recent troubles centered around the controversial and outspoken Schnatter began July 11, when Forbes published an article saying the then-chairman used the N-word during a media training session in May. Schnatter resigned as head of the board, at the board's urging, but remained a director. Schnatter later said that he regretted stepping down.
By that weekend, the board also revoked Schnatter's founder's agreement and evicted him from company headquarters in Louisville, Ky. The company wasn't the only entity distancing itself from Schnatter or Papa John's or both. Universities and sports teams were part of the collateral damage. 
The stock price plummeted when the Forbes story broke, then rebounded. Year over year, though, the stock has fallen 38%, and same-store sales are down. On Monday, shares closed down nearly 10% to $46.56, lower than on July 11.
Schnatter's presence on the board could be a drag on the brand, company followers say, yet the board itself has few options. It is shareholders, not board members, who vote for directors, which is typically done at the annual meeting in May. A special shareholder meeting also could be called  to reconsider Schnatter's tenure. That's highly unlikely, though, because 60% of the voting power would have to vote against Schnatter.
Elson said that won't happen, adding: "It would be highly destructive for the organization. The issue is whether he will be renominated" at the annual meeting in May.
On July 17, the board announced it had appointed the law firm of Akin Gump Strauss Hauer & Feld LLP to oversee an audit and investigation of the company.
Papa John's lingering problems could turn shareholders against Schnatter, said Daniel McCarthy, an assistant professor of marketing at Emory University's Goizueta Business School, "if people feel like he's a lightning rod for controversy and responsible for weakness in sales."